Both programmes offer select tech start-ups the chance to learn from and network with major industry figures. The companies are then showcased at the end of the programme in a Demo Day.
Like patents, the accelerator programmes offer an interesting insight at the attractions technology trends identified by Disney and Universal. This is because the companies selected represent the areas they feel are in a period of development and have the potential for significant growth.
Certain patterns are clear and it is evident that both companies are hedging their bets on a number of upcoming technologies. Both Disney and Universal invited start-ups from AR, AI, eSports, Ride Share and personalisation onto their accelerator programmes.
Augmented Reality
It is an established opinion that Augmented Reality (AR) will one day thrive – but the technology still lags behind ambitions. Like Disney's Bob Iger, Apple CEO Tim Cook has declared his preference for AR and many major tech players are investing heavily.
Augmented Reality (AR) overlays the real world with the digital world, rather than replacing it in the way VR does. Recent developments may speed up progress in the industry and enhance AR's status as a tech trend.
Industry leader Magic Leap recently held its inaugral developers' conference and Microsoft and Apple are making their own developments.
Selected for Universal's Accelerator was eyecandylab. The company works with video content creators to create interactive augmented reality experiences. The company launched successfully in Germany with a major media company and has now debuted in the US partnered with Nickelodeon.
Also at Universal was WiARframe, which allows anyone to prototype and share augmented reality experiences in minutes. Notable companies including SYFY, Huge, EON Reality and Nexus Studios are set to use WiARframe for their next AR projects.
Meanwhile at the Disney Accelerator was Ubiquity6, an online multiplayer experience that allows users to edit and interact with the physical world using an Augmented Reality overlay on their mobile phones.
The company recently worked with the San Francisco Museum of Modern Art to create a huge shared AR experience inspired by the art of Rene Magritte.
eSports
eSports is a rapidly growing industry, set to challenge NFL with a predicted 300 million viewers by 2022. The huge potential for a spectator experience IRL is only just being explored.
According to BusinessInsider.com, Goldman Sachs valued the global eSports market at $500 million in 2016. The sector is predicted to grow at 22% annually over the next three years into a more than $1 billion opportunity. Industry statistics are already backing this valuation and demonstrate the potential for massive earnings from sponsorship and providing an immersive spectator experience.
And the major players are taking notice. In January Disney announced a partnership with Twitch to bring content from key Disney-managed digital creators – Jacksepticeye, LuzuGames, Markiplier, and Strawburry17 – to the social video service.
Universal's Accelerator also featured Polycade – a company that turns video games into in-person social events. After raising $120k on Kickstarter, the company reached over $750,000 in sales.
The simplicity of the arcade
The Polycade console can play old games like Asteroids and Centipede, and also new games created by a developers. The devices uses the Steam appstore to provide users with endless gaming.
The games will also go back to the simplicity of traditional arcade games: easy for people to pick up.
Co-founder Tyler Bushnell said: "We're making it as easy as possible for the casual gamer to have a good experience. The games are really easy to learn. It speaks to these people who grew up with more simple games. You don't need a PhD to play."
Caffeine founder Ben Keighran was at the Disney Accelerator. Caffeine is a social broadcasting platform for live gaming, entertainment, and creative arts. Keighran said that traditional live TV was not harnessing the trends and developments observed in the worlds of gaming – including purchasable goods and social interaction. Caffeine will offer users a way to share their gaming as well as make money with "3D items" rather than ads, and purchasable goods.
Artificial Intelligence
Artificial Intelligence (AI) is a rapidly developing area but it still has a long way to go. In its most simple incarnations, attractions are developing AI-powered employees and assistants that can intelligently respond to guest enquiries. But this is only the beginning of the technology's applications.
"Touted as the new electricity, AI is the power behind many emerging technology platforms," says a report from Deloittes. As well as smarter virtual assistants, AI is being used for personalised results and personalised pricing – as well as big data techniques.
Orai was one company utilising AI that was at Universal's Accelerator. The company has created a speech coach app that is powered by artificial intelligence. It provides instant feedback to users on their speaking proficiency – such as the use of fillers. 
Trapica was also at Universal's accelerator. The company uses artificial intelligence to optimize targeting decisions in advertising campaigns. This allows marketers to reach the right audiences at the exact time they are ready to convert.
AI powering data analysis was also at Disney's Accelerator, with start-up Unsupervised. Founder and CEO Noah Horton had identified a significant problem with Artificial Intelligence: most AI was built on "supervised learning" which relied on human input, and therefore can "scale our ignorance". Unsupervised has built an AI based on unsupervised learning that finds actionable insights in data without requiring human guidance or supervision.
Ride Share
Ride Share apps such as Uber and Lyft get users from A to B in a more convenient, often cheaper, way than taxis. Anyone who is an appropriately qualified driver, with the right sort of vehicle, can become a driver and anyone can use their mobile phone to hail a driver. The apps are hugely popular and causing a headache for many traditional taxi cab services. In London, black cab drivers have staged numerous protests over the apps.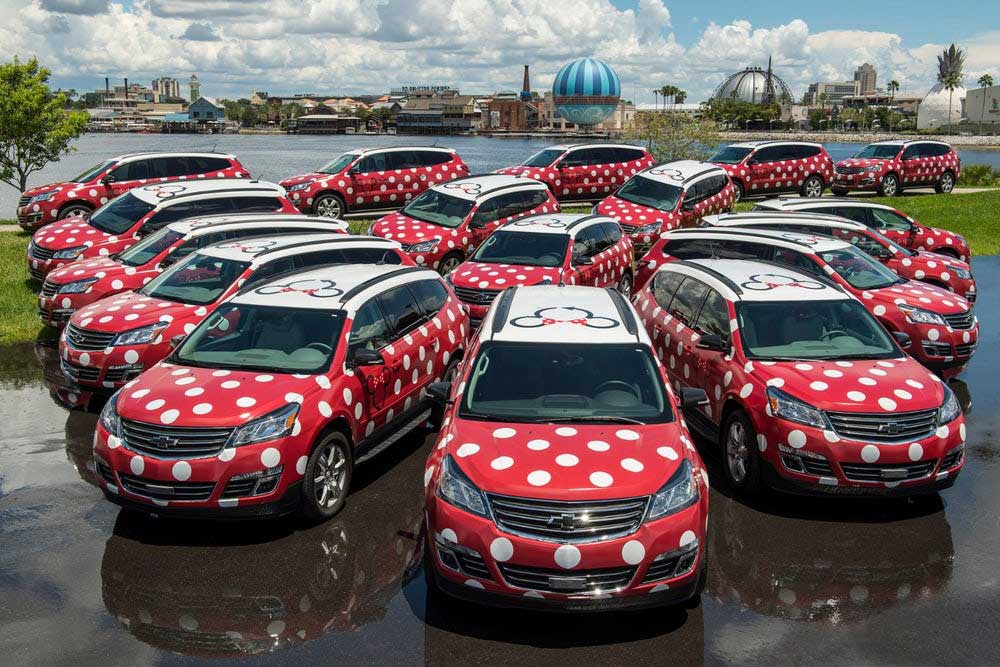 The Ride Share trend presents an opportunity for attractions like Disney and Universal. Visitors who spend on an Uber are taking their money away from the park operators. As a result, Disney recently partnered with Lyft to create their own ride share service called Minnie Vans.
Resort guests summon the Minnie Vans via the regular Lyft app on their smartphones.  Initially the service will run between 6:30 a.m. and 12:30 a.m.  However this may be subject to change. The service costs $20 per trip.
The City of Calgary also noted the need to transport visitors between attractions and so launched an autonomous, electric shuttle to take visitors between the Calgary Zoo and the Telus Spark building.
The importance of mobility
And last year, Dubai's Roads and Transport Authority (RTA) announced that they will have driverless flying cars – drones capable of carrying humans – flying within months.
At the Disney Accelerator, HopSkipDrive CEO Joanna McFarland spoke about the importance of mobility. Her company helps families transport their children with safe, vetted drivers. The company is also a leader in technology-enabled ride services for kids.
And at Universal's Accelerator was Portl Media. The company provides a personalized entertainment platform for rideshare vehicles. This could mean you get into your rideshare car and a display tailors entertainment or information content to you. The company has signed content and advertising deals with partners including Vice and Nestle. 
Portl Media is capitalising on the Ride Share trend, but it is also emphasising the importance of personalisation to the visitor experience.
Personalisation and interactivity
Personalisation is a huge theme within the attractions industry right now and companies are keen to get on board.
A report from Westfield predicts walkways that have artificial intelligence included in their construction. Eye scanners on entry will call up a visitor's previous purchases and will offer recommendations for personalised fast-lanes. Furthermore, 'Magic' mirrors and smart changing rooms allow shoppers to see virtual reflections of themselves in possible outfits. Smart toilets will detect hydration levels and nutritional needs.
Pium was at Universal's Accelerator. The company offers users a variety of mood-boosting scents throughout the day. The unique platform offers guests their own scent schedule – ensuring their surroundings are "the right scent at the right time". The company plans to partner with Universal Parks and Resorts and Loews Hotels to offer a sneak peek of the product to hotel guests.
https://www.youtube.com/watch?v=p8Nyhu36gUQ
Also at Universal's Accelerator was Tally Interactive– which allows content creators to make and host their own live, interactive shows. 9 out of 10 viewers interact with shows on Tally and, on average, viewers engage twice every minute with no monetary incentive.
Last week Netflix announced that it is developing interactive TV for the fifth season of Black Mirror. Expect to see interactive storytelling in both TV and attractions as millennials look to create their own content and experiences.