Specialising in large scale events and multimedia shows, Huanyu (LE) Technologies. Co., Ltd. (Previously Lasereffect) has designed and produced a spectacular show telling the story of ancient Yunnan at Yunnan Happy World Theme Park.
Almost three years in the making, the Yunnan show required a top team of industry talent. Huanyu (LE) Technologies assembled leading names across multiple disciplines including creative design, dance, equestrian, stunts, music, costume design, props, engineering and design.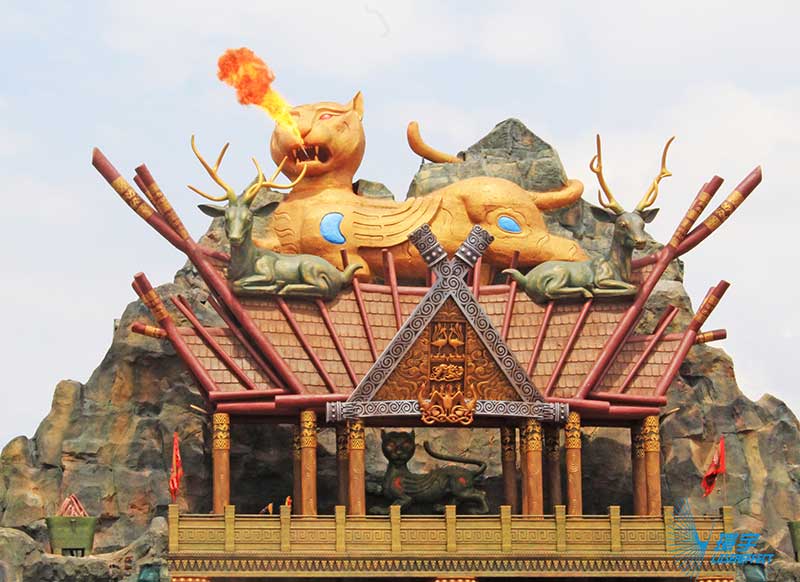 The live action stunt show is sponsored by the Kunming North Start Enterprise Group Co., Ltd. and takes audiences through the tumultuous history of the Yunnan region dating back 2000 years.
Bringing the history of ancient Yunnan to life
The past is brought to vibrant life through martial arts, hand to hand combat, water fights and battles on horseback. Live performers are supported with stage machinery, multi-media and water fountain effects across an area measuring over 5,000 square metres.
The drama is based on the heydey of the bronze age Shu Kingdom. It tells the story of the surrounding tribes living in poverty due to the scarcity of resources and hard living conditions.
Fortunately, the kind and devout ancient monks have won the blessing of the Wing Tiger gods. After a fierce and spectacular battle, and through the influence of the gods, the tribes shake hands and return to Taiping.
The show debuted at Yunnan Happy World this summer. According to Huanyu, audiences have been quick to praise the immersive multimedia spectacular, greeting the many stunts and effects with spontaneous bursts of applause.
Established in 1992 in Hong Kong, Huanyu (LE) Technologies specialises in creative water shows, themed spectaculars and large-scale entertainment for the cultural tourism and attractions sector.
The company is adept at cherry-picking expert teams to deliver innovative and immersive attractions and live events powered by the latest technologies. Clients include Chimelong, OCT Happy Valley, Mission Hills, Wanda and many more.