iPlayCO, leading play structure manufacturer, has installed a range of attractions for a new Xtreme Zone at Abu Dhabi Mall, including soft play, active climbing and trampolining.
iPlayCo is pleased to announce the installation of this fun new zone at Abu Dhabi Mall, in collaboration with Al Othaim Leisure and Tourism. iPlayCo provided key attractions for the new adventure-filled location, creating a fun experience for all ages. It opened to the public with a grand launch on June 19th, 2019.
Families visiting the mall can now enjoy a combination of fun and fitness within the new Xtreme Zone. It comprises 30,000 square feet of activities spread over two floors. This includes soft play and trampolining areas, as well as an interactive climbing zone.
High-energy fun
iPlayCO says the new zone is designed to offer 'low stress and high energy, fun activities'. It features Climb Assualt – an active climbing area with a climbing wall, plank walk, ropes, bar grabs and more. Visitors can challenge themselves to see how quickly they can complete the course, thanks to a stop and start button at the entrance and exit.
The Active Climb Area features a fun wall, labyrinth and more, with some fun characters along the way.  Guests can also bounce around in the large trampoline zone, which includes obstacles, soft parkour, dodgeball, aero ball, performance trampolines and more.
Fahad Al Othaim is vice chairman of Al Othaim Leisure and Tourism. He says, "We strive in our commitment to bring high-quality family activities to our customers, all year round. Xtreme Zone will help to promote the children's entertainment quotient in our portfolio. The vibrant indoor entertainment area has a plethora of activities for all ages, including adults.
"Our dedicated and specially trained and experienced staff ensure that safety guidelines and regular maintenance of equipment help customers to achieve an enhanced experience upon every visit. Xtreme Zone houses an array of dynamic, visually stimulating and attractive activities for children, teenagers and adults."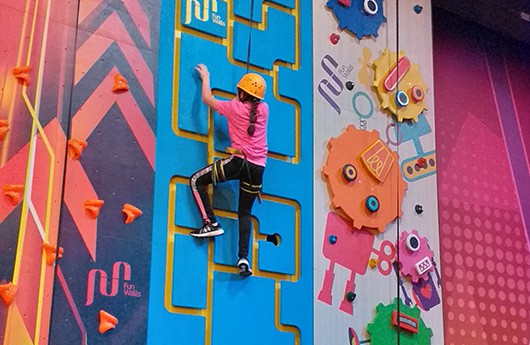 iPlayCO will be exhibiting at IAAPA Europe Expo in booth #3430. Its partner, Play Mart International, can be found at booth #3630. Both companies recently attended IAAPA Expo Asia 2019 in Shanghai, where they were promoting TAG interactives as well as many other products.