Arcade and redemption game specialist LAI Games is gearing up for next week's IAAPA Expo in Orlando, where it will debut more new games than ever before.
The company will showcase six new games at the show, which runs from Tuesday to Friday, November 19 to 22, 2019. The selection is as follows:
• Outnumbered. Launched for the show, a unique mobile app works with this competitive target shooting game to increase repeat traffic to an attraction.
• Pearl Fishery. A new cabinet coin pusher combines the classic with the big-ticket.
• HYPERpitch. Lights and booming sound effects follow the ball on this baseball-style pitching game.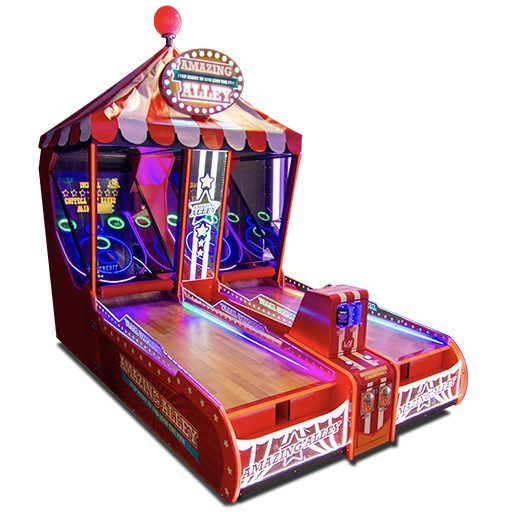 • Amazing Alley. This 2-lane redemption game combines bowling with augmented gameplay featuring colourful and explosive holographic effects.
• Toy Frenzy. Using oversized blaster cannons, up to three friends can compete or collaborate to free the suspended toys on screen.
• Monster Munch. A fun ticket eater that turns the monotonous task of counting redemption tickets into an enjoyable experience.
Return of the Rabbids!
In addition, LAI Games will launch The Big Expansion Pack for Virtual Rabbids. This comprises three new experiences for the awarding-winning Virtual Rabbids: The Big Ride.
IAAPA will be the last stop on a world tour for Virtual Rabbids: The Big Ride where it has entertained thousands of riders at trade shows in seven countries. This includes ATRAX, DEAL, Amusement Expo, China Joy Digital Entertainment Expo, EAG Expo, IAAPA Expo Europe and Ubiday, an annual fan event hosted by Ubisoft, in Japan.
"By joining forces, Ubisoft and LAI Games succeeded in producing an innovative VR attraction that is not only very popular with guests but also highly profitable for operators", commented Mélanie de Riberolles, New Business Director, Ubisoft. "We are more than happy to continue to support the momentum with three outstanding new contents."
"We knew we had an incredible product when we launched Virtual Rabbids," said Tabor Carlton, LAI Games Marketing Director. "But seeing how far this game has reached is really exciting and says a lot about its quality. Not many games get showcased outside our industry the way that Rabbids has, at places like China Joy and Ubiday."
With over 60 years in the industry, LAI Games develops coin and card-operated virtual reality, prize merchandising, video and ticket redemption games, photo booths and novelties.
Visitors to IAAPA Expo can experience the new games above on #booth 1034 at the Orange County Convention Center.