Restaurants in Canada and the U.S. are reporting brisk business since taking the decision to fit a retractable roof or skylight by leading designer and manufacturer, OpenAire.
Gusto 101 in Toronto has reported a whopping 85% increase in revenue since they transformed their second-floor outdoor patio with an OpenAire telescoping roof and operable walls.
Another success story is The Crooked Cue Pub and Pool Hall, also located in Toronto. The venue has seen major growth in visitor numbers and a 200% increase in summer revenue over previous years. Back in 2015, OpenAire inserted a 20 ft. by 48 ft. retractable skylight over the second-floor location. The transformation to both the building and the business inspired the pub to add a second identical retractable skylight a year later.
A year-round solution for restaurants
OpenAire roofs offer venues a year-round, transformative solution. Visitors benefit from an outdoor-style experience whatever the weather, and venues can operate their patio seating year-round. This means they're effectively doubling their capacity during winter or colder months.
A number of new hotels have chosen to fit OpenAire enclosures, roofs and skylights, including the newly renovated 13-storey Hyatt House Jersey City hotel. The venue features a rooftop bar and lounge with a 3,600 sq. ft. double-slope telescoping enclosure with bi-folding doors.
The MOXY Hotel in Washington D.C. turned to the OpenAire team to design and build a 20-ft. x 42-ft. restaurant and rooftop bar enclosure with two 11-foot-long bi-parting roof panels on the penthouse mezzanine (fourteenth floor).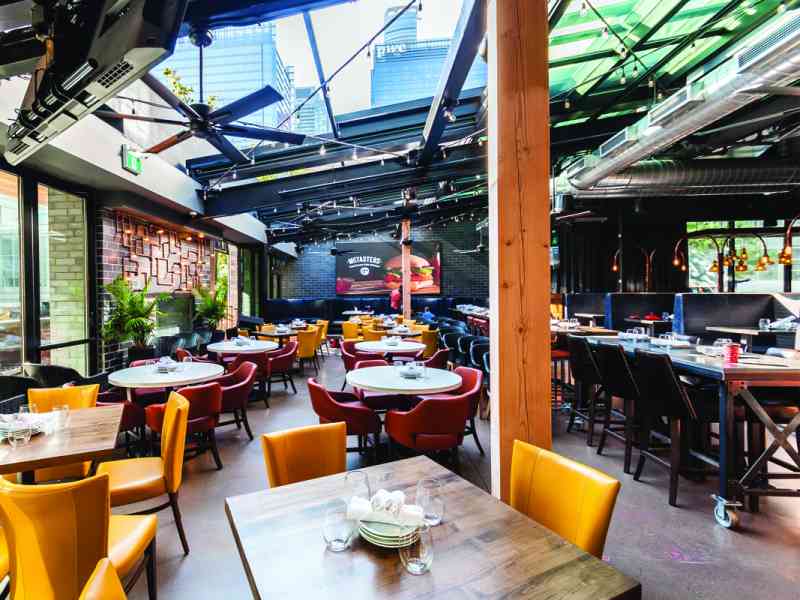 Created by hip-hop superstar, Drake, Pick 6ix features a 2,100-square-foot OpenAire enclosure with five retracting roof panels, each measuring 12' by 12'. The 9'-8" high front wall includes five drop-down windows that create an open patio environment for guests to enjoy throughout the year.
Of course, it's not just restaurants that can benefit from the all-weather treatment. Among its many projects, OpenAire recently created a huge, custom retractable enclosure for the brand new Epic Waters indoor waterpark in Texas.