Simworx, the dynamic media attractions specialist, has announced the launch of its latest attraction to open in Saudi Arabia.
A brand-new attraction, the Masameer Experience was been planned, delivered, and installed in record time for the opening of new development, Boulevard RUH City.
The wider project has seen once barren land transformed into a "mini-city", providing a great reason to celebrate its official 1 November launch with a spectacular firework display and magnificent parades. With nine zones designed to provide unique experiences to visitors, the Studio Zone provided an ideal location for Simworx's latest product delivery.
Popular series
The Masameer Experience features four of Simworx's dynamic 6DOF Stargazer ride vehicles, also used in other recent projects such as Hyperakselerator at Hunderfossen Familiepark in Norway. The attraction benefits from being based on the self-titled "Masameer" series, a popular Saudi Arabian Cartoon IP produced for Netflix and developed by the Myrkott studio.
The highly-themed experience commences with a pre-show featuring models of the characters, such as Saad, Ghannam and Saltouh before riders enter the showroom area through one of the character's mouths.
Guests are then invited to take their Stargazer ride vehicle seats, authentically designed to replicate the pick-up truck featured within the popular show. Once secured, they are whisked off on a grand adventure into the cartoony world of Masameer.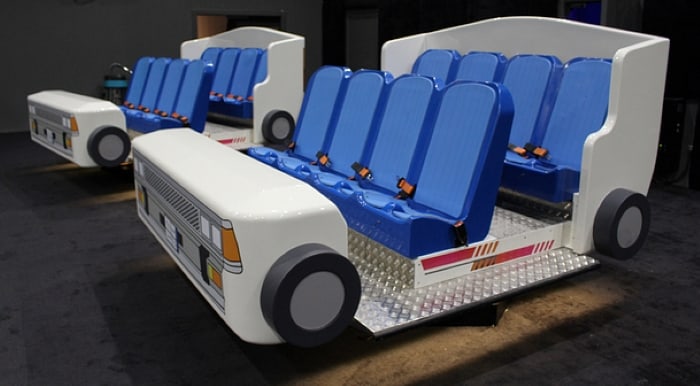 Guest immersion
Dynamic movement simulates the on-screen action, which is combined with onboard effects such as wind and water sprays. The result is an immersive movie environment for guests as they journey between a number of different worlds before disembarking.
Simworx has collaborated with Sela to deliver the Masameer Experience as the KSA's first IP-driven media attraction.
Last month, Simworx announced the launch of its newest flying theatre model, Fly-Motion, a reimagining of the Cobra Motion Theatre, created for locations with height restrictions.