Award-winning interactive animation company Animalive launched its new product, Animachat, at IAAPA Asia in Shanghai last month.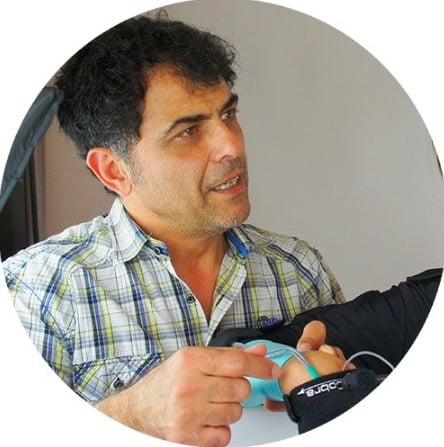 Blooloop spoke to motion capture expert Ali Kord, founder of Animalive, about their new product. Kord explains the evolution of Animachat and its unique features. He also talks about how trialling it has helped FEC group Tabatinga in Australia.
Kord explains he has been involved with motion capture and live animation since the late 80s. In 1988, he started a simulation company called Ingolf – his first foray into public entertainment. In 1989 the company made the first ever digital golf computer simulation. It sold well in Japan and by the early '90s, the product turned into a golf analyser. From this, the company branched into motion capture.
"We became leaders in motion capture manufacture," says Kord. "And, in around 2007, we realised this motion capture stuff was going to do magic."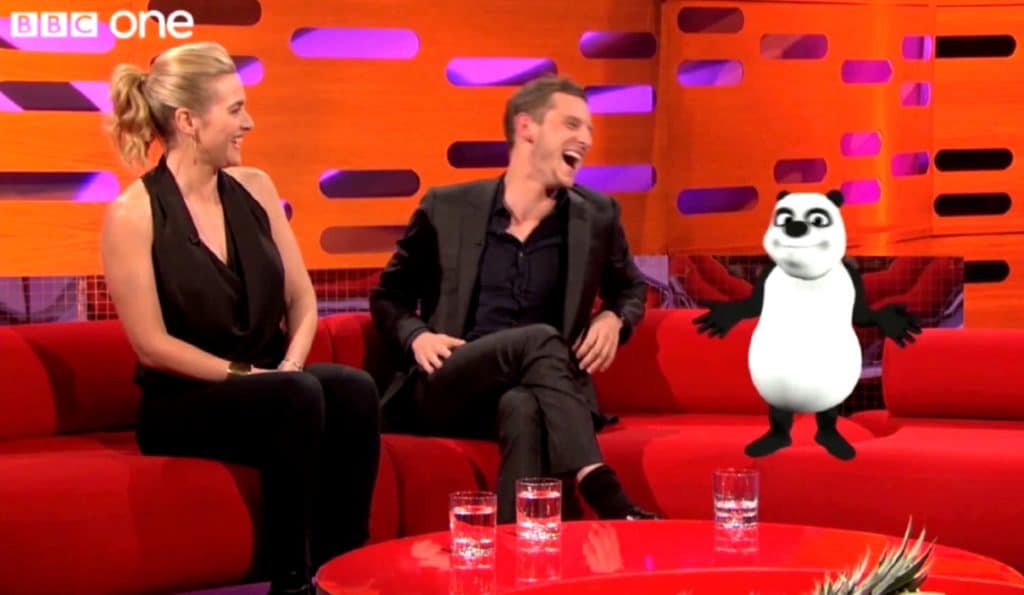 Building momentum
At the time, Kord's company was Animazoo, founded in 2000. "We did some dry runs, doing gigs with this system, putting cartoon characters on the mo-cap system." Kord adds, "We did museums – the Museum of London was one, and we did a job in Edinburgh, I remember, and a couple of festivals. As it turned out, the reaction was huge. And so Animalive was born then, in 2007, and we were on our way."
Once begun, the project took on its own momentum. "It just took us along with it," Kord says, "I didn't do anything – it sucked us in."
Developing a motion capture product
From that starting point in 2007, the company was on an upward trajectory. In 2009 it won the Best Show award at IAAPA, and the year after that the Best Exhibitor award. By 2010 it had gone on to develop a product called ChatterBox. And in 2011, Animalive debuted another product, the Animation Brain.
Kord says, "Until that point, it was mostly bespoke; people used the technology to do their own thing. We thought, however, that an FEC market would benefit from a package. By then we had a package: the Animalive Animation Brain that would work with or without motion capture – for companies that didn't want to get involved with technology."
Fine tuning
The product, while impressive, needed fine-tuning. Kord says, "We realised the system actually did need a type of scalability which it didn't have. The Animalive systems were designed so you buy this it, plonk it into your establishment, and you wow the crowds with it, increase the key performance indicators for other parts of your business, and make the place busier."
Many of the initial customers didn't have the capacity to manage the equipment. "It was a bit too high end; too technologically complex for them," says Kord. "There was also the matter of somebody having to get into a suit and be jovial and fun for a sustained length of time. We ended up with a lot of customers who would rush to buy the system, but then just let it gather dust, once that initial enthusiasm wore off. They realised it wasn't cheap or easy to run, and the product was effectively unscalable."
Animachat has the solution
After spending a period of time concentrating on his other VR projects, Kord returned to the problem. This is when he came up with the solution: Animachat. The new system addresses Animalive's issues. It is scalable and interned based. It's designed so one place can operate it, across several venues.
"It's ideal for FECs which are looking to expand," says Kord. "The cost of the technician for the motion capture system, the equipment, and the server are scaled across a bunch of venues."
Animachat has been fine-tuned, working with Australian play centre chain Tabatinga. The rainforest-themed attraction has six sites in New South Wales.
Tabatinga debut
Kord says the partnership with Tabatinga helped to refine Animachat. "They agreed to be the guinea pigs, and have been with us for three years, putting up with our hassle, but they're getting payback now. The system is ready."
Being able to trial Animachat in this way helped the company to make some important discoveries. "They also helped us a great deal, because we came to a realisation at an early stage that the 'wow' factor of the live, interactive animated character – which had been Animalive's USP – was diminishing the more it was used," explains Kord.
Now, every Saturday, the live character makes a brief, scheduled appearance. This keeps the magic. "Tabatinga not only conserves character across six locations, switching between venues depending on who has booked what, but the actor is actually only there for seven minutes."
Enriching the experience
There is also a supporting edutainment package for the establishment. Children interact with cartoons and content via touch screens. They can access conservation messaging from Tabatha and Blink, Tabatinga's characters.
In addition to this, children can enjoy three separate activities – a dance, a quiz and a treasure hunt. Visitors can access these via QR codes on posters throughout Tabatinga's venues. There are storytelling sessions, and there also is Tabatinga Online. This a set of short, animated stories. They engage children's interest in the characters pre-visit and maintain it afterwards.
"There is all this content that we have built for Tabatinga to enrich the experience of the place," says Kord. "And then, from time to time, one of the characters becomes live. That's the highlight. Previously, the live character was the only thing they had."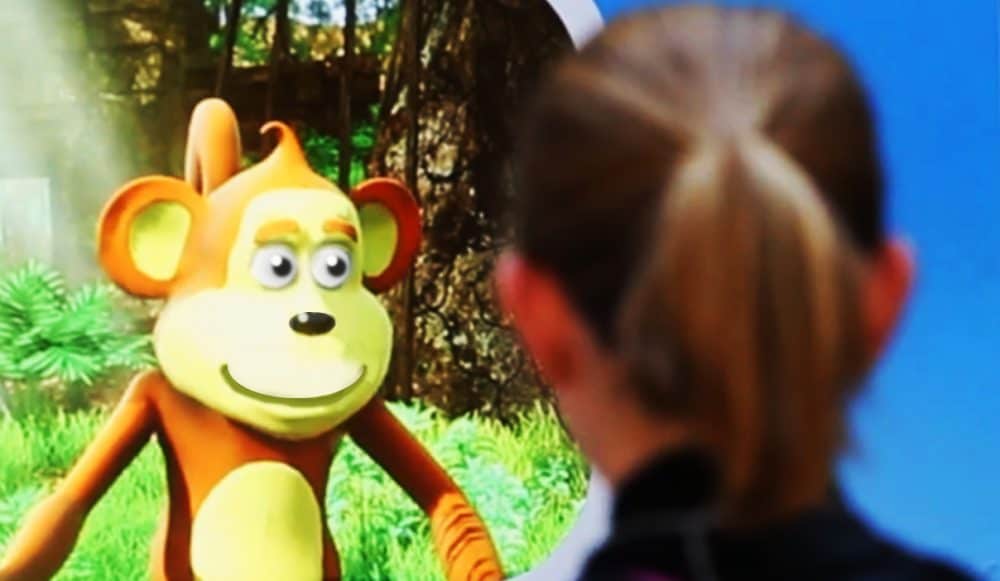 Motion capture entertains the crowds
Animachat's live character, used like this, can dazzle crowds. Visitors can enjoy show-stopping, real-time 2-way conversations between characters and customers. The animated character is, in effect, a digital puppet.
The system comprises the Animachat server, the Animation Brain, two motion capture suits and a headset. Also included are the Animachat operator licence and supporting materials and content.
Clients can choose from stock Animalive characters and digital environments. Or, they can work with the Animachat team to develop their own animated mascot and environments.
Direct communication with the audience
The audience cannot see the human performer – or puppet master. He or she effectively becomes the character, communicating directly with the audience. The performer wears a headset that projects their voice through the sound system, the character's lips animating in real time. The operator can see the audience on one monitor, and the character on another.
An interactive touch screen, the Animation Brain, gives the performer control over the character's movements, using a selection of pre-recorded actions. They can also bring up props at the touch of a button, or switch between characters and environments.
Alternatively, for another degree of control, the performer can wear a motion capture suit. This allows the character to mirror their movements in real time. One operator can live-stream into multiple venues over the internet. Animachat brings 2D mascots to 3D moving, speaking, interactive life.
"There is a great deal of content. We are hoping to cut and paste this content creation system. New customers can apply it to their own mascot and messaging," says Kord. "The dances, games and quizzes are all templates. Simply changing the characters makes the system so much cheaper and easier than having to build all the content each time. Effectively, what we are introducing this season is the message that there is a new way of utilising interactive live characters with a supporting content base."
The future is bright for Animachat
The immediate future will be about gauging the reception of the whole concept. Animachat brings a whole new dimension to a themed FEC, however small. Kord says, "If the concept is received well, we hope to make Tabatinga into a franchise."
He also adds that the Animachat system is potentially transformative for family entertainment. "It's not an easy business; often, they struggle to make their money from $1.50 hats and juices. With this product, it's so easy to just tap into Tabatha and her team, or their equivalents. You just add water. And then we also have theming partners to add elements to whatever your location is."
New partnerships
Animalive, Animachat's parent company, has recently received investment from AiQ in Taiwan. Clarifying this, Kord explains: "It's actually more of a partnership. Animalive is owned by Synertial, my other company. AiQ has invested in Synertial, with the investment to be spent on Animalive."
Synertial is the parent company founded by Kord in 2015 to replace Animazoo. It is a pioneering manufacturer of inertial motion capture systems. This includes the first-ever inertial data gloves. The company is collaborating on medical, industrial, educational and artistic applications of its motion capture systems.
AiQ is a leader in the field of smart clothing and intelligent textiles. Moving into motion capture has been one of the company's long-term aspirations. The capacity to digitise human motion is significant in a wide range of applications. This ranges from sports coaching and physiotherapy through entertainment and industry.
The AiQ-Synertial collaboration couples cutting edge technology in electronics hardware and smart fabrics with the most sophisticated kinematics tools & software. It will have the capacity to produce professional data sets and plugins for most popular 3rd party applications in industrial, sports and entertainment applications.
Digital experience for the attractions industry
In conclusion, Kord says "Not many people have this degree of digital experience in the entertainment and theme park field. We feel that our experience means we can bring something new to the field. Turtle Talk at Epcot costs a lot of money. With Animachat, we are basically doing Turtle Talk conferencing for a fraction of the price, and in a way that is accessible to everybody, not just Disney."
He adds: "I'm really enjoying returning to the attractions space."
All images kind courtesy of Animalive.