Prince of Persia: The Dagger of Time is the latest offering. This joins the Assassin's Creed games Escape from the Lost Pyramid and Beyond Medusa's Gate in Ubisoft's VR escape room collection. It will debut in more than 300 locations.
The Dagger of Time takes place in the world of the Prince of Persia trilogy. Players can control time itself as they collaborate to stop the evil Magi.
Blooloop spoke to Cyril Voiron, Executive Producer Ubisoft Escape Games. Before joining the company, he spent ten years at Atari as Vice President of Brand Management. He says:
"After 10 years, I tried to start my own games development studio. It didn't work; we had difficulty raising the money. So I had to do something else. I knocked at the door of a studio in Germany and met Ubisoft Blue Byte. They persuaded me to set up and lead their mobile games strategy."
This was in 2012. Today, as Executive Producer on Ubisoft Escape Games, he leads Ubisoft Blue Byte's various VR initiatives.
The concept of VR escape games
"Over three years ago now, I proposed and submitted a concept to do an escape room in VR as part of the studio's innovation track," says Voiron. "The concept was validated from our head office, and that is how we started out in VR."
"I would say that one of the really cool things about Ubisoft is that the creativity, the ideas, don't come from the head office to the studios. It's more that, as a studio, we come up with an idea we think might work and that might be the right thing to do.
"If the idea is considered to be valuable or interesting, we will often be given the opportunity to do a prototype. To prove that we could do it. If the result is satisfactory, and it seems there is a business case, we are told to continue. And that's exactly what happened three years ago."
Ubisoft has always had a strong interest in innovation and technology.
"We were interested in VR, and felt it was the perfect time to introduce a location-based VR," adds Voiron. "As a company, we had already created some VR games on the consumer side. But location-based VR was something new.
"For Ubisoft, the concept of VR escape rooms was an interesting business model. The idea came from a discussion about the perfect VR experience. Escape rooms are, essentially, all about immersion. So the tech is supporting what you want to achieve as an experience."
More than a traditional escape room
VR is, he points out, a way to transcend the limitations of a traditional escape room scenario. He says:
"As an escape room, you have a very defined scope. You are still limited, ultimately, by the four walls. VR could allow you to go beyond the physical space, and to do what you couldn't do in a proscribed physical space. Whether it's about the scope, or activities, or gameplay, VR can transport you."
With VR, technology could be used to facilitate a concept. Voiron put together a team to choose, by fast prototyping, the optimal IPs for an escape room concept.
"When we approached the vision, we had some Ubisoft IPs on the table. By prototyping, thinking about immersive locations and exploring mechanics in VR, the team came back to us as a management and said, 'We think a tomb in a pyramid would be an interesting scenario'.
"They did some cool mechanics with bows and with climbing. So the thought was that Assassin's Creed Origin would be the best IP to start with."
Choosing the right IP for a VR escape game experience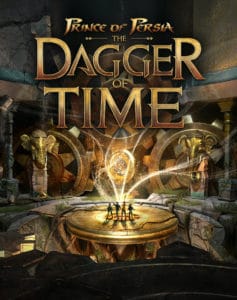 "We chose the IP because the feedback was that it was something that would make a great experience," says Voiron. "And the second one was about building on what we had done.
"We had spent lots of time learning and developing the mechanics, and growing an audience. Then we wanted to improve it. We had a similar universe: another Assassin's Creed, but with different settings.
"We have had lots of feedback from consumers telling us what we have done is super cool. They want to play another one.
"The third one is Prince of Persia, which we have just announced. There is a certain amount of continuity with the previous ones. But we wanted to move away from Assassin's Creed, and to try something different."
It is, he explains, sufficiently different in the way it works to prevent it from being predictable to those who have played the Assassin's Creed escape games.
"Those who come in saying, 'I've already played two. I know how it works,' will be put in their place."
Delivering a quality experience
"We think about the experiences in two ways," says Voiron. "First, how do we, as a team, improve and progress? How do we deliver a better experience to partners and consumers?
"With this experience, without doubling the size of the team, it's about getting better at challenging ourselves.
"Before, you could only play with two or four players. With Prince of Persia, you can play two, three or four. It sounds like a small change. But it has lots of implication in the level design, the nature of the experience, and what happens."
"That was a big challenge for the team. We are also introducing NPCs (non-player characters) for the first time. So players will meet somebody who talks to them. It's a big difference. We also have more choice in terms of diversity when choosing an avatar. That is something we have always wanted to do.
"The second part is that the players need to have to do things they've not done before. For us, the goal of VR is to have people feel they have experienced something they could never have done in real life. It leverages what VR is.
"This time, what is super exciting about the Prince of Persia VR escape game is time control. What does it mean if you have the Dagger of Time; if you can control time; pause it, rewind it? It is an experience that you would never have in real life, but you can do in VR. And that's why we like VR."
It is important, he says, to be relevant to fans:
"We set up the game in the universe. If you know the story of Prince of Persia, there are a lot of touchpoints. Your viewpoint is not that of the Prince, of course, because it's a multiplayer experience. You can't have four princes.
"It's about being yourself, in that universe. You go through the experience, solving riddles as a group."
VR escape games and collaboration
One innovation is a focus on the necessity of collaboration, says Voiron:
"With purely physical escape rooms, there is always the possibility that there is one clever member of a group who will invariably find the solution almost immediately. This leaves everyone else feeling, 'Oh, did you do it? Okay, I'm happy to be part of it, but I don't really understand.'
"What we can do with virtual reality, and what we have done here with the level design, is to make sure that nobody can do that. You have to work together and communicate to find the solution and progress to the next level."
Prince of Persia, is, he says, the best escape game the Ubisoft team have created so far:
"It really is super cool. Each time, we've stepped it up. Everybody so far has confirmed that this is our best one."
Using technology to immerse players
Technology will increasingly enable people to explore being active players rather than spectators, says Voiron:
"One thing which is interesting, and it's linked also to why we chose escape rooms, is that they have become very mainstream. It's a format that most people know, and that everybody plays. You go to escape rooms as a family, you go with your grandmother, with your young kids, or as a business."
This is an element he wanted to keep:
"We are creating these experiences so that, even if you've never played a game in your life, even if you have no experience of VR, you will be able to play and to enjoy it.
"At the very beginning, when we were starting and going to trade shows, so many people would say, 'Oh, it's not for me. I don't play games and I don't like technology. VR would make me sick.'
"I would tell them, 'Just give it a try. You won't feel sick, because that's a matter of frame rate. VR doesn't make you sick by default. Just try it.' And so many times, I've seen people start, then they want to go on and play the full game, which lasts about an hour, and they come out and they say, 'But this is incredible!'
VR escape games: fun for everyone
"I think that's why this type of format is going to be successful," says Voiron. "Because you can make it work for everybody.
"If you have to play on the console, you still need to master the pad. That is not necessarily difficult, but it's another layer of interaction with the machine. It requires learning. In VR, you can create experiences where you just have to be there; you don't have to learn; it's natural."
Dagger of Time is in its final stages, he says: "The last months are usually crucial. Because that's when we add the final polish and make sure it's really good."
The coronavirus pandemic is, as everywhere, impacting on progress.
"All over the world, our partners are closing, which is, of course, the right thing to do. But the overall impact on location-based VR will be profound. Our partners are often small companies who might have to remain closed for months."
"We tend to work in distributed teams, so we are trying to organise offsets to be able to continue working. There is a very good culture to make this happen. This means we should be able to finish a game as efficiently as possible.
"What we cannot do, which is a problem because it's a core principle of what we do, is to do lots of playtesting. After two or three months of conception, we begin testing, and that's why we have something so polished and natural when it's released."
For the future, once normality is resumed, Voiron says:
"Our goal is to grow our current partners, as we have been doing. There are many places in the world where we want to expand to. We want to continue delivering a great experience to audiences across the globe."