Christie, the global visual and audio technologies specialist, has announced Athletic Bilbao's new museum has been fitted with the company's laser projectors.
The San Mamés stadium museum in Bilbao, Spain depicts more than 120 years of footballing history and features more than 500 pieces of memorabilia and up to 600 videos.
Located in the San Mamés stadium, the football club's museum is divided into three areas, colour-coded to the team's green, red and black.
The attraction is outfitted with 30 Christie Captiva DHD410S 1DLP laser technology projectors and three Christie GS Series projectors, bringing to life the museum's audiovisual attractions.
Projecting Athletic Club's 120-year history
The first attraction is a visual projection explaining Athletic Club's founding and depicting Bilbao more than 100 years ago. The projection uses six Christie Captiva projectors and the three GS Series projectors on the wall and floor to create an immersive environment.
Asier Arrate, director of the museum, said: "At first, we were thinking about using lamp-based projectors but then we discovered that laser solutions give you much better benefits in terms of less down-time and less expensive running costs.
"In fact, Erabi prepared a simulation for us of when the projectors are up to 1,200 hours of use, which showed us that the laser light source would save us up to €15,000 in replacing lamps and other consumables."
Arrate went on to say that Christie Captiva's ultra-short throw lens was crucial, adding: "Thanks to it, the projector can be mounted at a very short distance from the screen or wall, either vertically or horizontally, which means that the public can view content without the appearance of bothersome shadows that interrupt the image. And on top of that they are extraordinarily quiet."
Christie Captiva projectors and GS Series projectors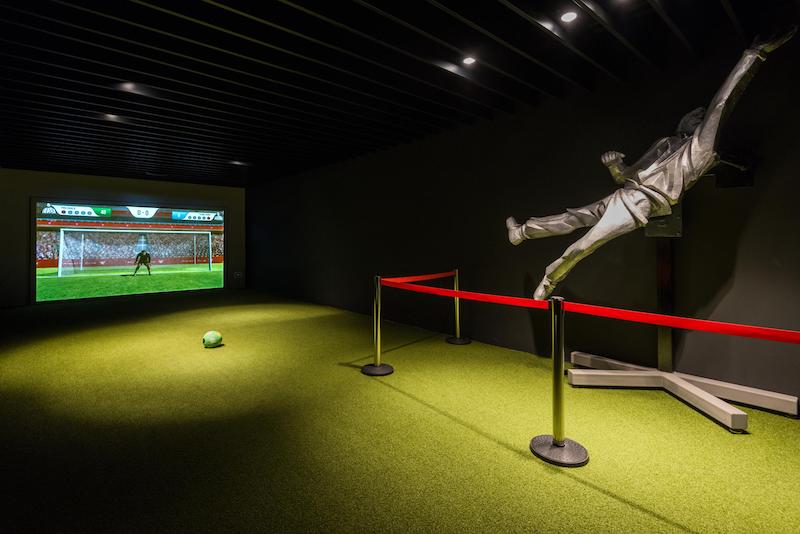 Another element at the museum, 'Time Line', is a restored wooden stand from the old grounds where visitors can watch a video of the club's history. The projection is screened on a high-contrast canvas tensed in a frame powered by a Christie Captiva.
Eneko Elorriaga, co-founder of Erabi, said of Christie Captiva: "The quality of the ultra-short throw lens is superb, especially for museum applications, because it gives you a much more dynamic experience and avoids those shadows that can be really annoying.
"Captiva is a projector that guarantees faithful colour reproduction and excellent brightness, and with the sterling reliability we have come to expect from Christie."
"Another factor worth bearing in mind is that they can be controlled by platforms like AMX, Crestron and similar," Elorriaga added.
'The quality is superb, especially for museums'
"At the same time, I would also underscore the fact that you can choose the colour of the chassis, in either black or white, which is a plus for museums and something not all brands give you. In addition, being able to use it in portrait mode affords greater wriggle room for creative applications."
Christie Captiva is also used in the 'Member's Corridor', projecting Athletic Club's logo onto a plaque with the names of all members of the club throughout its history.
Also at the new museum is the Captiva with a touch option, enabling users to interact with the content, and a tactile infrared frame developed by Virtualware and Erabi to make the interactivity more realistic.
Last month, Christie announced its laser projectors would be providing a panoramic cockpit view as part of a new multimedia visitor experience at Vienna International Airport.
Images: Christie