Christie, the global visual and audio technology company, has provided its projection & content management solutions for Venice Cinemas' newly upgraded multiplex in Taoyuan City, Taiwan. Venice Cinemas has added five new halls to the venue, which is spread across two buildings linked by a distinctive red pedestrian bridge for a Venetian feel. This brings the total number of screens from 10 to 15.
The five new auditoriums boast 8.5-metre screens and feature Christie's reliable cinema projectors for a superior viewing experience. In addition, the lobby which links the new screens is home to immersive waterfall projections, powered by six Christie DWU630-GS 1 DLP projectors and managed by two Christie Pandoras Box Players and a Pandoras Box Manager.
Cutting-edge technology
Dacoms Technology, a trusted partner of Christie with over 30 years of experience in the industry, was responsible for the installations.
"We have enjoyed longstanding ties with Christie and Dacoms for over a decade and the recent upgrading of our multiplex underscores this enduring partnership," says Maggie Lee, special assistant to the president, Venice Cinemas.
"We unanimously decided to deploy Christie's projection solutions and Dacoms' integration services. Not only are we impressed with the performance, colour reproduction and cutting-edge technologies of Christie projectors, we're also grateful to Dacoms for the timely completion of all installation works with finesse despite very tight deadlines."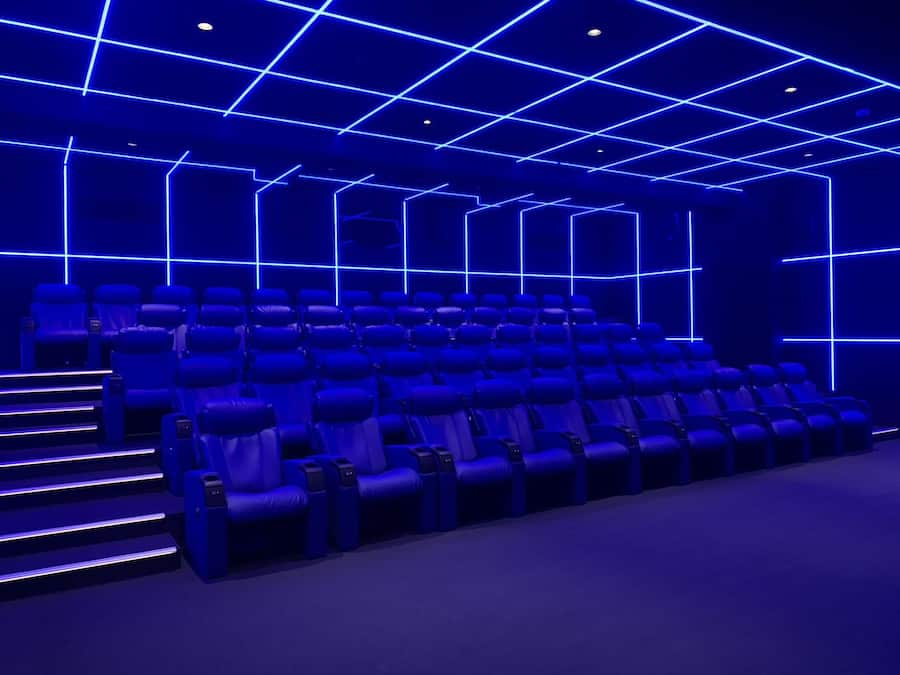 With the extra screens, visitors to the cinema will now enjoy more choice when it comes to programming, as well as increased flexibility in scheduling. The expansion project will help the venue to stay ahead of the competition, as Lee explains:
"As an independent exhibitor, we need to find ways to engage our audiences and provide them with inventive and refreshing experiences. The waterfall projection titled 'Deep in Venice' in our new lobby is a case in point, as this 'aquatic' theme is synonymous with the name of our cinema.
"We are very satisfied with the design and execution of the 'virtual waterfall' by Dacoms following their amazing work at Xpark Aquarium, and we're pleased that it has become a major highlight of our upgraded multiplex since the official opening in late February."
A highly realistic waterfall design
"This is the first panoramic waterfall projection to be executed within a cinema in Taiwan, and we are honoured to be part of it," says Terence Lee, executive vice president of Dacoms Technology.
"The visuals are achieved using Christie DWU630-GS laser projectors, Christie Pandoras Box, and customized curved projection walls to create a highly realistic waterfall design that seamlessly integrates themes and spaces. Together, with the Christie cinema projectors fitted in the five new halls, Venice Cinemas is poised to present a brand-new experience to Taiwanese movie fans."
Han Kim, executive director for APAC, Cinema, Christie, adds: "Venice Cinemas is a longstanding user of Christie's digital cinema projectors in Taiwan and we are delighted that it has chosen a combination of our cinema projectors, 1DLP laser projectors and content management solutions for its expanded multiplex in Taoyuan to deliver stunning on-screen visuals to movie-goers.
"This is an ingenious deployment of our integrated solutions in a cinema environment, and I applaud Dacoms for completing this inventive installation."
Christie also recently announced that it has provided a D4K40-RGD 3DLP pure laser projector for Kogakuin University in Japan, where it is displaying vibrant images on a "kinetic wall".
Top image courtesy of Venice Cinemas