Elbe Dome 2.0 was created for Fraunhofer Institute for Factory Operation and Automation IFF, Magdeburg on behalf of Carl Zeiss Jena GmbH.
It is made up of floor projection and a cylindrical 360-degree projection screen, with a height of four metres, and a diameter of 16 metres.
project: syntropy was commissioned to upgrade the large-scale projection system, with the team renewing the projection area, and planning and integrating a 25-channel, 3D stereo laser projection system.
Elba Dome 2.0 mixed-reality laboratory with projection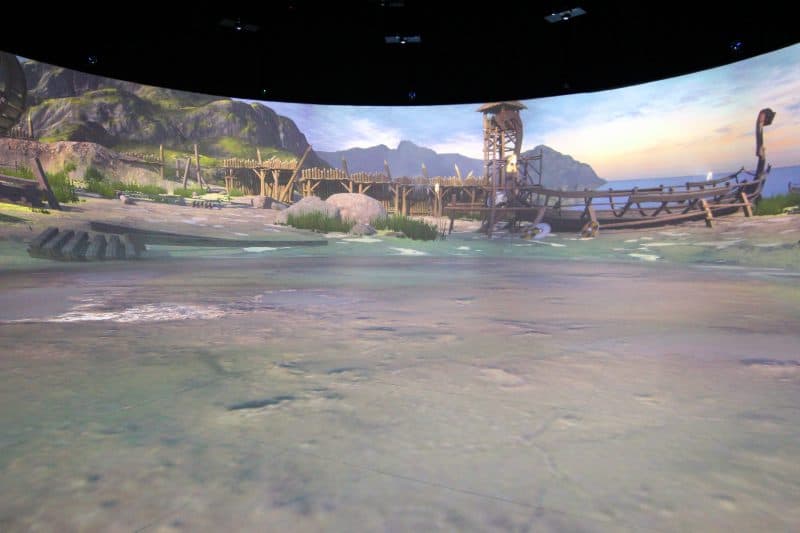 The projection screen was also adjusted, and an automatic calibration system was installed. The upgrade significantly improved the brightness and resolution of the 3D display, as well as the graphics performance.
The immersive virtual environment contains 16 Barco projectors for general projection and three Zeiss Velvet projectors for overlay projection.
It also features two different tracking systems and a full surround system, making it possible to realistically simulate and track life-size work environments and surroundings for evaluation, adaptation and research.
On what's unique about the Elbe Dome 2.0, Tobias Kubacki, a mechanical engineer at project:syntropy, said it "has the potential to interact on different VR levels".
Elbe Dome 2.0 can simulate artificial realities
Kubacki added that "it can be used to simulate artificial realities and experience them without the limits of VR or stereo glasses".
"Therefore interactions between users and real equipment is possible while being inside the artificial worlds displayed," he said.
"In this environment it is possible to simulate multiple work stations as real set-ups within an artificial factory setting."
Kubacki explained that similar systems can be used in complex research and development. "Thanks to its power, the Elbe Dome is mainly used to simulate factory processes, and evaluation for architectural and industrial plant building projects," he said.
On the challenges faced, Kubacki said the team had to find solutions to make one projection design that fulfilled the requirements within the mechanical limitations.
Lars Steffens, an integration engineer and PM director at project:syntropy, added: "During the integration of the system, interface management has been the most crucial part for me. In order to reach that goal most effectively a collaborative effort was needed.
"Thanks to short communication channels and a good initial planning, the integration of the system integration did not cause any trouble. The integration of our projection system within the existing structure was a challenge on many levels."
Earlier this month, project: syntropy announced the opening of a new office in Singapore, adding to the company's existing locations.
Images: project: syntropy