Qiddiya Investment Company (QIC) has launched a spectacular outdoor display using projection mapping and the Tuwaiq mountainside as its backdrop at Qiddiya.
The giant digital display uses a total of 84 projectors and covers a total area of approximately 32,000 square metres. It was installed by a team of more than 80 technicians.
The projection was showcased in a video that tells the story of the Tuwaiq mountains, from the ice age right up to the opening of Qiddiya in 2023.
Qiddiya is a giga-project set to become Saudi Arabia's iconic entertainment destination and the world's largest entertainment city – even surpassing Walt Disney World in Florida.
Qiddiya's giant digital display uses 84 projectors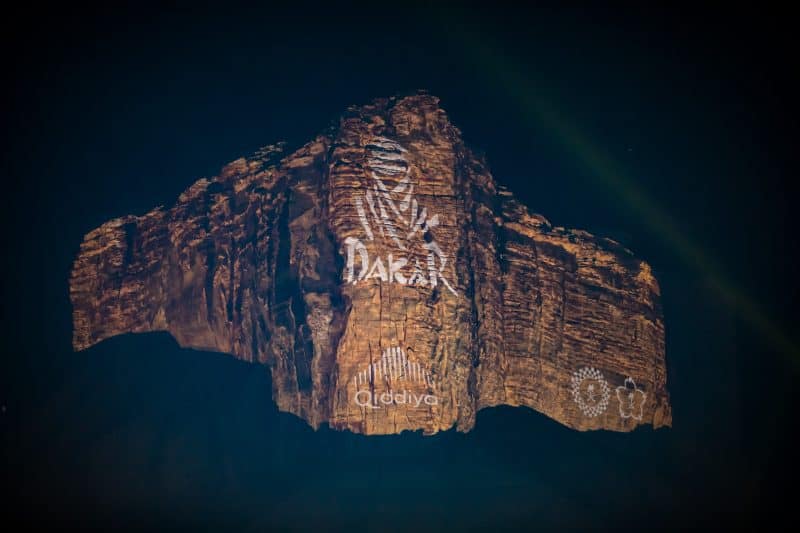 Qiddiya tested the projection mapping at the closing ceremony for Saudi Dakar. The display also featured a large Qiddiya logo, as well as Dakar, GSA and SAMF logos.
Michael Reininger, CEO of Qiddiya said: "We received a great reaction when we first used projection to illustrate the potential of Qiddiya at our groundbreaking ceremony.
"This inspired us to create an enhanced and sophisticated light show that uses the latest audio-visual technology that once again highlights how Qiddiya is set to become the Kingdom's capital of entertainment, sports and the arts.
"The projection display will continue to illuminate the skies above Qiddiya and we hope to work with other Saudi entities to explore how best to use this valuable tool in the future for mutually beneficial purposes."
Qiddiya launching first phase in early 2023
Qiddiya guests will have access to more than 300 facilities, including theme parks, water parks and a sports city.
It will also include nature and adventure activities, events and cultural attractions, as well as Six Flags Qiddiya – the largest and most expensive Six Flags so far.
In addition, Qiddiya will house shopping outlets, food and beverage strips, a performing arts theatre, multiplex cinema and aquatic centre. There will also be a motorsports facility called Speed Park.
The first phase of Qiddiya is set to launch in early 2023.