Squint/Opera, the creative studio, has announced that, as part of an interdisciplinary team, HomeForest, it submitted the winning concept for the inaugural Davidson Prize. This new annual ideas competition addresses transformative ideas for the home, and this year focused on the theme of Home/Work – A New Future.
HomeForest explores how COVID-19 has blurred the line between home and work, drawing on biophilia as a way of bringing nature into the home. It is a collaborative project between Squint/Opera, Haptic Architects, Coda to Coda, LionHeart Felt and Yaoyao Meng.
An immersive connection to nature
The prize was awarded at a virtual ceremony, as part of this year's London Festival of Architecture. Judging the competition were Narinder Sagoo, Senior Partner at Foster + Partners, Sonia Solicari, Director of the Museum of the Home, Alison Brooks of Alison Brooks Architects, Thomas Heatherwick of Heatherwick Studio and author and broadcaster Michelle Ogundehin.
HomeForest was chosen as an example of the way technology can be used in a positive way, especially for people who were not able to access outside space during the pandemic. It was also praised for offering a tangible solution with the potential for a universal rollout.
"Like us playing music which feeds our soul, HomeForest brings a more immersive, sensory connection to nature which I find super interesting," says Brooks.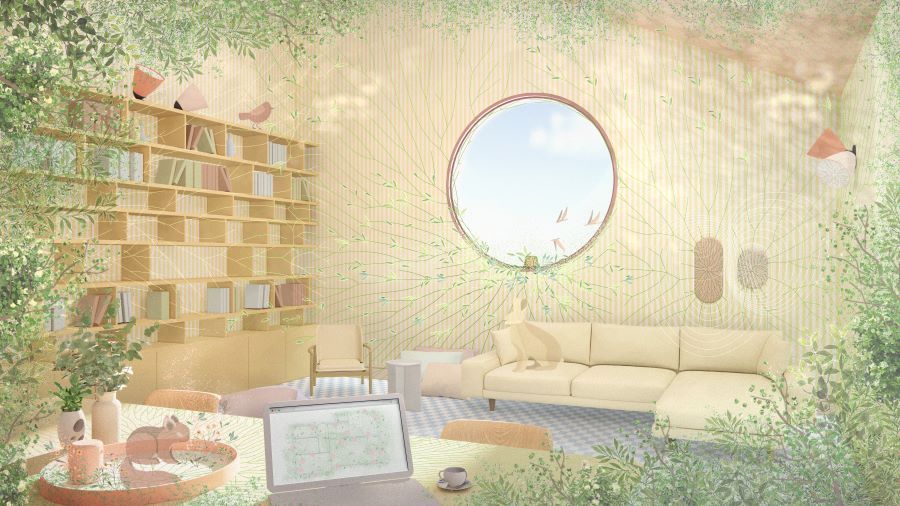 Marie Chamillard, The Davidson Prize representative says: 'Throughout the process, I have been astonished to see the variety and quality of the ideas. Alan would have been so thrilled with the three finalists submissions and I know that the HomeForest scheme would have resonated with him.
"He was an early adopter of all things digital, he loved trialling new things that would blend discreetly into his home and enhance the atmosphere. He would have absolutely used this."
A bespoke design
HomeForest's proposed toolkit, installed on a mobile device, maps the home as the person who lives there moves around, creating a digital twin and connecting to home technology and devices, to produce a digital ecosystem that learns the user's habits and can look out for their wellbeing, as well as connecting them with like-minded others.
It brings together sensory experiences, like birdsong, the smell of rain and a projected rainforest canopy, encouraging relaxation. It can also monitor air quality and includes audio that stimulates ASMR states as well as gobo lighting to echo the natural rhythms of the seasons and time of day.
Alice Britton, Co-Founder and Head of Creative at Squint/Opera says: "HomeForest brings the magic of a forest and the principles of biophilia into people's homes, simulating the sensory effects of shinrin-yoku (forest bathing), with the aim of triggering all the senses to activate the body's healing mechanisms.
"It is a bespoke design that can be grown in any home, regardless of space limitations, and is shaped and nurtured by its inhabitants. HomeForest is unique in creating a new architecture that combines the digital and the physical."
Squint/Opera also recently collaborated with artist Dustin Yellin on a new AR art experience, Procession.