The entrance hall to the French theme park Vulcania has received a long overdue renovation with the addition of a show that erupts before guests' eyes. Audiovisual specialist Tejix helped make it possible.
Located in the centre of the French volcano region, Vulcania entertains its guests with multiple film shows, interactive experiences, simulators and a dark ride. Yet the entrance hall, which serves as the hub of the entire park, had changed little from when it opened two decades ago. Now it offers a much more compelling welcome experience. Setting the scene for what lies ahead during their visit, guests are immersed in a red volcano landscape.
The result, says Vulcania general manager Gregory Mouilleseaux, "is not a simple decor but an impressive living set. Once our team has completed the design with the help of our show designer, we entrusted Tejix to make it happen. It was our first experience with them, so we were curious to see if their performance was up to their reputation."
Light and lava
The concept from designer Julien Bertevas is based around an imposing central volcano. This animated feature is constantly evolving. Starting from an almost idle state, it erupts at regular intervals.
The bowels of the volcano and activity inside are revealed to visitors using a super bright display system. On the rock surface, Tejix used light as a creative and effective way to simulate flowing lava.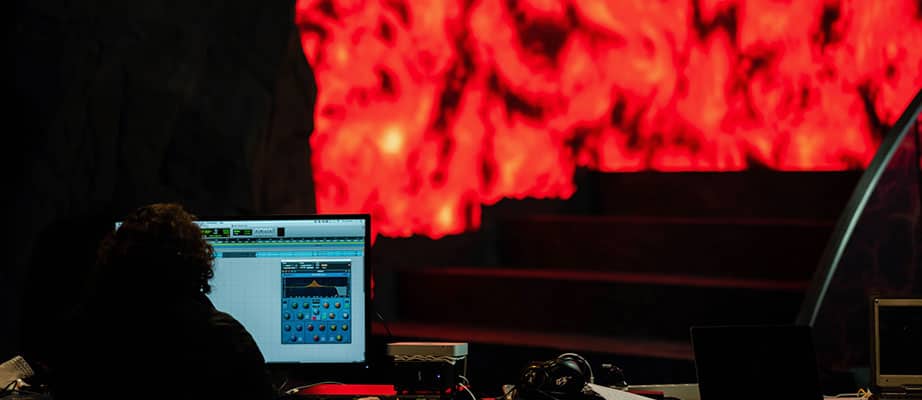 "We use special techniques to obtain a very broad spectrum, such as using temperature correctors and diffusers," says lighting designer Edouard Trichet Lespagnol. "The spectral range extends from red to warm white, passing through orange and yellow."
Volcanic soundtrack
The soundtrack to the show was produced by Patrice Peyrieras and is played out over more than 50 speakers on a 32 channel audio system. Though not music as such, the sound effects (mostly true sounds of volcanic eruptions) are arranged as a score.
The project represented the second collaboration between Peyrieras and Kazuki Uheara, Tejix's Tokyo office video content designer. Other staff came from the company's headquarters in Marnee-la-Valleé outside Paris.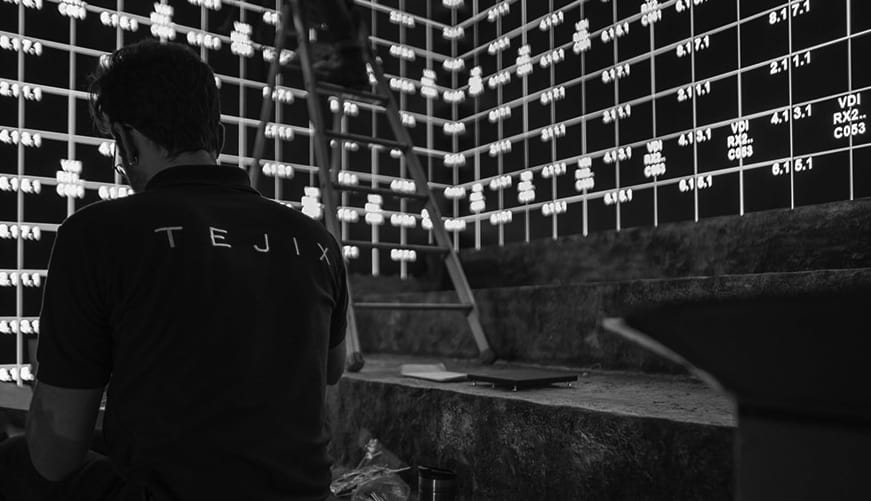 During design of the show, special attention was paid to the energy efficiency of the amplifiers and lighting devices. And even though the system performs some pretty complex tasks, it is extremely simple to operate and maintain.
The entrance hall's new look has received a warm welcome from Vulcania guests. And it should go down well during the private functions and parties that are hosted in the space.
Gregory Mouilleseaux is certainly happy with the reception it has received. "The result is appreciated by our visitors so much so that they ask us why we did not do it before!" he says.