Location-based VR gaming leader, Zero Latency, is on track to open more than 20 arenas by the end of the year.
Zero Latency has announced they will be opening and operating a 4,300 square foot VR gaming arena in Brisbane, Australia.
It will be the second VR game arena to be fully owned and operated by the company.  It joins 11 other Zero Latency-powered arenas that operate via partnerships with licensees across the world. Its VR game arenas are either free-standing locations or are integrated into resorts, family entertainment centres, go karting facilities, and other attractions.
"Zero Latency experienced unprecedented success with the world's first ever epic-scale, multi-player, free-roam VR game arena, which we opened in Melbourne back in 2015," says Tim Ruse, CEO of Zero Latency.  He points out the arena had six-week long waiting lists when it opened. "Since then we have partnered up with venue operators and delivered our patent-pending technology to power successful VR arenas across the globe."
He says that Brisbane stood out "high and clear" as a great city for the next Zero Latency arena, citing its "young and tech-minded population" as an ideal audience.
The arena will be only the second one in the world with a "dual arena" configuration.  The first opened in Boston, USA, in early August 2017.  Its structure allows two multi-player games to be played side-by-side simultaneously. Each game stretches over nearly 200 square metres (2,150 square feet) of floor space.  Alternatively a single game can be played over the entire play zone of nearly 400 square metres (4,300 square feet).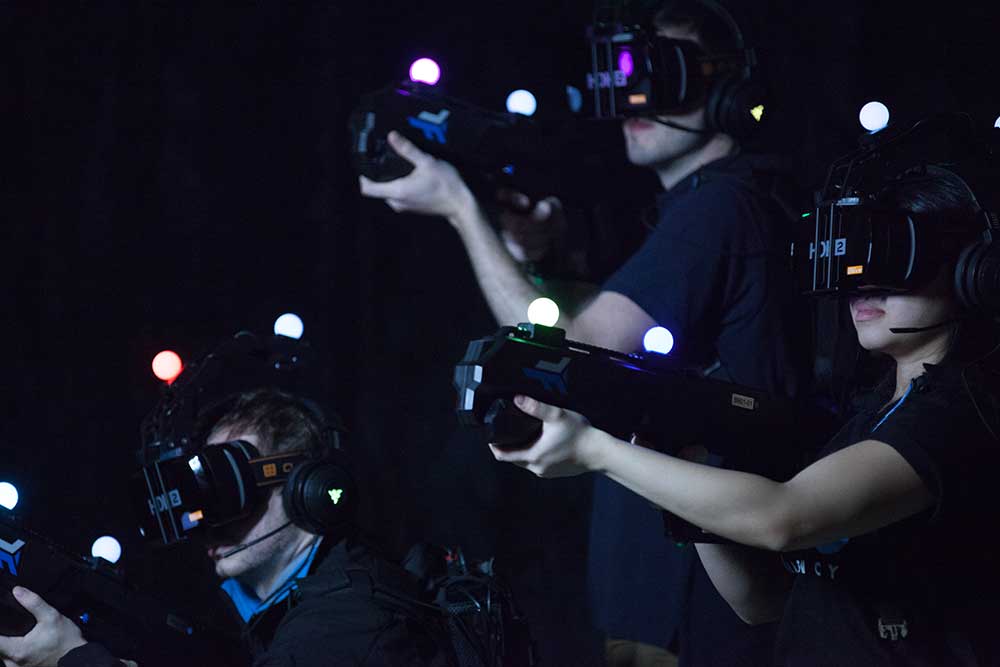 "When two eight-player games are underway at the same time, Zero Latency's proprietary technology will be simultaneously tracking 16 players in real time," says Scott Vandonkelaar, Chief Technology Officer at Zero Latency. "This massive technological feat creates high throughput so operators can keep waiting lists at a minimum and maximize their ROI by accommodating more players every day."
Zero Latency-powered arenas have no internal physical walls or obstacles, so teams can freely roam, walk, explore, and fight together throughout different virtual terrains. Players see each other as full-motion avatars: they stay in constant communication to strategize, call for help, warn their teammates, or just engage in some cheeky banter.
Tim Ruse points out that Australia has been at the forefront of free roam VR gaming since 2015. "After helping other operators leap into out-of-home virtual-reality gaming across the globe, it feels good to put our money where our mouths are and open another ground-breaking arena right here at home," he comments.
Zero Latency is based in Melbourne, Australia.  There are five Zero Latency-powered arenas across the United States in addition to locations in Tokyo, Madrid, and Melbourne. The company plans to have 20 arenas worldwide by the end of 2017.
The Zero Latency VR arena, located at Chester Street, Newstead in Brisbane will open in October 2017. Advance ticket sales will be available from September.