And the backstory and theming in Black Spire Outpost will make Star Wars: Galaxy's Edge its most immersive experience yet.
By Brady MacDonald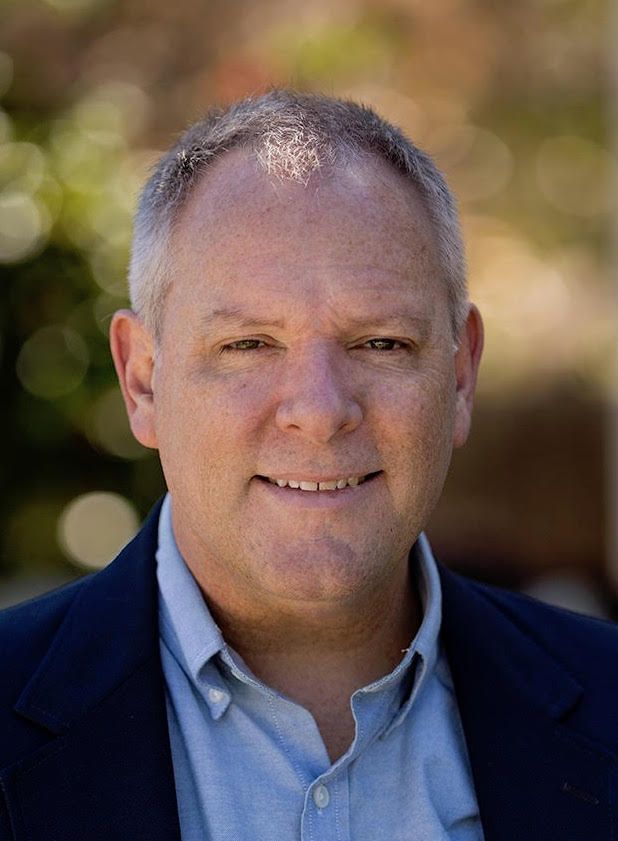 Construction crews shovelled cement into the steps leading to Black Spire Outpost, the village on the planet Batuu at the heart of Star Wars: Galaxy's Edge taking shape at Disneyland.
Dome-topped circular buildings wrapped in scaffolding drew the eye skyward. Towering spires of petrified trees made from hand-shaped rockwork rose 135 feet in the air in the distance. The hum of a cement truck mixing its load filled the air.
See also: Star Wars: Galaxy's Edge debut could bring 200,000 people and 10-hour lines to Disneyland
"This is the establishing shot and the hero shot for Batuu and Black Spire Outpost," Walt Disney Imagineering executive creative director Chris Beatty said above the din. "You really get the best view of the planet. It's just got great layering and you can see the amazing spires in the distance."
https://www.youtube.com/watch?v=ouc5wjK3sZo
Behind-the-scenes in Black Spire Outpost
Beatty recently led a select group of reporters on an exclusive behind-the-scenes construction tour of the village of Black Spire, a remote spaceport on the edge of the "Star Wars" galaxy.

The midday tour followed a day of heavy rain, which as a result had left the complex construction site a muddy mess.
The place was also swarming with hundreds of construction workers. As many as 1,200 per day at the peak of construction. Crews laid cobblestones, painted rockwork and also scaled scaffolding amid a flurry of continuing work. The goal: Complete the new 14-acre land in time for a summer debut at the Anaheim theme park.
See also: What to expect when Star Wars: Galaxy's Edge opens
Space junk and droids
Each of the shops and restaurants in the new themed land will have an extensive backstory created by Imagineering and props from the "Star Wars" universe.
Just to the right of the grand main entrance into the village sat Savi's Workshop. The shop exterior will eventually look like a space junkyard.
Inside, visitors will be able to take part in a build-your-own lightsaber experience lead by the Gatherers, who have dedicated their lives to balancing The Force, according to the backstory developed for the handbuilt lightsaber shop.
Next door, animatronic droids will then interact with visitors in front of the Droid Depot. The shop will be run by Utai proprietor named Mubo, a short, stubby alien creature with distended eyes.
Build your own droid
"There will be a lineup of droids here that are animated," Beatty said. "It's kind of reminiscent of the droids in 'Episode IV' outside the sandcrawler that were for sale. So these will look like droids that are for sale and you can come up and get your picture with them."
Once inside, visitors can then build their own droids from scratch. The remote-controlled mini-droids will communicate with full-sized units found throughout the land.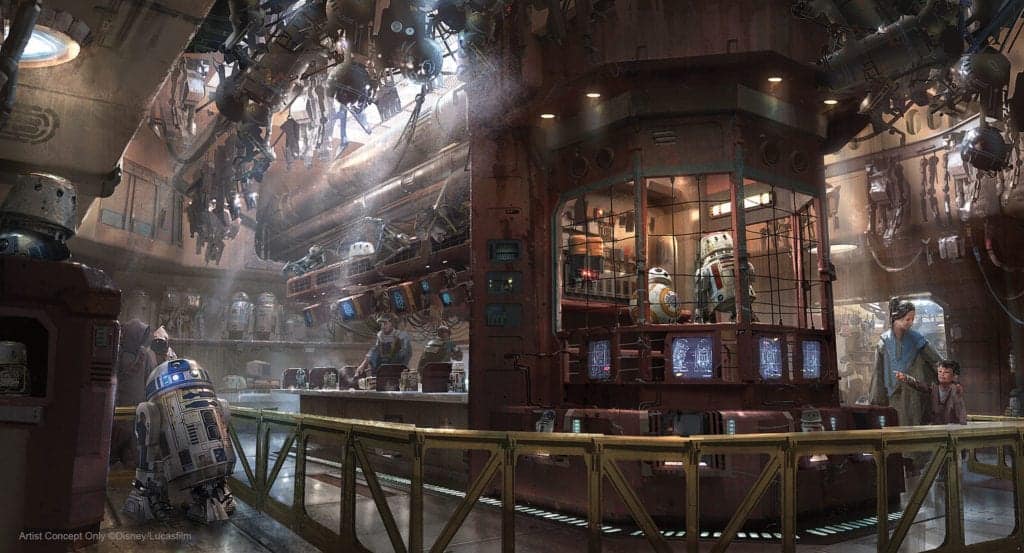 "There's a conveyor belt here running against the back wall," Beatty said. "You pick up your droid parts, walk over to one of the build stations and assemble your droid. When you're done, there will be an activation station that you will plug your droid into to power it up. It does a diagnostic check and then your droid will be brought to life for the very first time."
Droid fans will enjoy exploring the props and animated show elements in the shop.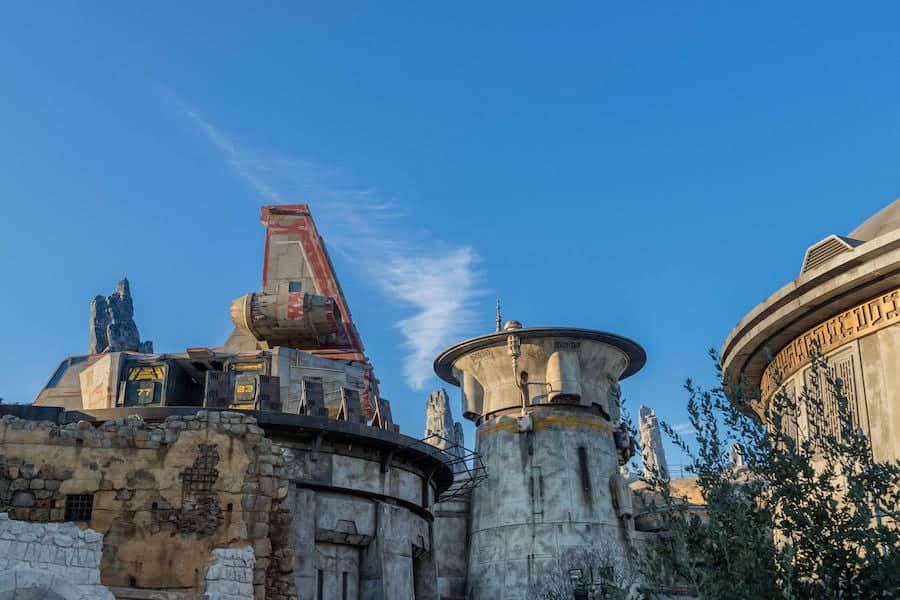 A sci-fi fantasy world
"This shop will be populated with droids that are full size," Beatty said. "The whole back wall here is filled with astromechs and BB units. There's also an Imperial droid in here. There's a medical droid. If you're a fan of Star Wars droids, there's a droid from almost every one of the franchise films. It's going to be just chock full of fun characters that you know and love."
Back outside, reporters in white hard hats, safety goggles, orange safety vests and work boots walked in a single-file line across a piece of plywood bridging a muddy puddle. The village was a warren of disorienting walkways, designed to lose the visitor in a sci-fi fantasy world once only seen in "Star Wars" movies.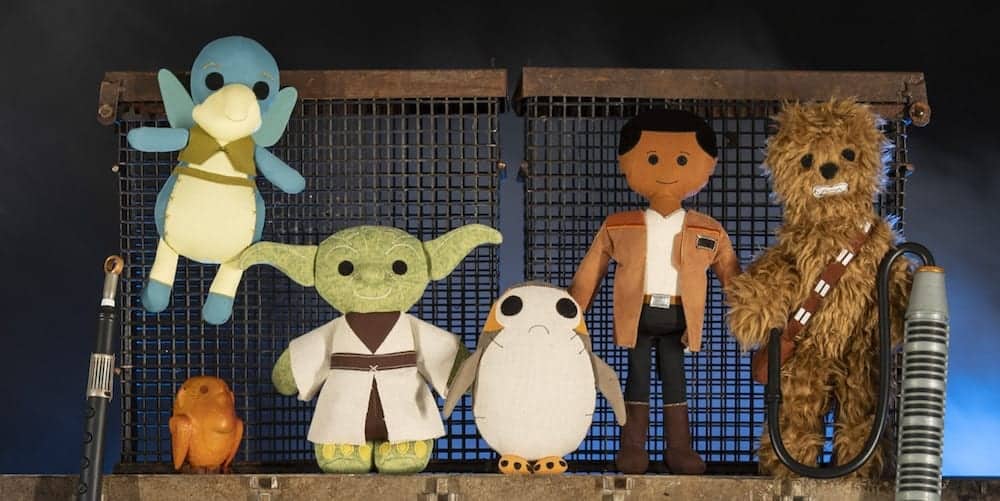 Nearby, a couple of land speeders were parked in a garage, including one like Luke Skywalker used in the original "Star Wars" movie.
Behind Mubo's shop, another animatronic droid scene will be set up in an intimate courtyard where a construction worker was cutting stone.
See also: Breaking down the costs of Disneyland's $1 billion Star Wars: Galaxy's Edge
"It will look like the back of Mubo's shop," Beatty said over a piercing whir. "It's just going to be stacked with droid pieces and parts. There are also two animated droids back there. They will be getting an oil bath. They're getting a little bit of refurbishment."
First Order Cargo – shopping in Black Spire Outpost
The construction site buzzed with relentless work. And around every corner another stunning "Star Wars" vignette was revealed.
A menacing gunmetal grey First Order TIE fighter lurked behind the outstretched arms of construction cranes and cherry pickers. The imposing starfighter, never seen before in any movie, will serve as an entry marque for the First Order Cargo gift shop.
See also: How Disney magic and Imagineering tech make the Star Wars hotel possible
"The First order has landed near the hangar bay over here," Beatty said. "It'll be protected by storm troopers."
The store will be run by First Order troops from the 709 Legion, also known as the Red Fury. The shop doubles as a propaganda outpost where the First Order will try to win the hearts and minds of locals in Black Spire Outpost.
Painting the Spires and the Millennium Falcon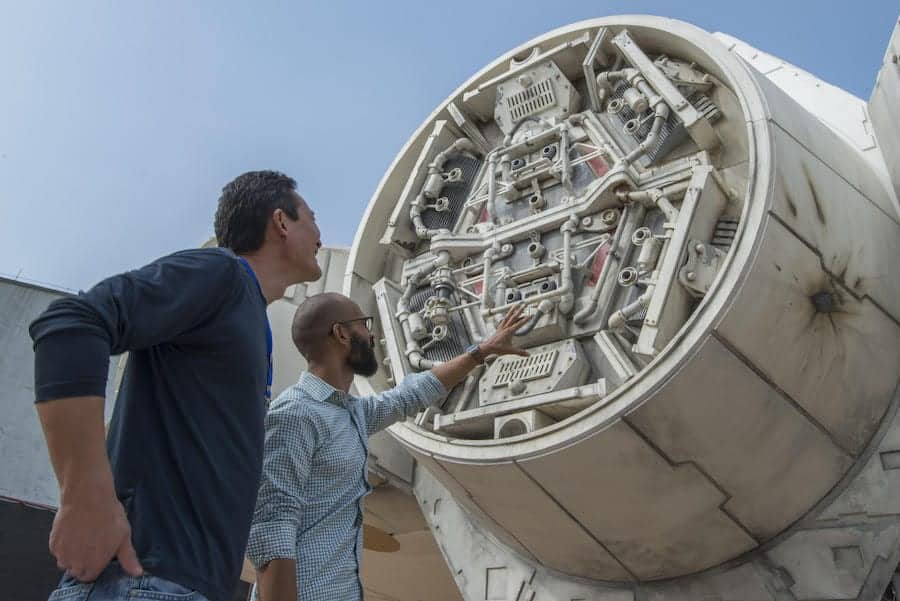 Beatty paused in front of a towering petrified tree hand-carved out of rock work. Scaffolding surrounded one of the tall spires that defines the landscape of the village. Scenic paint crews worked at the top of the scaffolding.
"I just have to stop here and point out the amazing artistry," Beatty said. "This is one of the last spires that we're finishing up within the land. We're getting to see the end of the process."
The tour then passed through a curved archway designed to frame "heroic reveals." Imagineers refer to the transitions as "decompression moments." Just beyond the arch, the Millennium Falcon came into view for the first time.
"This is the big reveal here," Beatty said. "The tallest of the spires are in the distance that are around the Millennium Falcon experience and the entrance to our cantina is straight ahead."
Oga's Cantina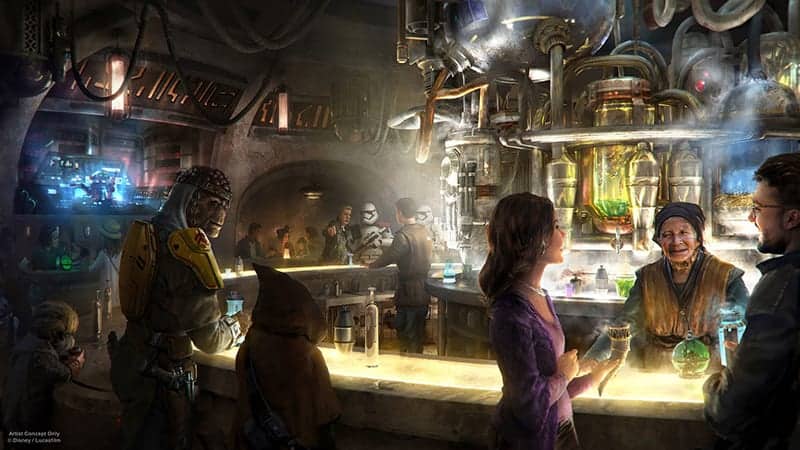 Oga Garra will be the cantina's proprietor. The crime boss of Batuu also heads the underworld in Black Spire Outpost.
The interior of Oga's Cantina was intimate. A curved bar stood at the center of the domed space with alcoves around the edges. The stand-up bar will have no seats.
"What you're seeing here around the outside are all these little nooks and crannies where you will be able to sit on a little bench seat," Beatty said. "The table in front of you is uplit to make it kind of mysterious."
Oga's was designed to be reminiscent of the cantina in the original "Star Wars" movie, but it's still unique and different in its own way, Beatty said.
"If you think about 'Star Wars' films, they almost always have a great cantina as part of their experience," Beatty said. "So we've seen the one on Mos Eisley, which had the Modal Nodes playing over in the corner. We've seen the one at Maz's Castle. We got to see one in 'Solo' where Han and Chewie first met Lando Calrissian. So, of course, our planet has have a local watering hole."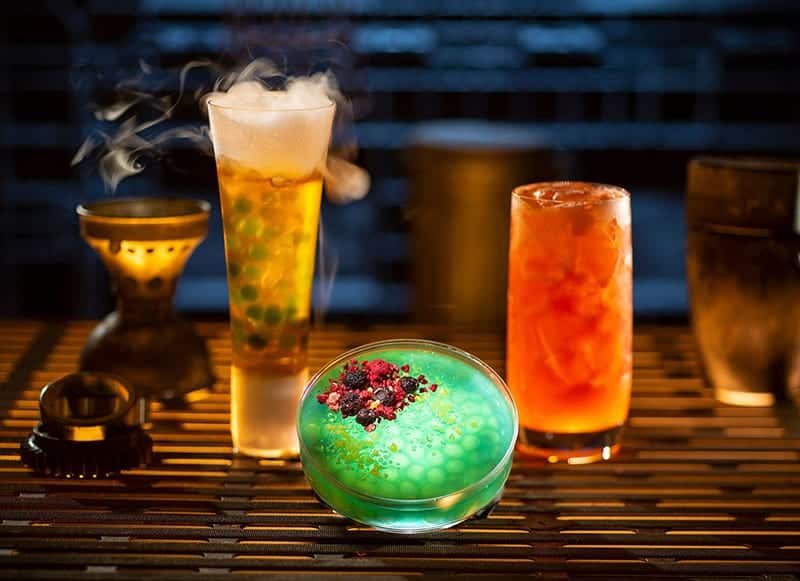 An alien soundtrack for Black Spire Outpost
The cantina bar at the center of the space will be a show piece unto itself. Drinks will appear to be pumped from tanks suspended above the bar at the peak of the dome.
"The bar, when it's done, is filled with all kinds of containers and different apparatus that have creatures in them that have come to life that are being used as garnishes for drinks," Beatty said. "They'll have amazing taps and different things that will bring the bar to life for our bartenders to activate this space."
During the tour, crews were installing an animatronic DJ R-3X, the former droid pilot from the Star Tours attraction. Rex, as he's known, will spin an alien soundtrack that Beatty described as Jawa meets new age meets 1980s pop.
"It's a weird sound, but it's going to be so much fun," Beatty said.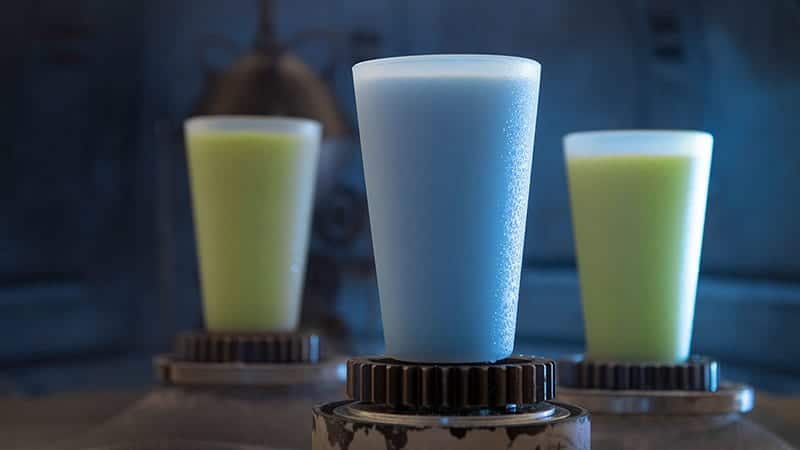 The Den of Antiquities
Dok-Ondar runs the antiquities shop in Black Spire Outpost and also heads the black market on Batuu. The surly alien with eyes that bulge from the side of his hammerhead and a mouth in his curved neck will barter with customers who want to haggle over prices.
The Den of Antiquities looked like the most completed space on the tour. Plastic sheeting covered props arrayed on the upper level of the shop.
"We just started propping the last two days in here," Beatty said. "When this is done, it just gets completely filled out on the upper level. This is all props on the upper level. You can't even shop the upper level. There's even a 12-foot taxidermied Wampa that's in here."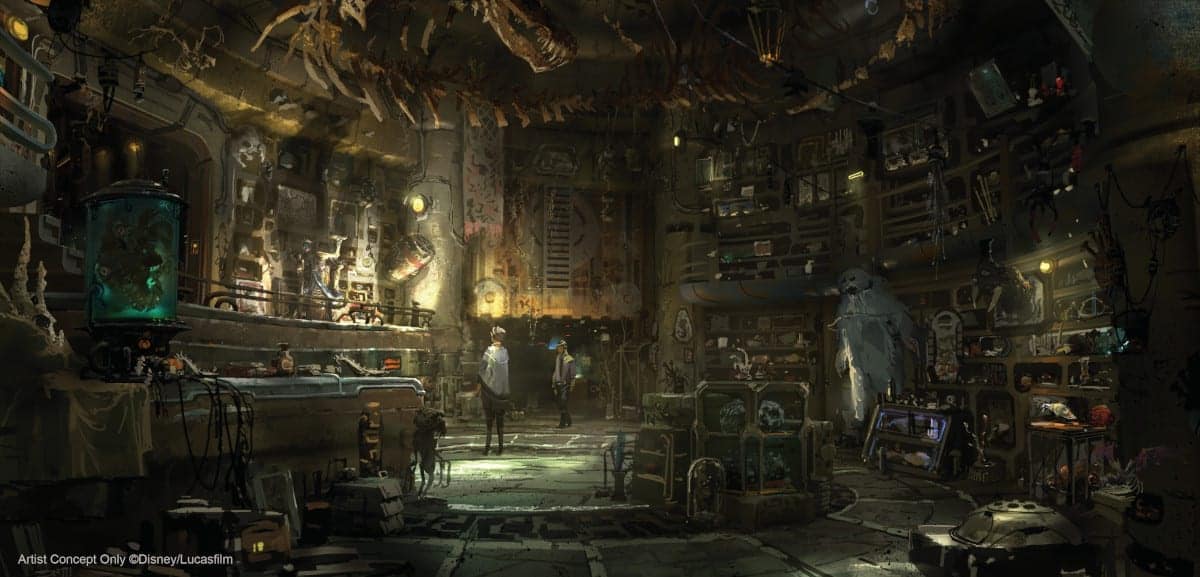 The lower level of the shop will be filled with merchandise. The Den of Antiquities will sell Jedi and Sith artifacts along with one-of-a-kind treasures from different eras of the Star Wars galaxy.
Bartering in Black Spire Outpost
An animatronic Dok-Ondar remained covered in bubble wrap during the tour.
"He just came in a night or two ago," Beatty says. "He's still sleeping and we're just starting to bring him to life." Visitors will be able to barter with the animatronic Dok with the help of a shop employee.
"He's always diligent as to what's going on within the shop, counting his money, making sure that nothing has been taken or missing in his collection," Beatty says. "When you go to buy something, you can interact with him from time to time."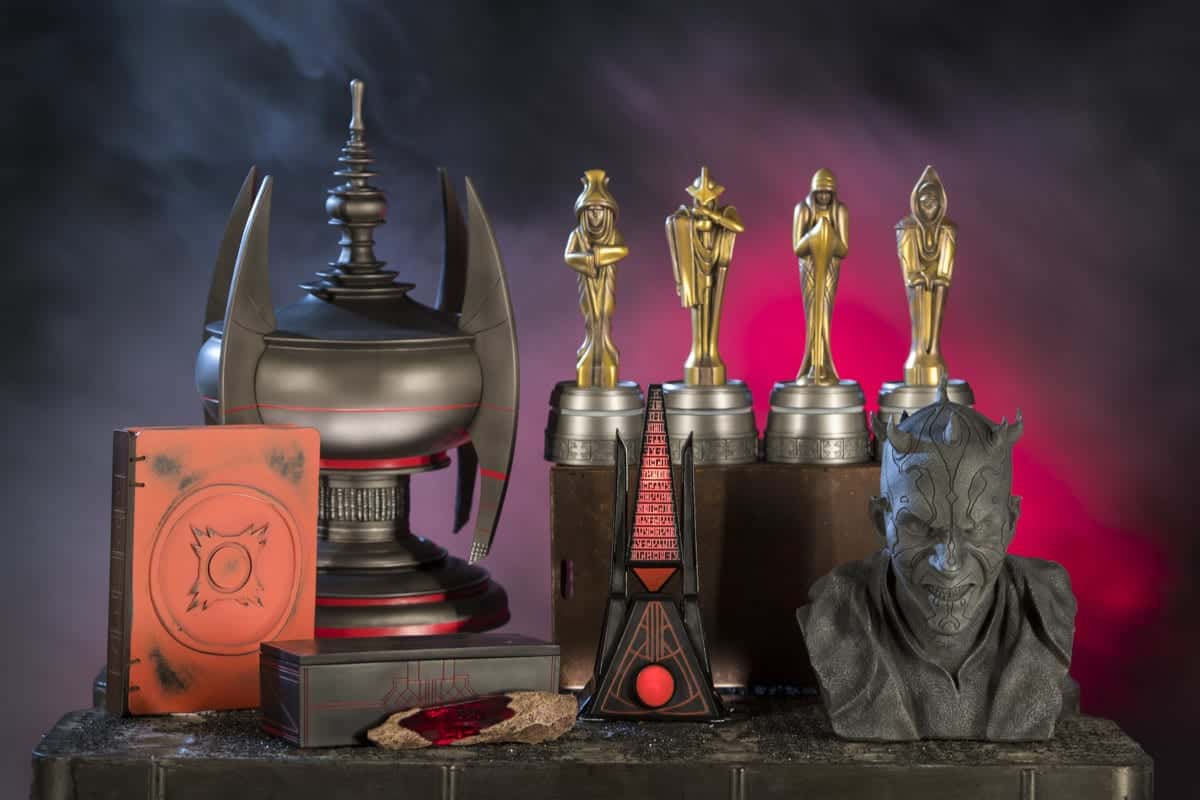 The Galaxy's Edge restaurant
Docking Bay 7 will be run by a surly, disfigured cook named Strono "Cookie" Tuggs. The Galaxy's Edge restaurant will be one of the regular intergalactic stops for his food truck-like Tuggs Grub space freighter ship.
His ship will be docked on top of the quick-service restaurant. Inside, visitors will enter under a cargo pod being lowered from the ship. Diners will then eat inside cargo containers that double as seating areas.
Each cargo container will have a different theme and props. There will also be a fishmonger, a fruit vendor and an alien distillery.
"This vendor here has got a miniature carbonite freezing machine," Beatty said. "It has special effects and steam coming out of it. It's just stacks and stacks of weird fish and creatures that have been frozen in carbonite."
Space meat at Ronto Roasters
Ronto Roasters will be run by podracing fan Bakkar, who decorates the restaurant with flags celebrating the sport. The food stand also serves barbeque sandwiches cooked by a podracer engine.
"It's shaking and rattling," Beatty said. "It's heating this giant foil that sits at the bottom. There's space meat that's on a rotisserie spinning around. Our droid is standing over here on this plinth and he's turning the spit, and also complaining about his job."
Sail-like sunshades cover a colonnade of tiny vendor stalls inspired by Moroccan and Istanbul marketplaces. The stalls will be filled by a grain vendor, toy maker, outpost clothier and jewelry maker.
Furthermore, "each one of these stalls has a different story and a different proprietor," Beatty said. "Each one of them have amazing props, amazing little special effects and then cool merchandise to go along with it."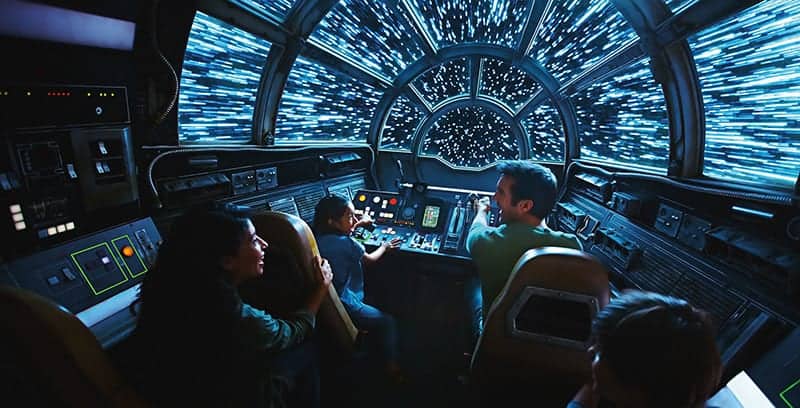 Creatures feature at the outpost marketplace
The tiny marketplace stall will be stuffed with alien creatures collected from across the "Star Wars" galaxy by an Amani proprietor named Bina. The slimy Amani aliens are tall and thin with short legs and gangly arms.
Crews were adding hanging cages and props to the Creature Stall during the tour.
"When we're done, just like those stalls that you see in Istanbul and Morocco, you won't be able to see the ceiling in this space," Beatty said.
In particular, the cramped space will be chock full of cages filled with animatronic creatures.
"Some of them also have little special effects, so they move and their eyes look down upon you," Beatty said. "If you look up, you see creatures in the cages."
Beatty then lifted up a plastic protective sheet to reveal a bulbous-eyed Worrt creature in a glass case.
"He sits in here and he's eating fireflies that are flying around his cage," Beatty said.
Black Spire Outpost in Star Wars: Galaxy's Edge opens May 31 at Disneyland and August 29 at Disney's Hollywood Studios in Florida.