Are we getting the industry we deserve? That was the question posed by Merlin Entertainments' CEO Nick Varney at the start of his keynote address to the GM and Owners' Breakfast on Wednesday morning at IAAPA Attractions Expo.
Twenty-seven years after Varney entered the business, queuing remains the number one cause of guest complaints. Yet technology now provides new ways to manage lines more effectively.
Unfortunately "operational discipline" can easily reduce a park's available number of guest/ride units. Here, suggested Varney, ride manufacturers could help by delivering more reliable product. "Could you imagine an airline taking delivery of a new plane only to be told it will only fly for so many days a year?" he said. The standardisation of commercial aircraft compared to what are often bespoke ride systems is a conversation for another time. However, it was one the manufacturers and suppliers in the room would no doubt have been keen to have.
Nick Varney on the media and reporting
Varney's second point, one close to his heart, was the industry's relationship with the media. While acknowledging that it is a symbiotic relationship, he was critical of sensationalist reporting of ride incidents. As sales of printed newspapers plummet, publishers are desperately chasing web traffic. The more words and pictures the better. But Varney believes this is "steadily chipping away at the confidence of our industry". Merlin was subjected to relentless negative press coverage after a high profile accident in 2015. Alton Towers then decided to "fight fire with fire". Its biggest weapon was its Facebook page, where operations staff could explain the facts to the park's 1.4 million followers. "We can be powerful media in our own right," said Varney.
Intellectual property also came up for examination by the Merlin boss. So many big brands are concentrated in just a few hands, especially in light of new IP acquisitions in recent years by Disney and Universal. Merlin, conceded Varney, does have the Lego brand as a key tool in its box, however only one third of its attractions use it. At others, the company likes to create its own ride or attraction IPs, although it is increasingly working with external brands such as Peppa Pig or Bear Grylls.
One thing attraction operators should not try to do, said Varney, was to invent a park mascot and expect it to compete with Mickey Mouse. He finished his presentation by revealing the time, during his early career at Alton Towers, he and a former colleague ambushed Mickey at press conference, hidden inside the costumes of Henry and Henrietta Hound. Those mascots are long gone, but Nick hasn't done too badly for himself since.
CEOs Speak at IAAPA Expo 2017
A further four attractions industry chief executives, representing both operators and suppliers, assembled for the "CEO Speaks" panel on Tuesday afternoon. As unmissable as Attractions Expo is, past IAAPA chairman Jim Pattison Jr. revealed how he likes to send his employees at Ripley's to trade shows in other industries too. "They nearly always come back with something useful", he said.
Sally Corp's John Wood, meanwhile, said he was perfectly happy to reimburse the cost of admission to any of his staff that cared to visit the major Orlando parks to observe industry best practice first hand.
In Hong Kong, where Ocean Park outperformed Disney until very recently, a spectacular waterpark will open summer 2019. A very different model to the facility that operated at Ocean Park until 1998, it will become one of the top 10 waterparks in the world, predicted chief executive Matthias Li.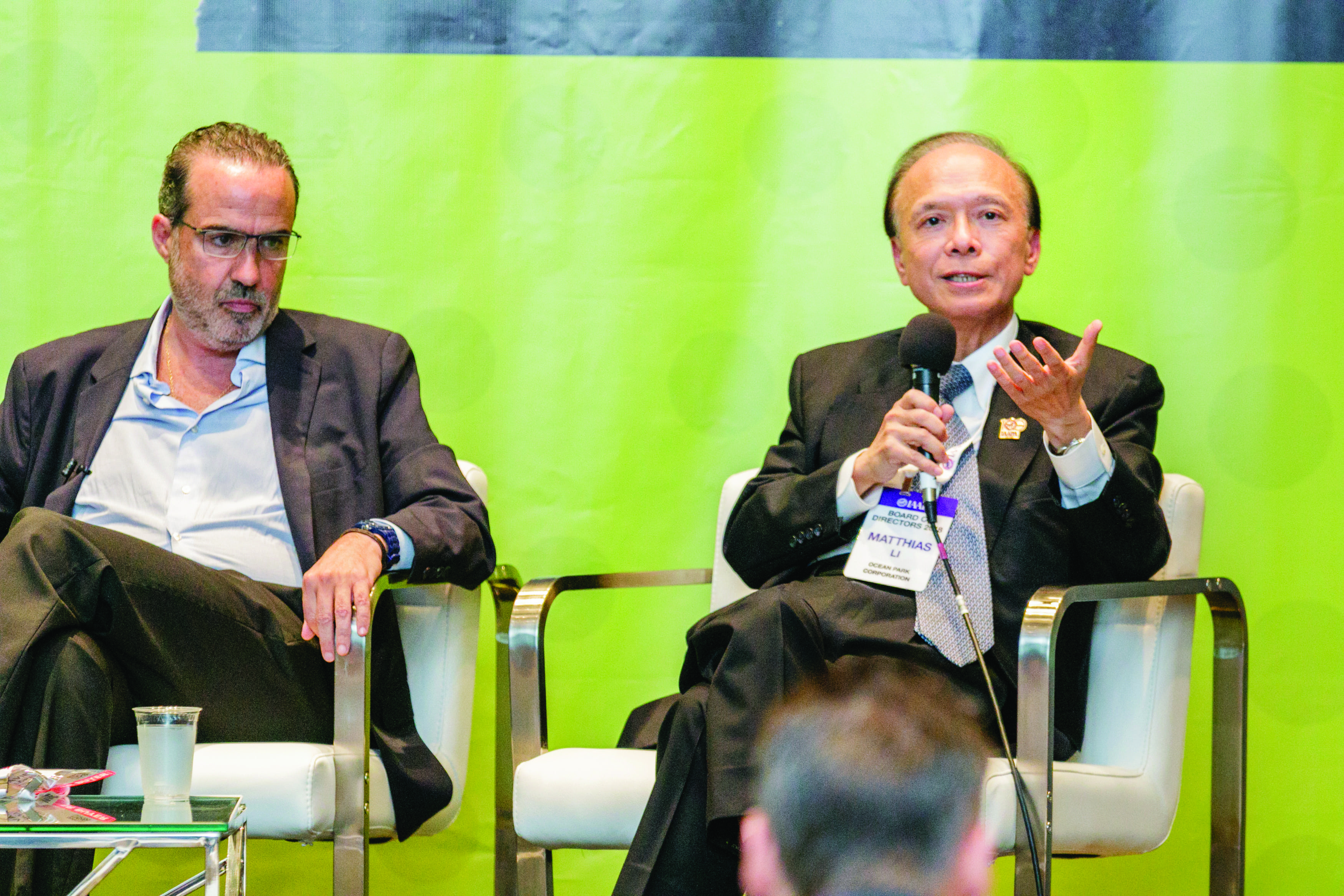 Discussing the very successful KidZania concept, Xavier Lopez Ancona, said that role playing centres will never be able to include all children's prospective jobs in each of their global locations. That's because "50 per cent of the jobs children will apply for in the future don't exist today."
There was some good banter between the panellists, too. Li brushed off Pattison's request to help him find a site for Ripley's in Hong Kong. He said he couldn't afford it. Lopez Ancona said, "Well if you can't afford a Ripley's, you can't afford a KidZania!"
Room of Legends
On Wednesday afternoon, Bob Rogers of BRC Imagination Arts presided as always over the "Legends" panel as its inquisitive chairman. What has always been a hugely enjoyable, but sometimes quite nostalgic, session took on a more contemporary tone this year. Disney Legend Marty Sklar, a linchpin of this panel for many years, is alas no longer with us. Representing Disney this time were Walt Disney Imagineering (WDI) veteran executive Joe Rohde and WDI portfolio creative executive Scott Trowbridge. Universal Creative senior vice-president Thierry Coup joined them. Together they explored the topic of Adapting Intellecual Properties for Parks and Attractions.
"I'm not sure you can build a land just predicated on fans," said Rohde, who was heavily involved in the creation of Pandora – The World of Avatar. "There aren't enough fans out there, you have to build for everyone."
Discussing the development of Harry Potter and the Escape from Gringotts at Diagon Alley, Coup revealed how the Universal team made the ride's storyline fit even though it didn't perfectly align with a scene from a JK Rowling book or Potter film. "We had to go back to the author. We said maybe there are a few pages that fell out of the book?"
Extending the Star Wars story
Rogers pushed Trowbridge for detail on the Star Wars: Galaxy's Edge lands coming to Walt Disney World and Disneyland Resort. He didn't get any. Trowbridge did say, "It would have been very easy of us just to remind you of the Star Wars stories. What we want to do with Galaxy's Edge is extend these stories, starring you." The result , he added, will be a "multi-day, immersive story-driven experience."
The panel was asked the most valuable thing they could learn from their opposition's organisation. This put Trowbridge in a difficult position as he has recently worked for both Universal and Disney. Coup had spent two spells at Disney between his various Universal roles. He said he missed the former's "huge support structure." Rohde spoke of his admiration for Universal's "remarkable speed to market. Things get done."
There were many more insights offered at these and over a hundred other education sessions at IAAPA Attractions Expo 2017. If you were there, then hopefully you found a few of your own to take away and inspire you.
All images courtesy IAAPA