From classic carousels to custom-themed projects, the offering across the continent is as broad as it is colourful.
Here are those rides in full, in no particular order:

1) NISSAN DRIVING SCHOOL – Tayto Park
Ireland's only theme park has made significant investments in recent years. In fact, it's added over 12 new attractions since 2015. After the addition of the Viking Voyage Super Flume last season from Interlink, the family-run property in County Meath has made a more modest, but already popular, addition for 2018.
Driving schools are a tried-and-tested attraction at many parks. Tayto Park's version features 20 cars and a 1,000 square-metre course for young drivers to navigate. Prior to taking to the wheel, children are taught the rules of the road in a short video. The Italian supplier Sela provided the battery-powered vehicles.
In addition to generating secondary spend from the sale of kids' driving 'licences', the Irish park has also secured a three-year sponsorship deal with 'real' car manufacturer Nissan.
2 & 3) QUEEN'S FLYING COACH & GRAMPY RABBIT'S SAILING CLUB – Paultons Park
Both Gardaland in Italy and Heide Park in Germany have launched Peppa Pig Lands this season, with three rides each. Yet the original Peppa Pig World at Paultons Park in Hampshire, England, has just got bigger …and piggier.
The themed zone now boasts a total of nine rides. Designed by RMA Themed Attractions, a new expansion opened this May featuring two new attractions. The Queen's Flying Coach Ride (pictured above) by Mettalbau Emmeln features ride vehicles that can each seat a whole family. Starting out from the Queen's Castle, a new Peppa Pig World focal point, they travel on a rail over the heads of guests below.
Another German manufacturer, Mack Rides, was responsible for Grampy Rabbit's Sailing Club (above). Guests travel in round boats around the base of the castle and past Pirate Island.
4) JUNIOR RED FORCE – Ferrari Land
When PortAventura World launched its new Ferrari Land theme park last year, it was the launch coaster Red Force that caught many people's attention. And with good reason. The Intamin Xcelerator stands a whopping 112m metres tall and propels guests of the Spanish resort from 0-180km/h in less than five seconds.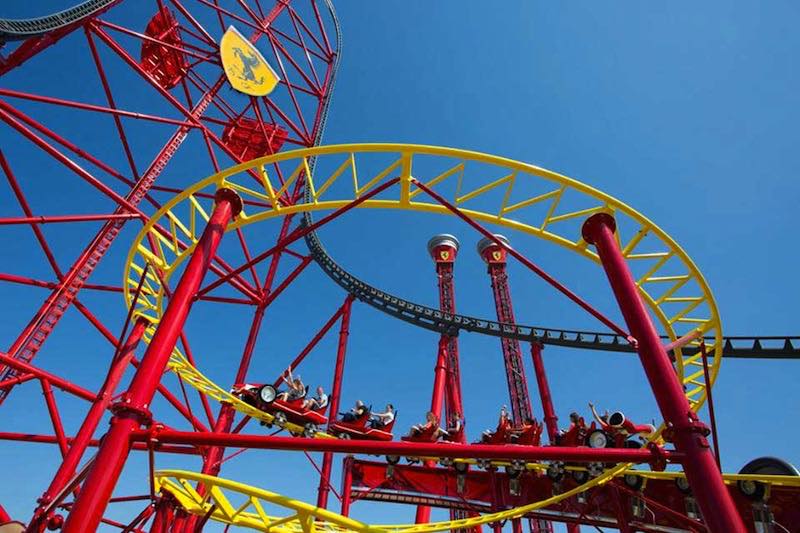 "But what about us?" came the cry from some younger visitors. And so Ferrari Land has revved up its family offering this year with the opening of a new children's area. All five of its rides were built, fittingly enough, in the north of Italy. Leading the pack is Junior Red Force (pictured) from the SBF-Visa Group. Sited in the shadow of its big brother's signature 'top hat', the family coaster reaches a less intense top speed of 45km/h.
Also new for 2018 are the Kids Tower, Crazy Pistons, Flying Race and Champions Race. See the full selection here.
5 & 6) HURRICANE & DOCK 'N' ROLL – Walibi Rhône Alpes
All three of the Walibi parks operated by Compagnie des Alpes are in the middle of big investment programmes right now. The biggest beneficiary this season is Walibi Belgium, which unveiled a new Polynesian-themed area called Exotic World on June 9. Big things are also on the way for Walibi Holland in the next few years.
Yet the French park Walibi Rhône Alpes has added new attractions for three successive seasons. First came Timber! In 2016. The wooden coaster anchored a new themed era called Explorer Adventure that also featued a Zamperla Barnyard. Last season came MonOrail. New for 2018 is the Festival City zone, featuring a trio of family rides by Zamperla.
The star of the show is arguably Hurricane (pictured above), a 50m-tall High Swing. Unlike other Star Flyer style rides, the tower on this one turns along with the seats. Dock 'n' Roll, meanwhile, is a Rockin' Tug in a custom colour scheme. Guests can also enjoy Balloon Race at Festival City.
7) ZABEILLES – Nigloland
Located in Dolancourt, north-central France, Nigloland entertains around 600,000 guests a year. This family-fun, family-focused property was founded by former travelling showmen Patrice and Philippe Gélis. In recent years they have put a lot of emphasis on theming. Zabeilles by Zierer, the park's 39th ride/attraction, is the latest to get an idiosyncratic touch.
The flying carousel features comical bee gondolas and is finished in a similar style to rides the German manufacturer has previously supplied to the Plopsa group.
Guests not only get to fly high like a bee. They can also learn about the buzzy creatures and the world of bee-keeping whilst they queue to ride via display boards and some sweet "insect hotels". Nice touch, Nigloland!
8) SQUADRON 33 – Dennyls Parc
Staying in France, this family park 60km from Calais has added an interactive new ride for 2018. Squadron 33 opened on May 19 and was supplied by Technical Park. A version of the Italian manufacturer's Aerobat ride, it is described as "a revolutionary reinvention of the classic Paratarooper ride".
The attraction features 14 planes in seven different designs. During the ride, passengers can flip the wings on their plane to move from side to side. Those that get the knack, and catch the wind just right, can perform somersaults. But those that want a more family-friendly experience may prefer a more gentle motion.
Also new for 2018 at Dennlys is a water playground called Le Ferme du Moulin (Windmill Farm), centred around the watermill to which the park owes its roots.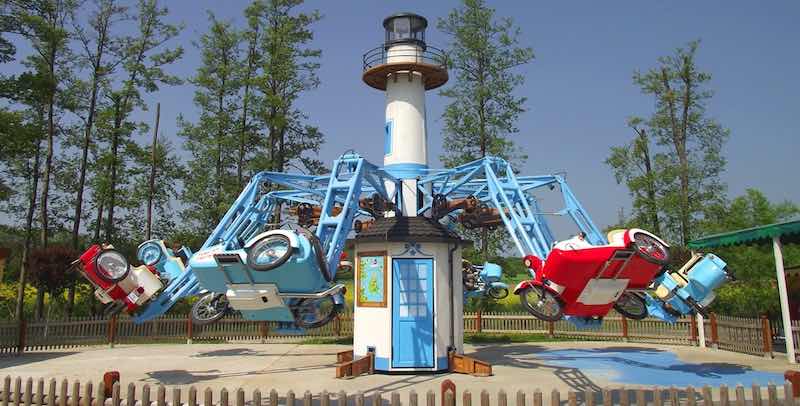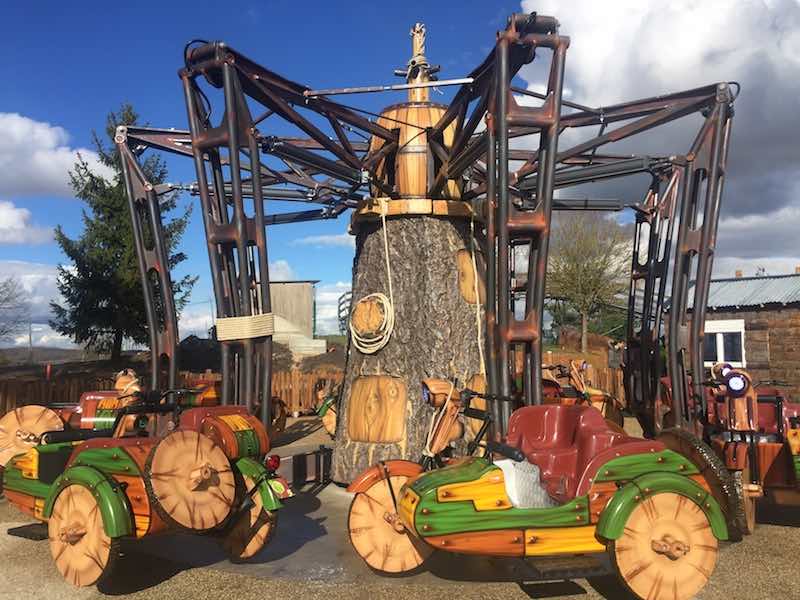 9) APOLLO SIDECARS – Didiland, Parc des Combes & Le Jardin D'Acclimatation
This season no fewer than three French amusement parks have added an interactive Apollo Sidecar attraction from Technical Park. As proof that no park has to go for lazy 'off the shelf' ride constructions these days, each has an attractive custom theme.
Didiland, which has opted for manufacturer's name, has chosen a seaside theme complete with a lighthouse centrepiece. Parc des Combes in Burgundy has gone for a beautiful tree-themed look to the ride it has named Woodside 66. There's classic look to Les Side-Cars at Le Jardin D'Acclimatation, in keeping with other rides at this Parisian institution.
A throttle inside each car allows passengers to control the flight angle, up to 80°. Reinforcing the ride's family-friendly credentials, the minimum passenger height is just 0.9m.
10) SPEED ROCKETS – Le Jardin d'Acclimatation
Last September the Council of Paris awarded a new 25-year lease to the LMVH Foundation to operate this long-running park in the French capital. As part of the deal, Compagnie des Alpes was brought on board as a 20% shareholder and €60 million was committed to a revitalisation of the 158-year-old pleasure gardens.
Speed Rockets is in fact one of several new rides added over the winter, but arguably the star. The 400m-long Bobsled Coaster by Gerstlauer provides Wild Mouse style twists and turns, plus a few added dips. The ride's design gives a nod to Steampunk and sits comfortably with other new and rethemed attractions within the gardens.
A full feature about the Jardin d'Acclimatation transformation will follow in due course on Blooloop.
11) TWEESTRYD – Wildlands Emmen
Launched in 2016 as the successor to an 80-year zoo in the Dutch town of Emmen, Wildlands has been described as "the zoo of the future". The story-driven "adventure zoo" comprises three climate-related habitats where the animals are part of the narrative.
One of its new attractions was a 4D motion base ride by Brogent Technologies and Vekoma. Yet proof of just how far Wildlands Emmen has come from its traditional zoo roots was provided this Easter when it added a rollercoaster to its offering.
Tweestryd is located in the park's Serenga area and takes its name from the Afrikans word for duel or battle. Which is fitting since this is Vekoma's first ever duelling Family Boomerang. Each of its two 20-seat trains reach speeds of up to 60km/h as they race against one another on parallel 218m tracks.
Just what Zoo Emmen's founders would have made of the experience we will never know. But for a new generation of guests it provides a fun and thrilling diversion from the animals.
12 & 13) MÄRCHENKARUSSELL & ALMJODLER – Family Park
Located in the Neusiedlersee tourist region, Austria's Family Park is not short of charming and quirkily-themed attractions. This season its proprietors, the Müller family, have added a 12m custom-themed carousel by Vermolen Rides that pays tribute to the venue's roots as a fairytale forest, or Märchenwald. The ride's rounding boards are also interspersed with turrets that are replicas of those found at the park's entrance.
Also new for 2018, located in the farmyard area, is Almjodler, a pair of Zierer family towers. Each stands 8m tall and accommodates up to 10 passengers. Children need to be 1m or higher if riding with an adult or 1.2m if experiencing the attraction on their own.
Elsewhere at Family Park, guests can experience attractions themed after, amongst other things, an octopus, a scarecrow, ducks and Leonardo di Vinci's flying machine.
14) STADLGAUDI 4D – Bayern Park
This Bavarian amusement park has just taken first its step into the world of media-based attractions with a fabulously fun offering.
Stadlgaudi 4D is the first Farm Fair version of the GameChanger interactive dark ride concept from Lagotronics Projects. It comprises a large rotating platform divided up into five 4-seater 'vehicles'. Each rider/player is given their own bright orange carrot cannon, which they must shoot at action on screen as they are rotated from scene to scene. Competing against other players, they must try and hit as many targets as possible. Scenes include a farmyard, kitchen, barn and field. Furthermore, the experience ends with a celebratory on-screen fireworks show.
Lagotronics Projects installed an earlier version of the GameChanger at Max Wonder Park in China in 2016. Yet thanks to the Farm Fair theme and the antics of the crazy animals featured within, the installation at Bayern Park is arguably that little bit more entertaining.
15) K2 – Karls Erlebnisdorf
This German park functions as a showcase for the fruit preserve manufacturer Karls. It was an eye-opener for many of those that took the IAAPA tour during Euro Attractions Show last autumn in Berlin. The smell of strawberry jam wafts throughout the venue, encouraging many visitors to take home a jar or two. Located close to the German capital in Elstal, it is one of seven Karls experiences across the country, but the first to feature a rollercoaster.
K2 takes its name from Karls Erlebnisdorf owner Robert Dahl's father/grandfather, Karl and Karl-Heinz. It forms part of a new area dedicated to potato chips. The ride features both a pre-show and a dark ride section dedicated to production of the snacks. The ABC Rides Tube Coaster also enjoys the bragging rights of Germany's first roller coaster with wooden cars. And the 530m-long ride course, with a first drop of 24m, is quite impressive too. The top speed is 60km/h.
The new attraction is part of a wider 'Potato Adventure World' that is new for 2019. Also featured are a go-kart circuit, climbing wall, indoor playground and 'Chips & Dips' restaurant. Karls is expected to open a second ABC Tube Coaster next year at its Erlebnisdorf in Rövershagen near Rostock.
16) & 17) SAFARIBUSSEN & JUNGLE RALLY – Djurs Sommerland
This Danish park really reached out to families in 2015 when it opened a farm-themed area called Bondegårdsland, complete with 10 new rides. After adding the Intamin suspended coaster DrageKongen last season, it has put younger guests back in the driving seat for 2018 with two more family rides.
Jungle Rally (pictured above) is a kid-friendly coaster from Zierer, whilst Safaribussen is a custom-themed Crazy Bus courtesy of Zamperla.
Located on the Jutland peninsula, north of Aarhus, Djurs Sommerland enjoys the status of Scandinavia's largest summer amusement park. From June to August, guests can also enjoy its adjoining waterpark.
18) FLYING EAGLE – Legoland Billund
The original Legoland park is celebrating its 50th anniversary this season. Located in Lego's home town of Billund, Denmark, it has introduced several new experiences to celebrate.
Supplied by Zierer, the Flying Eagle rollercoaster soars through a Rocky Mountain inspired landscape. Featuring a first drop of 11m, it reaches a top speed of 46km/h. During the ride, passengers rush past Lego animals and lakes.
The new family coaster is the latest addition to Legoredo Town, one of the park's original and best-loved areas. Here the popular canoe ride, which has provide more than 18 million boat trips over the past 25 years, has been refurbished for 2018. Regular Legoland Billund visitors will also notice that the park's entrance has a new look in this very special anniversary year.
19) SPÖKJAKTEN – Furuvik
Family rides don't come much more classic than a ghost train. This Swedish park, operated by Gröna Lund owner Parks and Resorts Scandinavia, has given its version a 21st Century reboot for 2018.
In keeping with the ongoing dark ride trend, Spökjaten now offers an interactive experience. Yet it's lost none of its original charm. Sally Corporation was responsible for the new look experience and storyline featuring Professor Finkelstein. Animatronics, black light effects and of course targets galore now populate the ride's 11 scenes. Guests of all ages have fun ghost hunting as they attempt to send the wicked Boocifer back to the grave.
The outside of the attraction has been given an overhaul too. An imposing castle facade now looks out over the park, enticing guests to sample the fearsome but fun thrills inside.
20) SLÄNGGUNGAN – Liseberg
Sweden's leading amusement park is gearing up for the opening of one of its most hotly-anticipated attractions in years. Progress on Valkyria, a B&M Dive Coaster, can be viewed on a special Facebook group.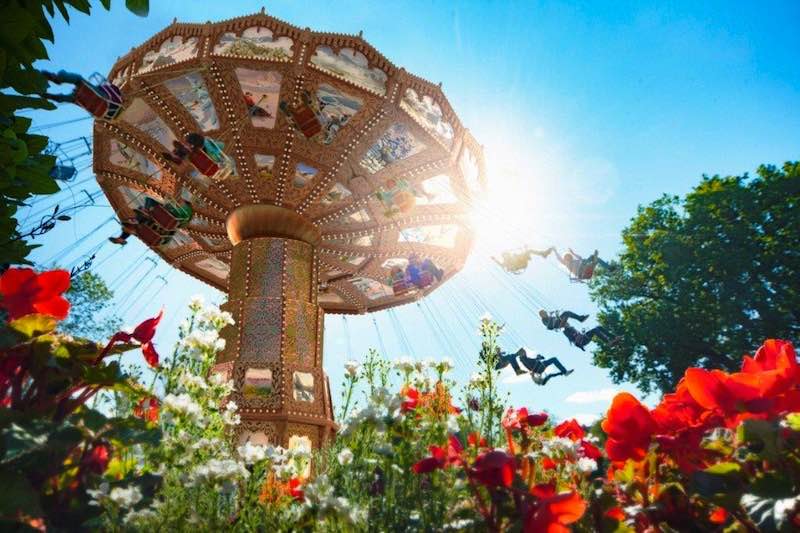 In the meantime, Liseberg has replaced its old Zierer Wave Swinger with a new version by the same manufacturer. Slänggungan features a mix of single and double seats. This has allowed the park to up capacity to 56, compared to 40 on the previous ride, which was removed to make way for Valkyria.
The new model has been placed in a prominent position at the far end of the park, close to what will become Liseberg's second entrance when its new hotel and waterpark open in a few years' time.
21) HYPE – Särkänniemi
OK, this one is not a family ride at all. Located in the Finnish city of Tampere, Särkänniemi was due to open a Wave Swinger this season. Named Swing Carousel, it comes courtesy of the Italian manufacturer Preston & Barbieri. However, if you've seen one Wave Swinger (as above) you've seen them all. So allow us to finish by showing you a shot of Särkänniemi's new rollercoaster from last season.
Hype, a Sky Rocket from Premier Rides, accelerates to a maximum speed of 100km/h. At its highest point the track makes an inversion and afterwards drops passengers straight down into a vertical loop before returning to the station.
"Hype is the fastest, highest and coolest ride Särkänniemi has ever seen!" says a park spokesperson.
And for once you should believe the Hype. The ride is not just high (45m) and fast. It also boasts the bragging rights of first triple-launch coaster in the Nordic countries.
The Swing Carousel, pictured below together with the park's Tornado coaster, finally opened at the end of June and is sure to become an instant family classic.
Main image: Speed Rockets at Le Jardin d'Acclimatation, Paris. Images courtesy of Technical Park, Vekoma, Lagotronics Projects and parks featured.