As Puy du Fou draws the curtain on its 40th anniversary season, Blooloop toasts one of the most unique and admired attractions in the business.
When Philippe de Villiers 'discovered' Puy du Fou Castle in 1977 he was inspired. Cinéscénie, the live open air spectacular he created there the following summer, was an instant hit. Eleven years later he opened the Grand Parc du Puy du Fou. Since then Puy du Fou has built up a loyal and appreciative following.

Each year, from April to September, over two million people (2.26m in 2017) come to see thousands of performers, or 'Puyfolais', bring history to life. Puy du Fou's offer is so remarkable, and its team so committed, that no one has copied it with any notable success.
The park has won fans far and wide and receives weekly requests to develop new projects around the world. After giving birth to two additional shows in Europe, a new park is on the way soon to Spain. At least one Chinese project is on the horizon too.
Award-winning entertainment
"With a clear vision, consistency in all details, and a unique approach when it comes to theming and entertainment, this park challenges the regular amusement park business model," noted the Applause Award judges in 2014. "The park was built with heart, a strong base in the local community and a sense of authenticity you will find unparalleled in the world."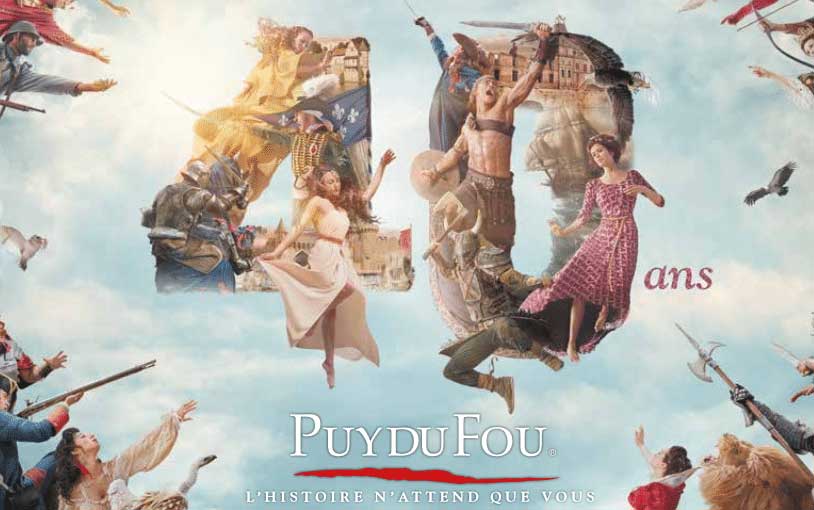 That award, essentially recognising Puy du Fou as the world's best theme/amusement, came just two years after it scooped the Thea Classic Award. Earlier this year the Themed Entertainment Association (TEA) the park won a Thea Award for Le Dernier Panache. This is the park's 20th show. It is a historical pageant following the career of a young naval officer from his apprenticeship during the American Revolutionary War through to the final days of the French Revolution.
Spectacular staging
What makes most shows at Puy du Fou so impressive, however, is not just their accomplished cast members, choreography and musical scores. The staging often involves special effects, stunts and giant moving props of the "Did you just see that?" variety.
The signature Cinéscénie (pictured above) plays on summer weekends to crowds of over 13,000 inside a 23-hectare arena. The production recounts the historic destiny of the Maupillier family, from the Middle Ages to the Second World War. Each show is performed by a cast of 2,400 actors, 130 horse riders and farmyard animals such as sheep, pigs and geese. Hundreds of fireworks, 150 water jets, 20 drones, 3D mapping and some very attractive lighting bring the spectacle to life once night has fallen.
In Le Dernier Panache, 2,500 seats are built on top of a huge turntable. Each scene emerges from a seamless, projected tapestry that circles the audience as they follow the performers (human and animal) around a 360º stage.
In other shows, a 20m-long viking boat that emerges from the depths of the water and a vanishing 60m-high castle are all part of the mix. There's clever trickery going on behind the scenes. Yet audiences never see so much as a hydraulic ram, power cable or any trace of anything modern making it possible.
Hidden technology
"Technology is useful for storytelling," says Nicolas de Villiers, Philippe's 38-year-old son, now Puy du Fou president. "But we don't want the technology to be seen. Everything is hidden. When we use the drones in the Cinéscénie, for example, it is night and you do not see them. All you see is the illuminated payloads. If you show people the technology they will start thinking about the way you have made the show and they won't be with you in the story."
This is theatrical, immersive storytelling as its finest. Buildings appear to be made of stone. All the walkways are covered in sand and gravel. Fences, handrails and signage are fabricated in wood. Only a handful LED screens (log-encased, of course) and the can of Orangina we quenched our thirst with during a recent summer visit  shattered the illusion.
"It is this passion and heart I think that impressed me even more than the shows," recalls Applause Award panel chairman, Liseberg CEO and incoming IAAPA chairman Andreas Andersen.
A student with a vision
Philippe de Villiers' original vision for La Cinéscénie back in 1977 was to create a night show that resembled a live movie. A student at the time, locals in the Vendeé (central-west France) were sceptical of his plans. Slowly he began to win them round and, thanks to the support of several sports clubs, was able to recruit 600 volunteer cast members. Narration from the famous actor Philippe Noiret, together with impressive lighting of the formerly abandoned castle, provided a professional touch. In the summer of  '78, La Cinéscénie entertained a combined audience of over 80,000. Support grew steadily over the following decade, as the scale and ambition of the production increased.
"What my father noticed", says Nicolas de Villiers, "was that people started arriving each evening around 6pm, even though the show did not take place until 10pm. They were having a picnic in the car park, there was nothing else to do. So we opened the Grand Parc in 1989. Originally it was just a Middle Ages village. But my father realised it was shows that attracted the people. So he wrote some more scripts and created some daytime shows. Now we have over 15 shows, and create at least one new show every year. The villages are important, however, because when you have seen three or four shows you want to take a break."
Historical licence
With the exception of the Cinéscénie, which runs for the length of a feature film, all of the shows at Puy du Fou last around half an hour.
"It's quite a challenge to tell a story in 30 minutes," says de Villiers, "but we find this suits our audience, which is quite family-orientated."
From the round table to the vikings to the musketeers, each production concentrates on a different period from history. They offer a unique mix of spectacle, fact and fiction.
"Puy du Fou wants to seem to be historical," says de Villiers. "But we are not teachers and we do not want to be. Our job is to celebrate the history of civilisation in a poetic way. We use real history as the base, the architecture, the way of life, and then we take licence with the show. We want to always be entertaining."
Doing things differently
Puy du Fou's "artistic signature" was developed as a direct response to the arrival of Disneyland Paris in 1992.
"An American park with an American way of thinking had opened on European soil," de Villiers recalls. "My father said 'OK it's possible to create a park as the Americans have with a closed arena, one ticket.' That was very different to most leisure parks in France at the time. But we must focus on making our park very French, very European."
Reversing the theme park model
In the centre of Le Bourg 1900, the town square beyond the park's main entrance, sits a small carousel. It was built, fittingly enough, by the French manufacturer Concept 1900. Children can ride for €2 on top of regular park admission. There are several reasons why rides will never be offered as part of the integral Puy du Fou experience.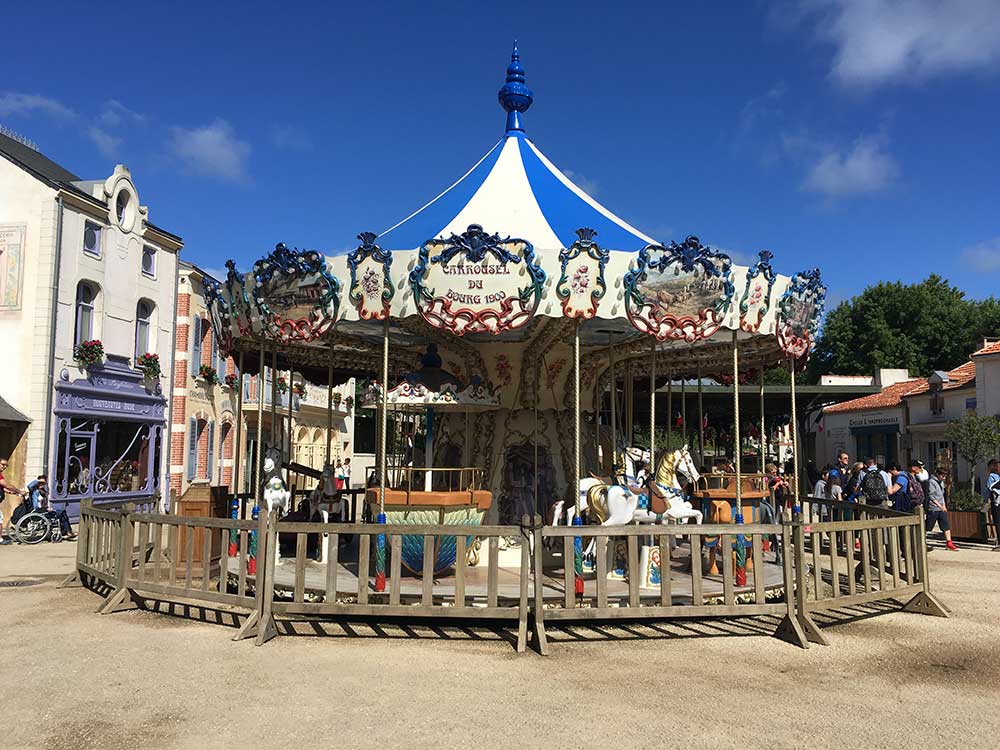 "We are not afraid of rides, we just don't want them," says Nicolas de Villiers. "We see that they work very well in other parks. But rides are just sensation; we want to tell stories, create emotion around those stories, and provide a message about history and civilisation. Another reason [for not wanting rides] is that our shows can be seen by all ages. In a ride very often the parent or a small child cannot ride."
No to dark rides
Wouldn't a dark ride be the answer? Evidently not: "Often when you build a ride you have at least 30 to 45 minutes, sometimes much more, waiting in line to ride, and then just two minutes inside the attraction. At Puy du Fou if you are lucky it's just two minutes to go in to the shows and and then you have 30 minutes' entertainment. It's quite the opposite to other parks and the people are so much more happy because of that."
Nevertheless, you will see crowds gathering outside the arenas ahead of the most popular productions, which are performed up to five time daily. Whilst the park advises that it is not possible to see all the shows in one day, it can just about be done with meticulous planning. To make this easier, and ensure the best seats, guests can buy a Pass Emotion priority ticket.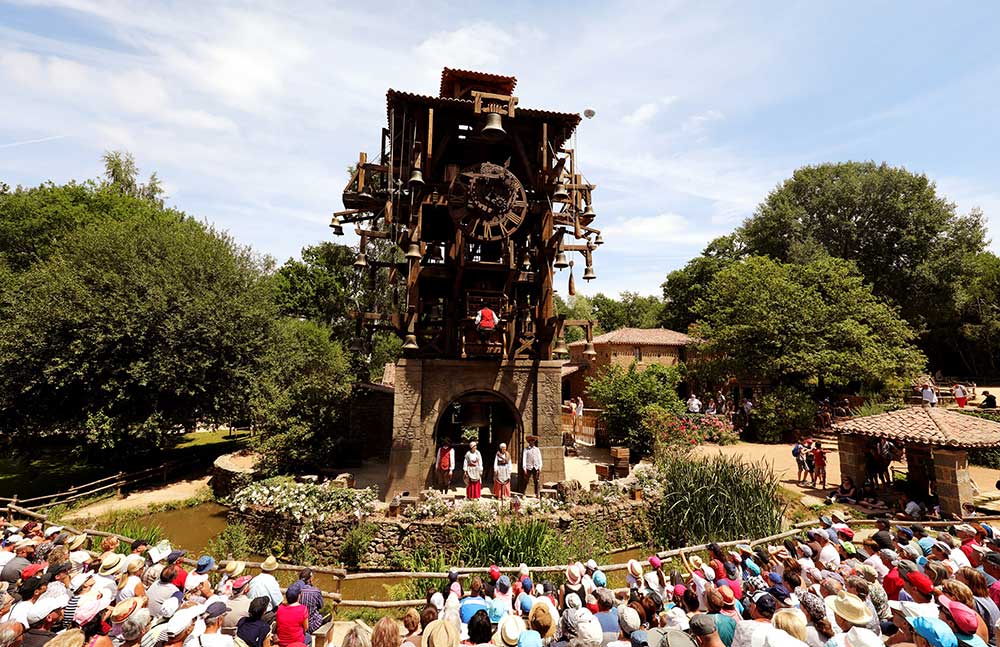 Shows of all sizes
As well as the grand spectaculars, there are more casual shows to enjoy. A new addition for 2017, Le Grand Carillon comprises a mechanical clock tower in the heart of Village XVIIIéme. It's a riot of whirling cogs and bells as an organist plays and performers sing to the crowd. Again, no hydraulics here, it must all be magic. Also new for 2017, Le Ballet des Sapeurs is a silent movie style comedy performance. In it young inhabitants of Le Bourg 1900 help some hapless firefighter extinguish a blaze. The show is the first performed entirely by pupils from the Puy du Fou Académie.
Continuous access is available throughout the day to a handful of walk-through attractions. These include Les Amoureux de Verdun, which plunges visitors into a Great War trench. It's like a dark ride without the capacity-restricting ride vehicles. La Renaissance du Château features themed sets, animatronics and live performers to bring the secrets of Le Château du Puy du Fou to life.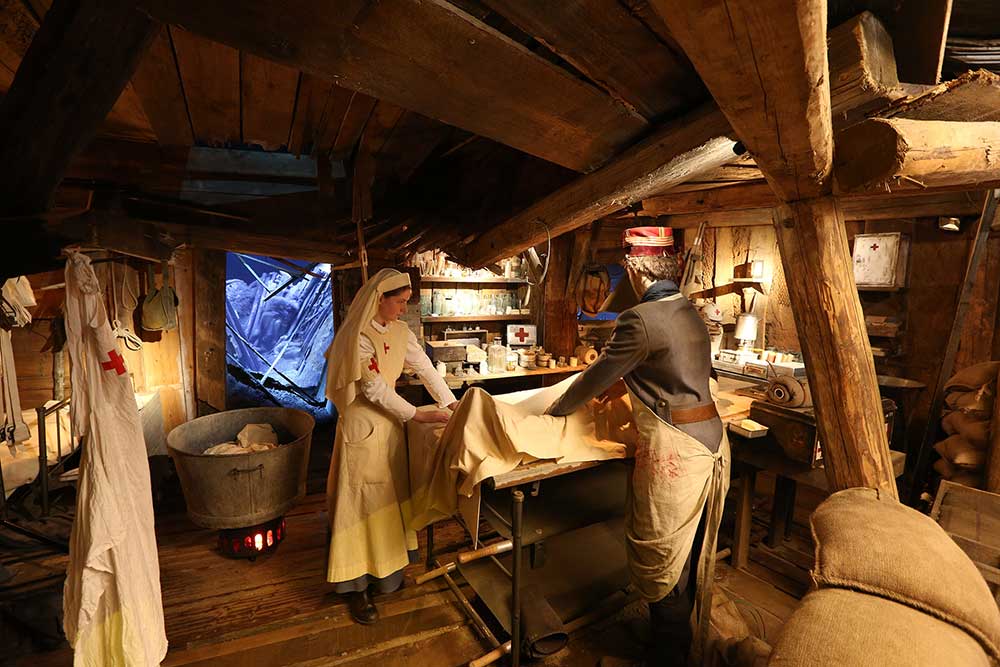 Original ideas
Set on board the ship of explorer Jean-François de Galaup La Pérouse, Le Mystère de La Pérouse will be Puy du Fou's big new attraction for 2018. Another walk-though experience, it will retrace an 18th Century expedition into unknown waters. Setting out from the port of Brest, guests will make thrilling discoveries between Cape Horn and Alaska. They will then battle through a terrifying storm at Vanikoro.
"One of the biggest challenges is to create big shows which are always original, different from the others in the park, and which you cannot see anywhere else in the world," says de Villiers. "We don't want to copy anybody."
But has anyone ever copied Puy du Fou?
"We see some shows appearing, sometimes in France, sometimes abroad. When someone copies you it means you are a success. But actually we cannot say someone has really successfully copied us. At the moment there is no other park like this in the industry. Everybody is afraid of creating a park with only shows."
Puy du Fou by night
As it as has grown, Puy du Fou has developed its own on-site accommodation offer. At La Cité Nocturne, guests "can choose a century to sleep in." There are opulent tent-like structures in Le Camp du Drap D'Or, huts on stilts in Les Îles de Clovis, or the 100-room Villa Gallo Romaine hotel. Perhaps better suited to the park's older guests (adult-only groups are not uncommon) are the four duplex suites at Le Logis de Lescure. New for 2017 is La Citadelle, a grand and well-appointed 100-room property fashioned after a medieval fortress. Attention to detail is everything in the hotel's theming, right down to each room's period lavatory and wash basin.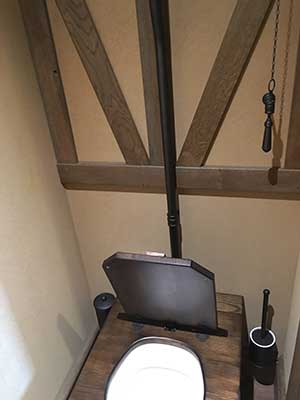 Puy du Fou has relationships with a further 30 hotels via its own travel agency, selling out rooms for tens of kilometres around in peak season. On summer weekends, around 20% of overnight guests will be staying in a hotel one hour away.
Staying over
One of the reasons people chose to stay the night, of course, is to avoid a long drive home after the Cinéscénie which, depending on the light conditions at the time of year, can finish as late as midnight.
The flagship night show is performed on Friday and Saturday nights between June and September. However a second night show, Les Orgues de Feu, is performed at other times. In winter, when the hotels focus primarily on congress-related business, a special Christmas show complete with live band and singers is staged inside the theatre that usually hosts Mousquetaire de Richelieu.
Expanding the European footprint
Puy du Fou International was set up in 2010 to develop other shows and parks in the same mould. The first collaboration was with Efteling. The resulting Raveleijn show, features stunt horse riders, a disappearing princess and a five-headed fire-breathing dragon. It forms a key part of the Dutch park's live entertainment offering.
"Puy du Fou are a top level partner for shows with actors and animals," says Efteling COO, Coen Bertens. "They know our quality standards and together we try to improve and exceed them. With Raveleijn we want to tell our visitors a story, surprise and amaze them time and time again. The co-operation has proven to be successful."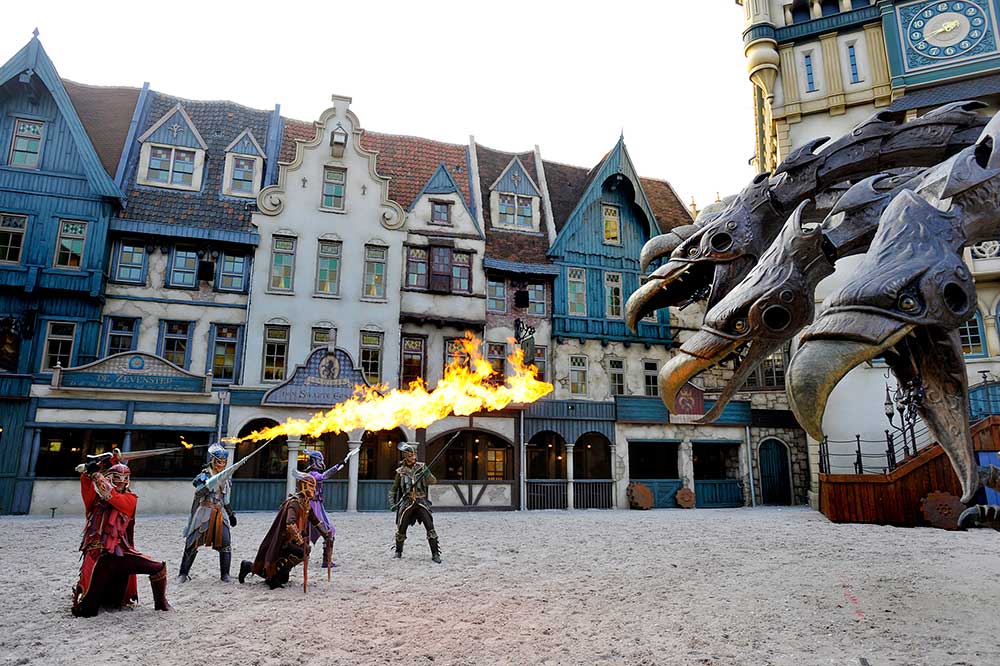 Nicolas de Villiers – we know how this works
Puy du Fou Toledo is the working title for a new park being developed in Castilla-La Mancha, between Toledo and Madrid. By the time it opens in 2020 it will have a Spanish name, with the signature "by Puy du Fou". But first a night show is promised, starting in summer 2019.
From antiquity to the Golden Age, the park will tap a rich stream of Spanish tales and legends. Thanks to the local climate, it will have a longer season than Puy du Fou. As with the original park in France, however, it will be built without public money. Up to 1.3 million guests a year are expected by the time the full project is up an running.
"We strongly believe in our chances because we have already made shows in the Netherlands and England," says de Villiers. "We know how this works."
Passing on Puy du Fou's skills
Last summer (2016), de Villiers served as creative director for the inaugural season of Kynren in the north east of England. This outdoor spectacular, like the Cinéscénie that inspired it, uses a large cast of volunteers, is staged by the charity Eleven Arches close to Auckland Castle. A new creative director was appointed for 2017 in the shape of Olympic ceremony veteran Steve Boyd.
Nicolas de Villiers wishes the Kynren team well. He is full of praise for Eleven Arches founder,  investment banker and philanthropist Jonathan Ruffer, the castle's owner. "I think he is a genius," says de Villiers. "All the money he has made in his life a businessman he has invested not for himself but for the people in this region. Eleven Arches made a choice that for the second year they would fly on their own. I hope the show lasts for a long time because we have a lot of friends of there. I think as long as they have a good artistic director they can go very far."
Kynren is already beginning to have a positive effect on the local community in County Durham, just as Puy du Fou has for many years in the Vendeé and wider Pays de la Loire. It now generates an estimated €277 million in economic benefits each year, and supports 4,700 direct/indirect jobs.
The Puy du Fou Académie
Disney might call its employees cast members, but the Puyfolais truly are. Up to to 600 potential young performers are trained each year at local schools. In addition, Puy du Fou set up its own primary school in 2015, the Puy du Fou Académie. In the morning, pupils study classic academic subjects. Then in the afternoon they have artistic lessons. These cover everything from costume design, theatre and dance to lighting, set design and film production. Through the Académie and other schools it is possible to study with Puy du Fou from three through to 18 years. Then the best students can go on to work as artists and technicians in the park.
Family spirit, second gates and international expansion
Whilst La Cinéscénie remains a volunteer-lead enterprise (and wouldn't be feasible on such a scale any other way), everyone within the Grand Parc, from stable hand to performer, is employed by Puy du Fou. Nevertheless, demand for volunteer places each summer is high.
"People tend to get a job in the park and then say, 'What is this show you do every Friday and Saturday night?'," says de Villiers.
All of this helps foster a great family spirit. "For us, the incentive is having the passion to create great shows that we can share with the people. Fortunately we have no shareholders, so we can reinvest in the park with no pressure. If we generate less money one year, we just spend a bit less."
A second park is under consideration in France. "We already have two gates because we have the Grand Parc and Cinéscénie," notes de Villiers. "If we did a second park, let's just say it would be something else different."
After it has taken its concept to Spain, Puy du Fou's next, and surely most ambitious, venture will be in China.
"International expansion means we can grow without becoming too fat," says de Villiers. "If we just grew in France, maybe the park would loose the charm and we would loose the feeling of being human beings. China is so big that we can create several parks and shows."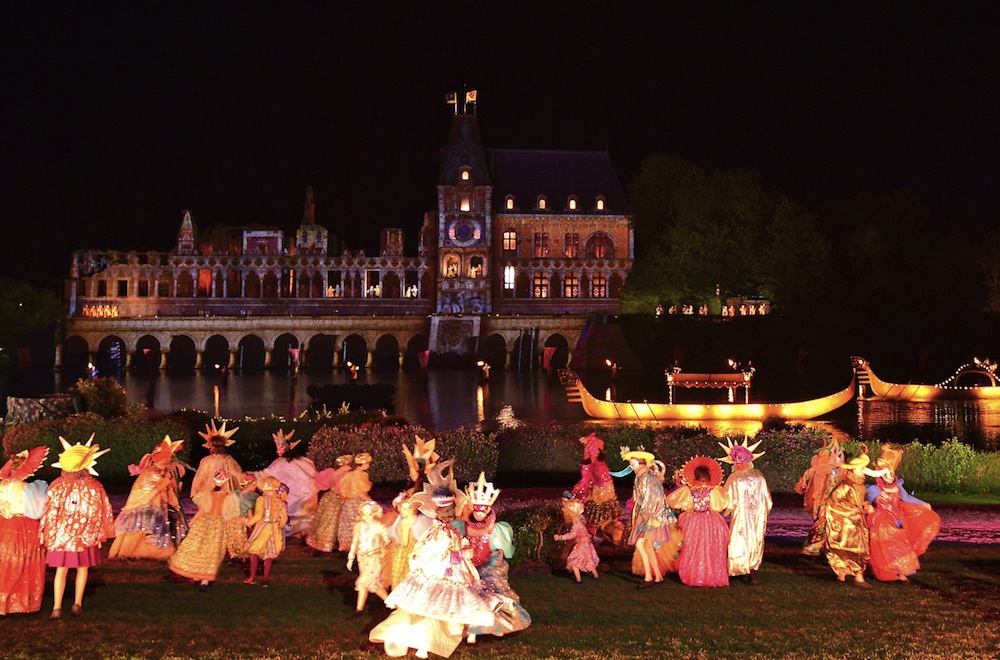 French expertise, Chinese stories
There are two key criteria for Puy du Fou in China. "The first is to find the right partner, which is not so easy," says de Villiers. "The second is to find the right site. When you visit the park here in France you see that it is all trees, forests, gardens. The place is very beautiful, it has atmosphere. We want to provide the same in China."
Both a Chinese partner and an initial site have been identified. However, these are being kept under wraps for now. This is for fear of alerting potential competitors or ramping up the value of surrounding real estate. De Villiers notes that several live performance "cultural tourism" projects already exist in the country. Nonetheless, he believes Puy du Fou has something unique to offer.
"There are a lot of entertainment parks in China, but there are a lot of fake things; and they know that. Localisation will be very important to what we do. This is a country with 5,000 years of history, it is so rich with stories and so epic."
The first Chinese project, likely to be a full theme park, is projected to open "before 2025". A Russian collaboration announced earlier will not happen due to European Union sanctions with the country.
Making time for the family
Working in several different countries is possible when you have good teams, says de Villiers. He still tries to spend the majority of his time in France.
"Last year with Kynren, I was every week in England. However, nowadays you can do a lot of things over the internet. I remember when we opened the show at Efteling, I was directing from in front of a screen and two loudspeakers in my office. It was funny because one of the park managers was calling my name, asking where I was. 'Oh, he's in France?'."
Being close to home means Nicolas de Villiers can spend time with his three school age children. Time will tell if they become involved with the park. His brother and sister are not. After founding Puy du Fou, his father Philippe de Villiers forged a career as a politician. In addition to various regional and European roles of office, he served as Secretary of State for Culture. This was under the Chirac government in the mid-late '80s. Yet he still writes scripts, advises on strategy and has input into some of the park's larger shows.
Astonishing Puy du Fou
The de Villiers and the rest of the Puy du Fou family, including long-serving director general Laurent Albert, seem intent on pulling at their visitors' heart strings for years to come. Whether it's the stirring soundtracks from the likes of Hans Zimmer and Nick Glennie-Smith, the spectacular stage sets, special effects or sometimes just the sheer number of people on stage, there are many components that make Puy du Fou's productions sing.
"Our motto is to astonish visitors to inspire emotion," concludes Nicolas de Villiers. "We deal with histories filled with drama. We use those dramas to highlight something that is great in human beings. When you leave the park you should feel happy."
Images courtesy of Puy Du Fou. Additional contributions by Owen Ralph