The Méga Parc has a steampunk theme, and features 18 rides, including Zenith, the first spokeless Ferris Wheel in North America, and Télégraphe, a 40-foot high coaster from Extreme Engineering, that passes through the spokeless Ferris Wheel.
It opened 18th January at the Galeries de la Capitale shopping mall after a $52 million renovation.
Sean Michael Sauvé of Oxford Properties, assistant director of the Méga Parc, looks after the park operations, human resources, and the technical and mechanical teams. He spoke to Blooloop about the renovation.
"It's a project that took about four years from planning to realisation. The steampunk aspect came about because we wanted to get away from the tired 'carnival' style, and were seeking a classy, more modern look.
"Steampunk seemed to fit the bill."
Finding a fitting image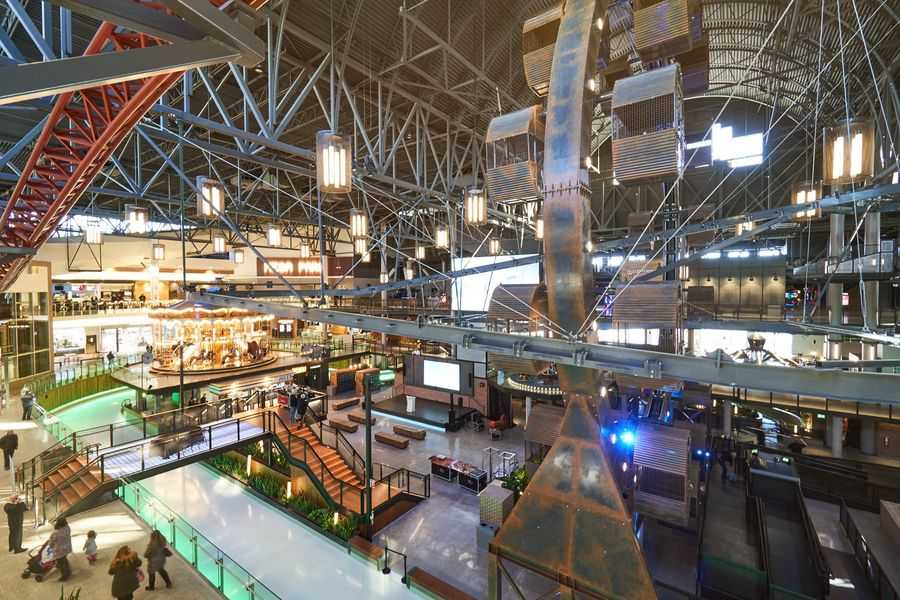 The Galeries de la Capitale shopping mall, owned by Oxford Properties, has, he says, a sophisticated image.
He says: "We wanted something that would fit easily with that image. We wanted people to experience the mall while shopping, then to visit the amusement park, and find that the classy look is continued.
"It is very stylish. We have done a lot of work on lighting, working with colours. We set themes from morning, afternoon and evening, starting with the colder colours, and working up to warmer, more inviting colours in the evening, to create more of a relaxing style. So that when people come in, regardless of whether they are coming in with kids or not, they can go get a coffee and sit down by the skating rink, and have a good time, just as others can go on all the rides and have a good time."
Méga Parc for all ages
In its previous iteration, Méga Parc was geared primarily to families with younger children, in the five to nine age group.
Sauvé says: "The goal of the new Méga Parc was to expand that age range to include all families. And what is a family, for us? It goes right down to the just-toddling one-year-old, up to the child in us all, at 60, 70, 80 years old. We have 85-year-old people in the park already, riding on our rides."
Amusements range from the Mini-Mousse play zone for young children which includes a selection of play equipment from iPlayCo, up to the Pendulum, and the Piston drop-tower for thrill-seekers.
"And then," says Sauvé: "There is our 30-year-old rollercoaster, which has been revamped."
Of the eighteen rides, fourteen are brand-new, and four are renovated rides from the previous park.
Sauvé says: "Those four rides were very popular, almost a historic element of the city. We are the only attractions park in the city of Québec. Thus these are rides that people have grown up with, and which were there for 30 years. What we did was to revamp them and to give them a steampunk-ish look."
Revamped classics and brand new attractions
The four revamped rides include the 1987 'runaway train' Mack coaster, Electro, which circles the perimeter of the park; the 2012 'Force G' by Moser Rides; the classic 'Condor' children's aeroplane ride by Zamperla, and the timelessly nostalgic 'Carrousel', developed in Italy by Bertazzonin in 1986.
"We redid the carousel. We changed its location, and it is our number one ride right now, surprisingly. People are just going crazy for it."
The new rides and attractions include the awe-inspiring Zénith spokeless Ferris wheel by the US-based designer and manufacturer Larson International; the Télégraphe steel suspended Cloud Coaster by Extreme Engineering; the Convoyeur, a Speedway/whip ride by Zamperla; the Piston tower ride, the Pendule (Pendulum) swing ride and the Helix spinning cups, all by the SBF/Visa Group; the Pare-Chocs spinning bumper cars by RDC), and Cortex, an 8-seat Triotech XD Dark Ride interactive theatre.
The park also boasts the Patinarium, the longest indoor skating trail in Canada as well as a new games arcade that features more than 40 interactive games.
"A real showstopper"
Of the new rides, Zenith, the spokeless Larson Ferris Wheel, is arguably the most spectacular.
Sauvé says: "It's just amazing. It is 80 feet from the ground up to the top. It arrived in six pieces; we had to build a special bridge, just to get it into the building. Then we had to cut the roof open to place the final piece up at the top. There is actually only 16 inches between the top of the Ferris wheel and the roof."
The ride has a capacity of 96 people: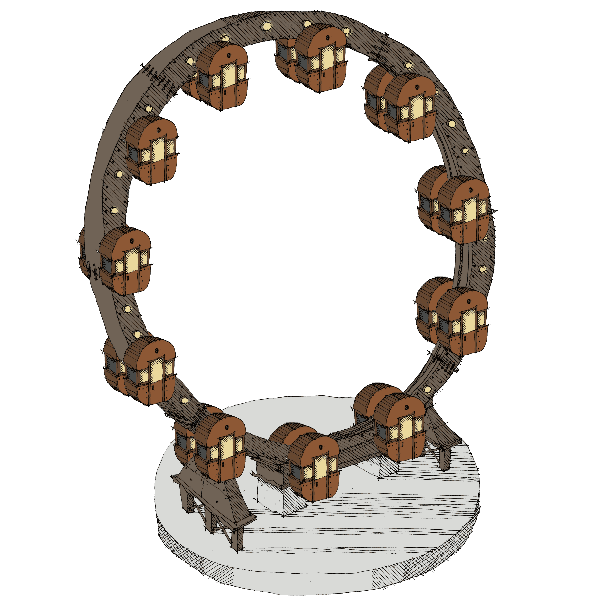 "We have the choice of only working one side, if we choose. Or, if we are busy, with both," Sauvé says.
"It is Larson's first spokeless wheel, the first in North America, and the second in the world. We are really proud to have it. And the thing that we have really done differently, and which is completely unique, is to put another ride going right through the middle of it; the Télégraphe cloud coaster, which is the first of its kind of that stature."
He says: "It took a lot of engineering. A lot went into it.
"Extreme Engineering were great – they worked really hard on this, and it has been a great success. People are just thrilled, especially when the wheel is turning around, just to have that effect. The coaster goes through the middle of the wheel three times. It's a real showstopper."
Steampunk Méga Parc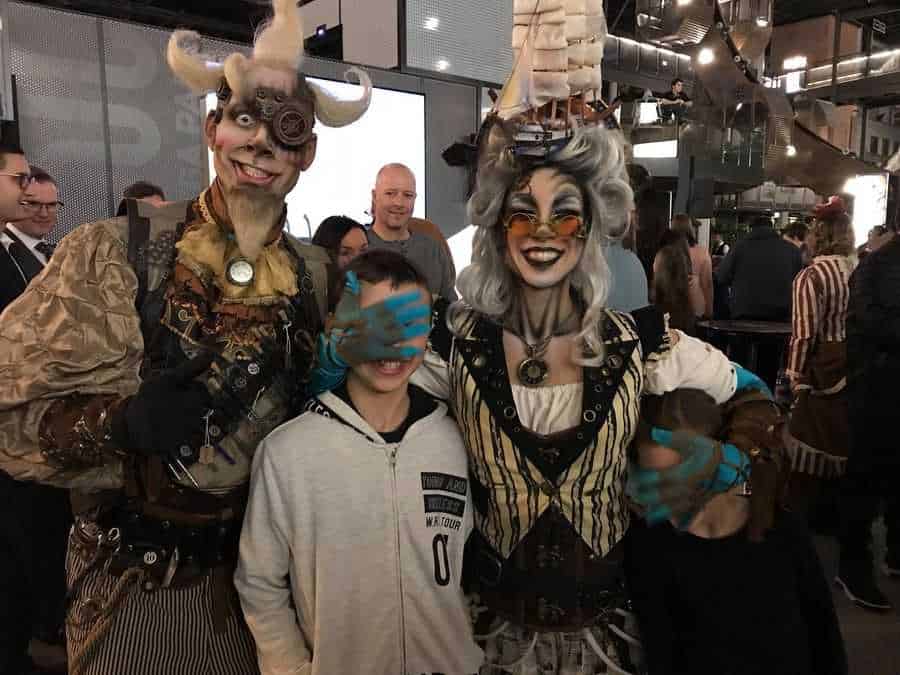 The steampunk theme is a both a slick reinvention of an industrial past, and the projection of an imagined future.
High tech elements such as cutting edge audio visual effects and lighting, a giant screen, a show stage and a fountain showcasing lighting effects add to the atmosphere.
Sauvé says: "We've gone right to the ends with this. Even the music in the zone is carefully thought out, steampunk-ish, classy jazz, which switches in the evening to electro. In the evening, we get more young adults coming in, something which we didn't have before."
Retailtainment as a means of diversification
The steampunk-themed Méga Park is part of the current retailtainment trend, as the retail industry is forced to diversify, expanding their offering and finding new ways of becoming a destination in order to survive.
Sauvé says: "That is our strategy. This is a test for Oxford properties, in reality.
"When Oxford purchased the mall back in 2013, there was, obviously, an existing park. They did a number of studies to see whether or not it was worthwhile to keep it going in the same direction, or whether to make a major change. With the advent of online shopping right now, companies don't have a choice. They have to try and find other ideas on top of retail in order to get people to come into the mall.
"Attractions like Méga Parc are increasingly becoming major anchors for the malls. People can come here, they can eat, they can play, and they can shop."
Going green starting with the basics
Part of the Méga Parc's revamp is a focus on green strategies.
He says: "We have policies on being more responsible towards the environment. It starts with the basics. For the lighting, we have gone to LED, which means we are able to lower our energy output.
"We redid our ice rink, making it a lot more environmentally friendly.
"In terms of cutting down on paper, we have integrated an electronic protocol. So all my technicians work with iPads now; the inspections are all wireless and paperless. Everything is online.
"For a little park, we are pretty far advanced."
An Instagram-ready Méga Parc
Marketing is beginning to take on its own momentum, as people take advantage of the park's surreally photogenic qualities for Instagram opportunities.
Sauvé says: "We have a great marketing team who have been working hard in the run-up to the opening, and over the past year, when we closed down the old Park, opening a temporary one in the interim just to keep people coming in. There has been a park here for 30 years, after all.
"In terms of social media, we have our own website, Facebook, and Instagram, all doing a good job, and being maintained and monitored closely.
"We offer birthday parties here, and have 'selfie positions' where people can take pictures, which they then post on the social media platforms. We are getting a lot of good feedback and excellent coverage, not just in Canada but internationally as well. There are a lot of people globally who are really interested in what we have done here. Our VIP media evening was a great success."
He says: "The Méga Parc was a great challenge. It is not too often that you get to build an attractions park. It was a wonderful life experience for the whole team here, and we are looking at this as just a beginning for Oxford, if everything works out the way we want it. Oxford Properties is an international company, and we could soon be launching more all around the world. This could be our future."
Images kind courtesy of Méga Parc.