So hot, in fact, it's on fire. But how much will the £16 million ($22.6m/€18.3m) wooden roller coaster ignite visitor numbers at the British park this season?
Complete with an impressive arsenal of special effects, Wicker Man is more than just a ride; it's an experience. It is the first new wooden roller coaster ('woodie') to be launched in the UK for over 20 years.
The last was Megafobia at Oakwood in Wales, which debuted back in 1996. Woodies have moved on. Sure, the basic timber-framed structures may look like they always have. However, advances in technology mean designers are now able to pack in more intense elements than they could before whilst, paradoxically, delivering a smoother ride experience.
Thanks to its elaborate theming, highlighted by a 15.55-metre tall (nearly 60 feet) Wicker Man structure, the attraction's appearance is different to other wooden coasters. It looks good and it feels good. During the three-and-a-half minute experience (including pre-show), guests' senses are piqued by smoke, flames, scents and an ethereal soundtrack.
Not based on the film
The new attraction is not based on the 1973 Wicker Man movie nor its 2006 remake. But it takes as its cues the same pagan ritualistic influences. According to Bradley Wynne of Merlin Magic Making (MMM), who served as creative lead on the project, the Burning Man festival in Arizona as well as various local legends also inspired its theming, which was created in-house by MMM offshoot Studios North.
Riders are immersed in the world of the Beornen, a secret community apparently living in the woods around the village of Alton. On the edge of the woods, between Mutiny Bay and Katanga Canyon, Wicker Man sits on the former site of the park's fondly remembered log flume.
Four years in planning, the new attraction was officially launched on March 24 after a media preview the previous week. It was built by Great Coasters International (GCI). The ride features 795m (2,610ft) of twisting, turning, wooden track. Signature elements include a 72.5 ft (22m) triple down first and three passes through the Wicker Man structure as riders hurtle around the ride's burning 'embers' at up to 68km/h (42mph). Three 24-seater trains provide theoretical capacity for 1,000 passengers per hour. The new ride brings the park's current coaster tally to 10.
"This feels like the completion of the portfolio," says Wynne. "We could have whacked in another steel coaster, but what would it be? We've got flying, spinning, inverted, vertical drop. What next? Wood is the one element that was always missing at Alton."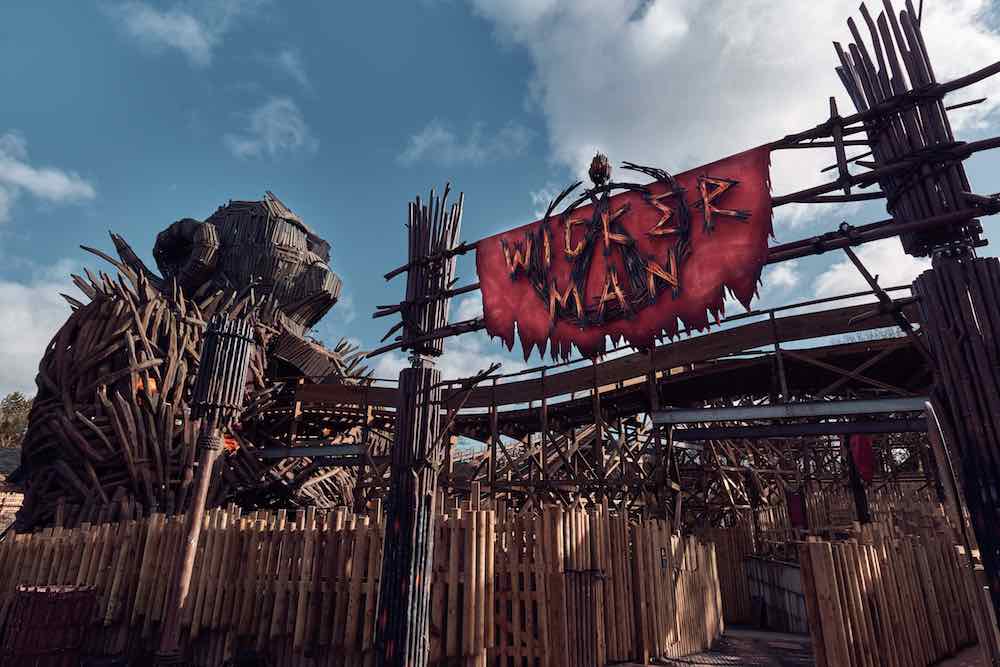 "Wooden coasters have come a long way," adds senior project manager Neil Walker. "But is was very clear from the coaster aficionados that it had to be a woodie, not a hybrid. And this project had to capture the imagination."
For Adam House at GCI, it certainly does: "You can talk about speed, height, length all you like," says the design engineer. "But to me, peering up at this 60ft-tall imposing Wicker Man structure is truly awe-inspiring. We've worked on other rides that have themes, but this is a fully-immersive world-class experience."
More than just a woodie
"For a long time, Alton Towers was obsessed with world firsts," says Wynne. "We are very proud of some those achievements. But we came to a realisation that there's only so fast and high you can go, particularly when you are faced with the kinds of planning restrictions we have at this park. So we said OK let's forget the world's first thing; it's all about quality of content. We knew we wanted to do a woodie, but to make it right for Alton it needed more. That's where the whole immersive Wicker Man story came in."
Alternative themes considered included a film-based IP and what Wynne describes as "a very blue sky concept. What if this thing grew a brain and became a bit like Transformers, but a wooden version? In the end it became so ridiculous that we couldn't even understand it ourselves! Wicker Man came about after market testing with our guests. Absolutely the most compelling thing we could give them was wood and fire. The challenge was how to realise that in a way that is safe and fits with the story."
Don't do this at home
Wood and fire are of course a dangerous mix, so precautions were taken and little trickery employed. Those are real flames guests see ignited either side of the Wicker Man's half human, half ram head. But because of the three burners on his shoulders, he is not actually made of wood. Instead carved render was used. The flames effect are complemented by fog, smoke and LED screens 'burning' away inside the lower parts of the structure. The effect is most impressive, particular after dark when added lighting around the ride really brings it to life.
Immersive by day or night
Most visitors to Alton Towers will be riding Wicker Man in daylight. Yet a significant part of the ride, including the pre-show, station, several tunnels and of course the inside of the Wicker Man's abdomen, are undercover. As such, many of the special effects can be enjoyed equally by day or night. That includes the faux fire and scented flames that blast riders before they return to the loading area.
But before they even step onto the ride, passengers' senses will have been heightened. First by the music in the queue line. The soundtrack was composed by the specialist German recording studio IMAscore, its fourth collaboration at Alton Towers following earlier compositions for The Smiler, Spinball Whizzer and Galactica coasters. On Wicker Man, the music has been arranged into three consecutive pieces. As riders enter the queue, the soundtrack seems celebratory but slightly sinister, progressing to what IMAscore describes as an "acoustically hypnotising downward spiral" as they move closer towards the station area.
The short, just over a minute long, pre-show was produced by Holovis. The UK company also delivered additional AV elements throughout the attraction as well programming all the special effects, which in turn were provided by Back Stage Technologies. During the development of the attraction, Holovis also worked with the MMM team to employ its RideView augmented reality visualisation software to help model the site and ride experience.
Short but intense pre-show
Once they are huddled inside the pre-show booth, guests witness an intimidating teaser that makes good use of projection mapping. It is during this show that riders learn of their fete as they are 'chosen' to be sacrificed before the Wicker Man. And then it's time to board the custom-themed Millennium Flyer trains.
Alton Towers would prefer that the exact content of the pre-show is kept a secret, so who are we to offer any spoilers? Safe to say, during Blooloop's recent visit to the park, the film was intense enough that it put one young guest off experiencing the ride – or 'ceremony' – that followed.
Nevertheless, the attraction is targeted at a wide visitor demographic, according to Wynne. "Anyone over the height of 1.2m, from children to OAPs [old age pensioners]," he says.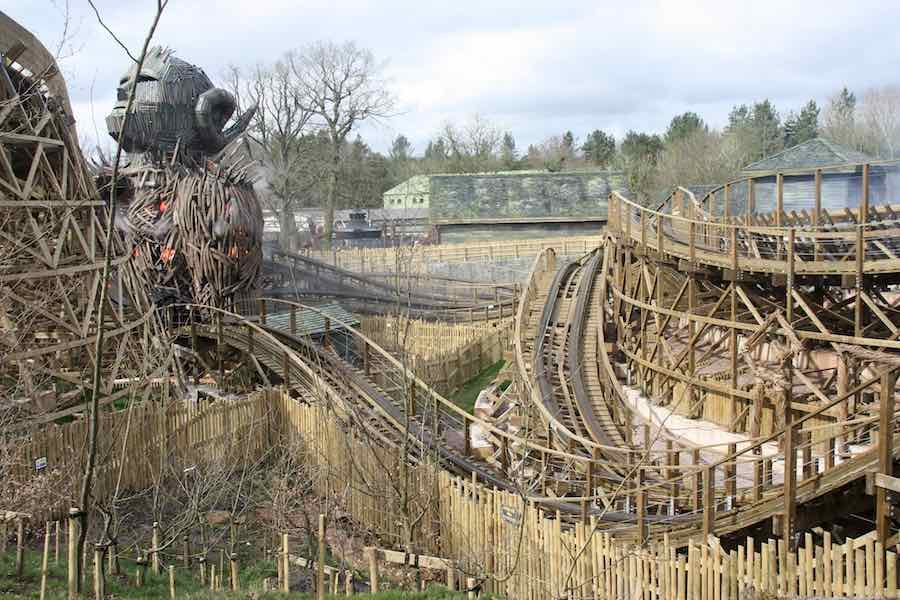 The Wicker Man suddenly becomes a little less threatening when you learn of his nickname: Big Bob.
"We needed a code name when were designing it because obviously we wanted to keep the Wicker Man a secret. " explains Walker. "I said Big Bob during one of the meetings and it stuck."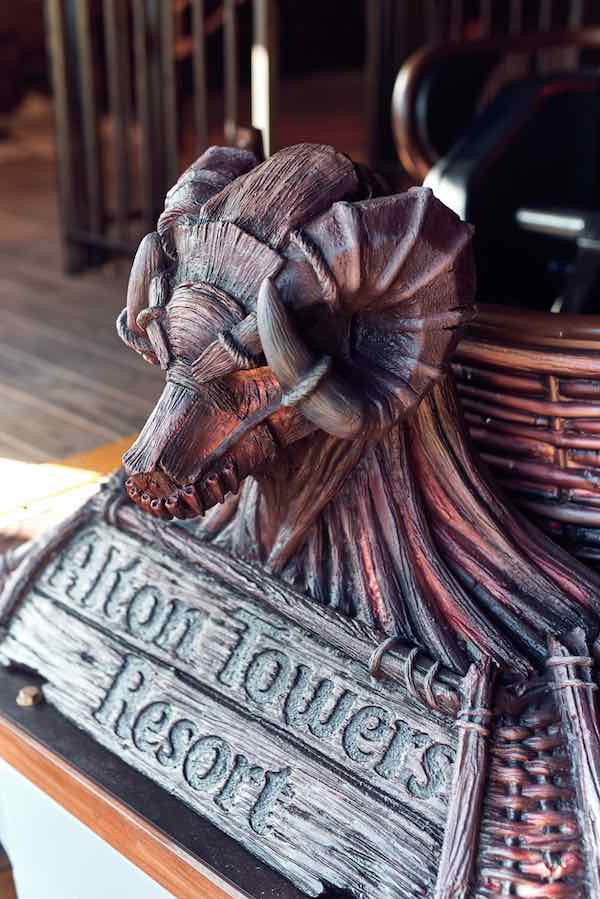 A taste of what was to come was provided last Scarefest, when Alton Towers converted the courtyard of the nearby Tavern into a maze called The Welcoming. Clues, coded in runic symbols, sparked speculation amongst park fans that the coaster would have a Wicker Man theme. The Tavern has now reopened as The Welcome Inn.
Keeping Wicker Man under wraps
For once, but not out of choice, Alton Towers did not completely seclude the ride's construction site.
"It was a very conscious decision," says Wynne. "The challenge with this site is that it's right in the middle of the park and the Skyride [cable car] goes directly over it. We were aware people knew we were doing a woodie. That's why we put windows in the construction fences. But we did try to hide other things. When we were building the Wicker Man structure, we put up this huge scaffolding and hessian. It would have been so much easier if we didn't have to do that, but wanted to do this big tease and reveal."
Meet the (Wicker Man) makers
As a preview to the preview , the park also staged a "meet the makers" media event before the ride opened in which Wynne, Walker and Alton Towers operations director Francis Jackson gave detailed interviews about its development.
"In the era of social media there is so much appetite for information," says Lizzie Roberts, head of PR and media relations at Alton Towers Resort. "This provided a good forum for us to invite people in and talk abut whatever elements of the ride they were interested in. It's a beautiful thing and a great construction story. And of course this is the first major ride we have launched since The Smiler. People want to know what safety measures are in place, what lessons have been factored into this ride. So that just gave us the opportunity to have those conversations in frank and honest way."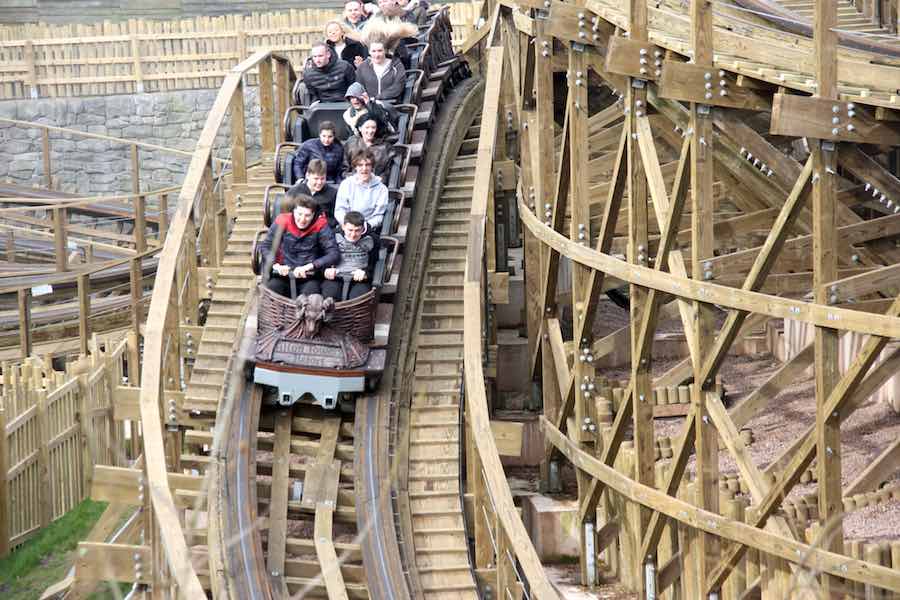 Guest satisfaction is key
Since the well-publicised Smiler accident in 2015, Alton Towers Resort ceded the crown of UK's busiest theme park to its Merlin stablemate Legoland Windsor. So there are clearly big expectations of Wicker Man. Yet attendance is one thing, guest satisfaction is another. Here the park is already performing well, according to Head of Product Excellence, Wayne Burton.
"We listen to our guests in a variety of ways," he tells us. "There are about 30 KPI [key performance indicator] iPads throughout the resort, collecting live information about our guests' day with us. We also have a mystery shopper programme, monitor social media and respond to every Tripadvisor review. Although I can't reveal numbers, Alton is already up there among the best in the Merlin KPI league tables."
Keeping an eye on queues
Burton, who started at Alton Towers back in 2002 as a ride operator on Oblivion, confesses to having so much passion for the park that he even spends his leisure time looking at what guests are saying online.
"So if I'm sitting at home on a Saturday afternoon and a guest is on Facebook saying the queue is too long for Rita, I'll get on the phone to the manager for the day and say 'What's going on?'. I'll always be the champion for the guests."
Visitors can monitor live queue wait times via the official Alton Towers Resort app. Burton worked closely with Mark Locker of Attractions.io, a former park employee, to develop the app. "It's a great tool for guests to make their way around the park and get the best out of their day," he says. "We keep developing the app and adding little bits to it. Mark knows the park inside out, so he's useful to have on board. If something's not right, I know I can phone Mark and, even if he's on holiday, he'll get one of the developers onto it. They offer great support."
The Big Six and the UK woodie revival
In summer, Alton Towers guests are invited to take part in The Big Six Challenge. Implemented to encourage a broader take up the of the app, guest scan their phones on entry to Galactica, Nemesis, Th13teen, Rita, Oblivion and The Smiler. They then follow the instructions within the app to claim a free return visit in September. The park is currently considering whether to expand the challenge to The Big Seven by incorporating Wicker Man.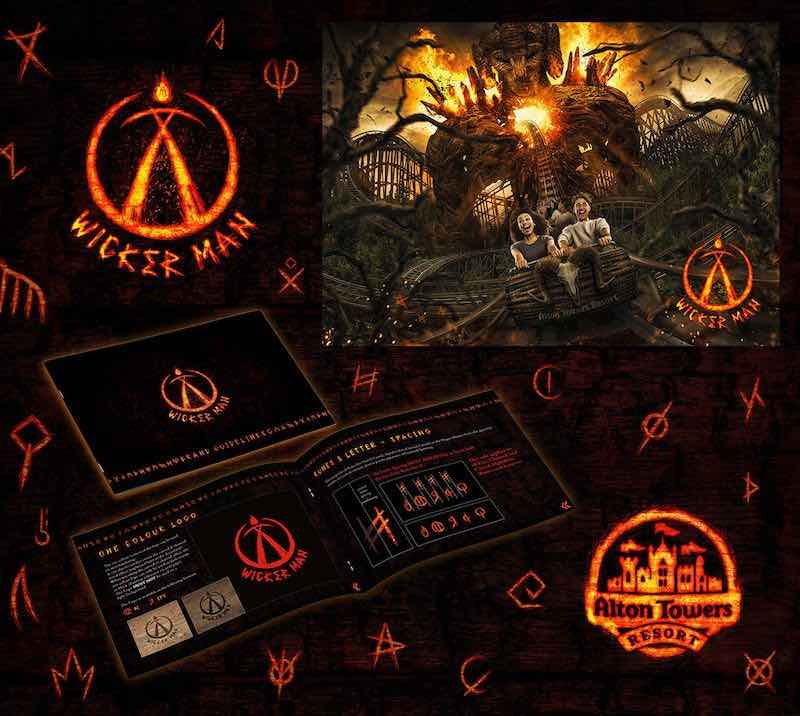 Already many guests are posing for selfies alongside the Wicker Man structure. Official on-ride photography is provided by Picsolve, a long-time collaborator of Alton Towers Resort. Other companies that worked on the project included Scruffy Dog, which provided concept designs to Merlin Magic Making and LMC, which created the ride's brand identity and marketing image templates. In addition, LMC also came up with the name for the Beornen.
Could this exciting ride usher in a new wave of wooden coaster construction on British shores?
"It just takes a spark," says Adam House at GCI. "This coaster is made of fire and wood so that spark's really going now. I think wood coasters are set for a big revival in the UK."
Images by Alton Towers Resort, Owen Ralph and the Press Association.