The new Avengers Campus at Disney's California Adventure theme park was unveiled by a host of superheroes and Disney executives before its opening to the public on June 4 2021.
Paul Rudd, who plays Ant-Man, and Anthony Mackie, The Falcon, joined Disney CEO Bob Chapek, Josh D'Amaro Disney Parks, Experiences and Products Chairman and Kevin Feige Marvel Studios President/Marvel Chief Creative Officer, on stage in front of the Avengers Headquarters. Jon Favreau, who directed Iron Man as well as playing Happy Hogan, was also at the ceremony.
The first Avengers Campus in the world
Bob Chapek started the live-stream event, saying that this is the first Avengers-themed land "anywhere in the world" and is a place for anyone who has wanted to be a superhero.
D'Amaro said that "the Avengers' mission is to protect the world and it is our hope that this land will inspire young and old to make the world a better place".
During the ceremony, Feige explained that "here in a Disney theme park … all of our fans can walk around and experience these places, engage with the characters, be a part of these stories in real life."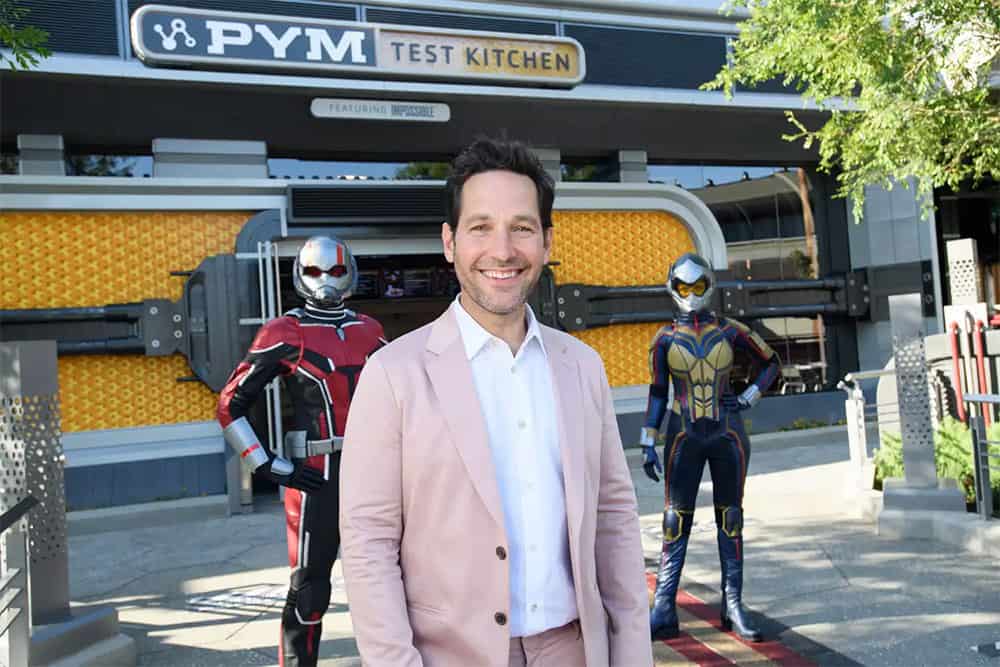 A large gathering of superheroes
For Paul Rudd, the best part of the new themed area is the Pym Test Kitchen. However, he is disappointed that it wasn't named "the Lang Test Kitchen" but he assured the audience the food is still great.
Feige also promised that the themed area will continue to grow over time, just as the Marvel cinematic universe is growing. He then introduced "the largest team of heroes ever assembled". A series of Marvel superheroes, including Iron Man, Black Panther, Ant Man, Thor, Loki, Captain Marvel and more then appeared to celebrate the opening.
Anthony Mackie appeared on stage to introduce the new Captain America. Visitors will be able to see both Steve Rogers and Sam Wilson as Captain America inside the Campus.
Tony Stark's advanced AI assistant, FRIDAY, then launched some fireworks to close the event.
Interactive rides and animatronic superheroes
The new themed land features a full-sized Quinjet and Disney's first Spider-Man ride-through attraction, Web Slingers: A Spider-Man Adventure. Tom Holland has reprised his role of Peter Parker for this ride that features interactive elements.
Visitors will also be able to see an animatronic Spider-Man flying through the air around Avengers Campus.
There will be plenty of merchandise for Avengers fans to purchase. Wearing a Web Power Band on the new Spider-Man ride unlocks multi-fire webs for the rider.
Also on offer on the Campus are interactive Spider-Bots that are powered by remote control. They can be customised to harness the powers of various superheroes, such as Black Panther and Iron Man.
Disney recently released a guide map for the Avengers Campus showing three entrances to the land.