German company project:syntropy has teamed up with Intamin Amusement Rides to produce a new media-based attraction that simulates the feeling of flight.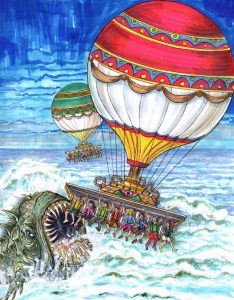 Balloon Fly 360 is based on a concept from Italian theme park designer Valerio Mazzoli.
The attraction offers 360-degrees of immersion thanks to a 20 x 16-metre curved screen and a dynamic motion system that turns as well as lifts. Special effects such as fire, water and wind further stimulate the senses.
CGI media from the French firm Polymorph may feature such scenes as a flight over the ocean, over the top of volcanoes or perhaps a fight with an angry enemy to recover a secret stone.
project:syntropy has designed and created the curved screen. "The design of the visual system for the Balloon 360 attraction posed to be an enormous task due to its sheer size and its unique screen shape. Even with 20 years of design and integration experience in hundreds of projects, it took our R&D months of modelling and simulation to figure out the best possible configuration for the visual," says Christoph Bode, chief technology officer at project:syntropy GmbH.
Intamin has engineered the ride system. Initial designs show a configuration of eight 8-seater 'balloons'. This would provide a theoretical hourly capacity of 1,250 based on a 200 second total experience (160 seconds immersive ride time). The minimum passenger height is 1.2m.
Big names take interest
Having undergone over a year of intensive development by both Intamin and project:syntropy, the Balloon Fly 360 concept was first unveiled to potential clients last November at IAAPA Attractions Expo.
Mazzoli, who will provide storylines for the ride, has a long track record in designing theme park attractions. After working with the Walt Disney Company in California in the 1970s, he went on to produce work for Gardaland (Italy), Tibidabo (Spain), Sanrio (Japan) and PT Pembangunan (Indonesia), amongst others. He now lives in Orlando.
With Balloon Fly 360, Mazzoli, project:syntropy and Intamin believe they can create "the most immersive and adventurous flying attraction".