Imagineering's Walt Disney World site portfolio executive Zach Riddley joined VP of EPCOT Melissa Valiquette at the virtual event on Thursday (November 19).
Zach and Melissa opened up about the new neighbourhoods that will unify EPCOT, including World Celebration, World Discovery, World Nature and World Showcase.
The session is available to watch below, and Zach shared some highlights from the D23 Fantastic Worlds Celebration on Disney Parks Blog.
"EPCOT holds a very special place in my heart," wrote Zach. "As a boy, it inspired me to dream of a better future – a place where anything is possible. And now I'm honored to lead the team of Disney Imagineers dreaming up the new future for this park we all love."
EPCOT will boast a reimagined entrance with a new colour palette and open layout. Disney has installed new pylons as part of the work being carried out on the new fountain at the base of Spaceship Earth.
This will be completed by the end of 2020. The fountain will have a new lighting package that will be joined by new lighting for the geosphere of Spaceship Earth.
Remy's Ratatouille Adventure opens 2021
Disney also continues work on Guardians of the Galaxy: Cosmic Rewind, which is part of World Discovery, and recently put some of the attraction's vehicles on the track for the initial 'push/pull' testing.
Zach shared a new rendering of Harmonious, the new nighttime spectacular planned for World Showcase Lagoon. It will be one of the biggest shows ever created for Disney.
D23 also heard from Imagineer Tom Fitzgerald and Pixar Animation's Roger Gould and Harley Jessup, who provided a deep dive into the creation of Remy's Ratatouille Adventure, which is set to open in 2021.
Disney shares new rendering of Harmonious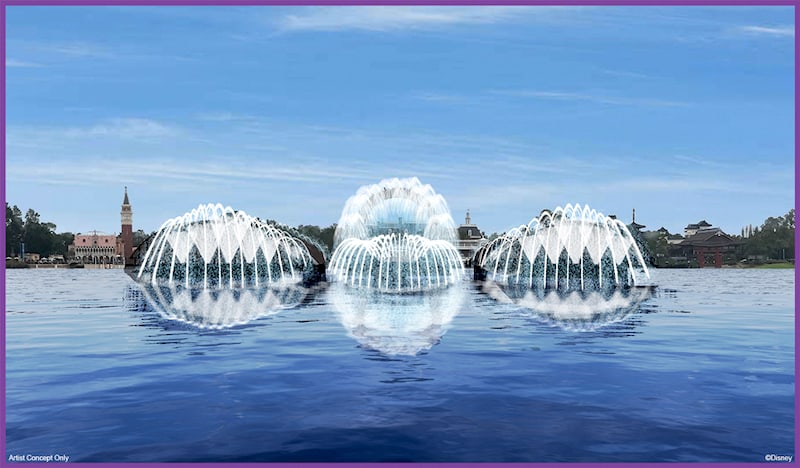 Disney also shared updates about the next generation of experiences in development, including Avengers Campus and EPCOT, at IAAPA Expo: Virtual Education Conference.
Tilak Mandadi, head of digital and technology for Disney Parks, Experiences and Products, spoke about creating a 'theme park metaverse' at this year's IAAPA.