Genting Cruise Lines' Dream Cruises has announced the first ever theme park at sea, which will boast the world's longest roller coaster on the ocean.
The ride will be called 'Space Cruiser' and is part of the 'Dream Park at the Pier' theme park on the company's new Global-class ship.
The ship, named 'Global Dream', is currently under construction in Germany, and is scheduled to debut in early 2021.
According to Michael Goh, president of Dream Cruises, the company teamed up with Maurer Rides to develop the ride.
Goh said the new ship will feature "cutting-edge features and facilities" to provide "innovative leisure, entertainment and recreation options".
Dream Park at the Pier theme park on Global Dream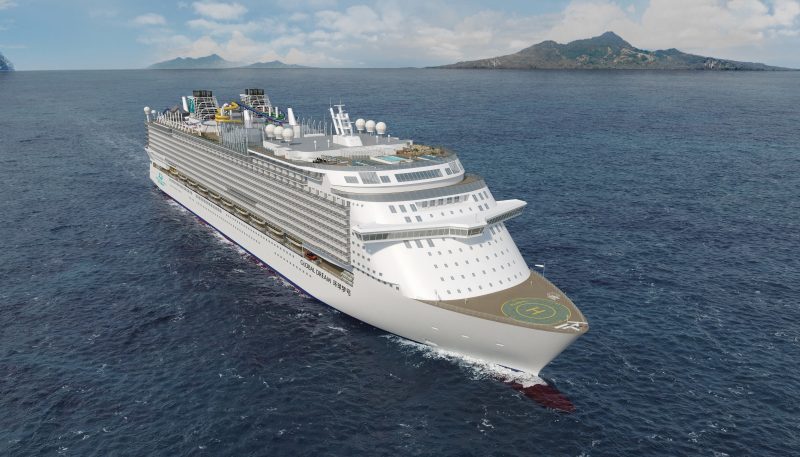 Marco Hartwig, project manager at Maurer Rides, said the coaster is outfitted with powerful electric motors and positive-locking drive system.
Hartwig added that the coaster "defies the physical limits experienced by conventional roller coasters, thus allowing acceleration over 1g almost everywhere on the 300-metre track".
"All this guarantees a spectacular and breathtaking ride at up to 60 km/h (37 mph) over the heads of fellow passengers."
The ride will feature interactive driving, inline seats and an integrated throttle, letting guests control the speed. Space Cruiser riders will have the feeling of flying over the sea.
Theme park and ship will boast more attractions
Dream Park at the Pier will also have an inflatable park (Bounce Activity Park), a special trampoline park (Jump!), and a bungee trampoline (Shark Bay).
Other attractions include a surf simulator (Wipe Out), mini karts for children (Little Dreamers Ride), as well as Cosmic Chaos and Kranky Kraken.
Aside from the theme park and roller coaster, Global Dream will include a Cineplex, spas, shopping, restaurants, and fast food.
Earlier this year, Genting Cruise Lines announced the addition of two Global-class ships to the Dream Cruises fleet.
From early 2021, the company will be able to position ships in locations such as Australia, New Zealand, and Alaska.
Images: Dream Cruises