Dynamic Attractions has signed two contracts worth $73 million to supply two ride systems to an Asian theme park conglomerate.
The deal is part of a five year strategic co-operation agreement between Dynamic Attractions' parent company Empire Industries and the theme park conglomerate.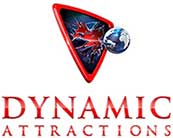 Dynamic Attractions has already completed the design and manufacture requirements for the proprietary ride system under a previous contract.  This latest contract covers the supply of the ride systems over the next 24 months to two theme parks which are currently under construction.
Commenting on the announcement, Hao Wang, President and Chief Operating Officer, Dynamic Attractions Ltd. said, "We are tremendously honoured with the trust that this client has placed in us with the marquee attraction in multiple parks.  It reinforces Dynamic's strategic product portfolio and operational positioning to support the expanding global theme park industry. Delivering on our commitments is a primary focus, and having the capability to engineer and deliver iconic ride systems concurrently gives Dynamic Attractions a significant competitive advantage."
Under the strategic co-operation agreement Dynamic Attractions enjoys preferred vendor status, and it is expected that a third contract will be awarded for another ride system before the end of the fiscal year.  The $73 million in contracts awarded, brings the contract backlog to over $285 million.
Dynamic Attractions is renowned for building 50 of the world's most popular theme park attractions. The company is a wholly owned subsidiary of Empire Industries Ltd., and has operations in Orlando, Vancouver, Dallas, Toronto and Shanghai.
Dynamic Attractions will be at IAAPA's Asian Attractions Expo in Hong Kong, June 6-8, 2018. Meet the team at Booth, #1702.