Here's what Blooloop learned from three days at the Guinness Storehouse, Jameson Distillery, Viking Splash Tours, Tayto Park and also Titanic Belfast.
Sponsored by accesso, Interlink, JNE&LC, Severn Lamb and Simworx, the IAAPA EMEA Spring Forum event in Ireland ran from Monday to Wednesday, May 14 to 16. There were also a series of IAAPA committee meetings on the preceding Sunday. You can view the full schedule and see selected presentations here. There now follow 11 lessons from 72 hours of networking, education and attraction visits.
Main image (left to right): IAAPA EMEA vice-president Jakob Wahl, Tayto Park managing director Charles Coyle, IAAPA chief operating officer Doug Stagner, Tayto Park founder Ray Coyle.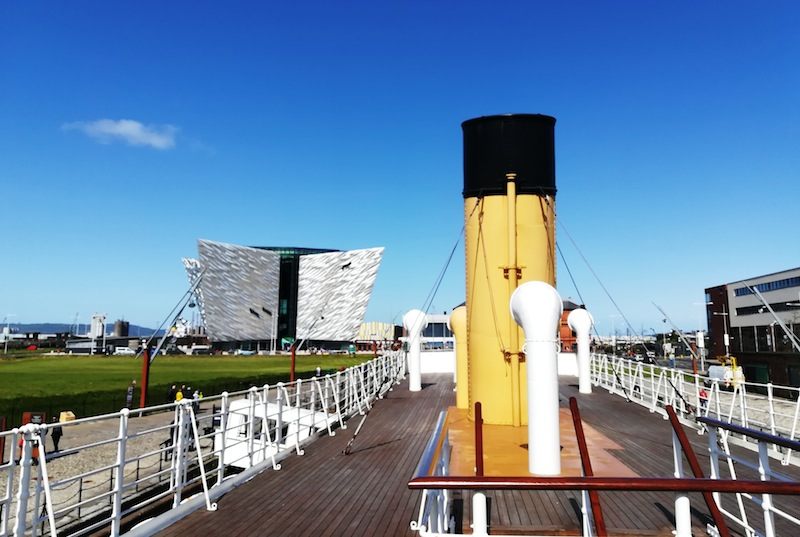 1. The weather can be quite good in Ireland!
Previous Spring Forums for IAAPA members in Europe, the Middle East and Africa (EMEA) have taken place in the Netherlands, Sweden, Turkey, Italy and Poland. There have also been separate Winter Forums in the United Arab Emirates. The Italian and Turkish events in particular were scorchers.
Ireland, of course, enjoys a reputation as "the Emerald Isle". And the reason there is so much greenery is because its trees, shrubs and meadows are, er… well watered. So what a relief it was that, save for some showers during the visit to Tayto Park, the weather wasn't bad at all during Spring Forum 2018.
The first and last day were beautiful, in fact, meaning those who weren't staying on to take the optional excursion to Belfast probably wish they had. Not just so they could soak up the fascinating story of the Titanic, but some Irish sunshine too.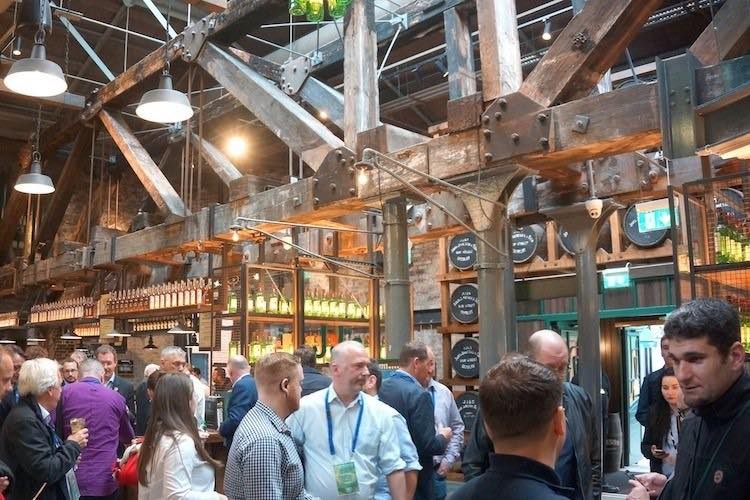 2. Alcohol tourism is a thing
We've written a lot at Blooloop about brewery and distillery tours around the world, so this didn't come as such a surprise. Yet Dublin is notable for being home to some particularly successful brand experiences.
Both Paul Carty from the Guinness Storehouse, famously the busiest tourist attraction in Ireland, and Jameson Distillery Bow St general manager Ray Dempsey addressed the visiting attractions industry representatives on Monday afternoon. More whiskey-based tours are set to open soon in the Irish capital. In fact, the country even has a Whiskey Tourism Strategy.
Brand homes such as these are a fantastic way for drinks companies to connect with consumers. Yet they face a potential threat in Ireland since there are calls for there to be a ban on the marketing of such experiences, just as there are tight restrictions on alcohol in advertising in general. Carty and Dempsey will be keen to make the case that they are a vital tourism driver. In the meantime, Spring Forum attendees were enthusiastic in their appreciation of the accomplished attractions developed by Guinness and Jameson in Dublin, as well as the drinks they showcase.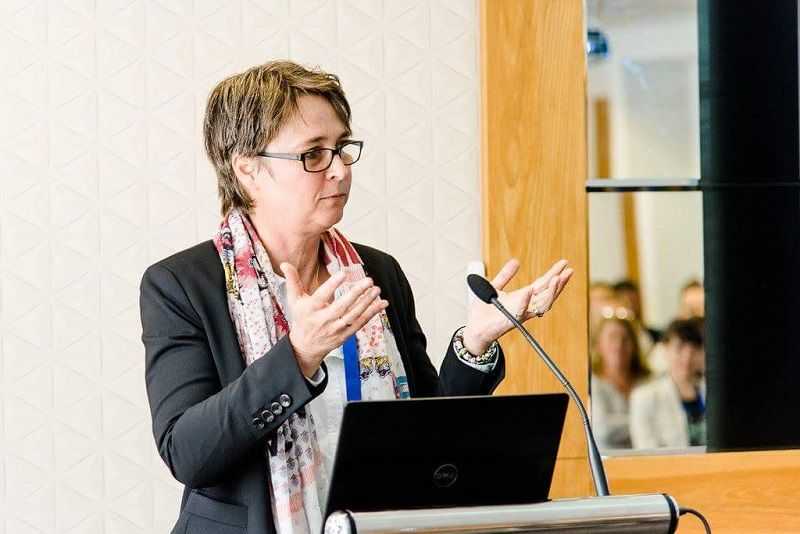 3. Factors for brand land success
Brand lands were the subject of a presentation from Silke Petzold (above) on Tuesday morning. Representing Erlebniskontor, she was speaking during the formal educational part of the proceedings at Dublin's Hilton Kilmainham hotel.
Factors for success include an authentic location, the inclusion of real stories, people and processes and creating an attraction that lets the personality of the brand shine through. VW got it right with Autostadt in Wolfsburg, suggested Petzold, but Opel failed with its Opel Live project in Rüsselsheim.
She finished by showing a touching video from SOS Kinderdorf (Children's Village) in which a shy schoolboy makes friends with a girl by sharing his sandwich. We hear a lot via IAAPA about the wonderful work done by Give Kids The World. Yet it was also nice to learn about this particular good cause, which has 16 villages across Germany for children and families in need.
4. IKEA offers the ultimate attraction model
Continuum Attractions CEO Juliana Delaney chaired a panel session at the Hilton about brand homes and other kinds of branded attractions. Contributing to the discussion (as pictured above) were Tayto Park's Cian O'Callaghan, Yvonne Rogers from City Splash Tours, Laura Hogan of Jameson and Colette Coughlan from Guinness Storehouse.
All were asked to sum up their attractions in just one sentence. And all succeeded – the definition of a strong brand according to Delaney. Whilst the Guinness and Jameson experiences are devoted to global brands, Tayto Park takes its title from a snack. This was nevertheless very important in helping the park establish a name for itself when it entered the market in 2010.
When panel members were asked for the brand they admired most outside the attractions industry, O'Callaghan chose IKEA. Delaney observed that in some ways the Swedish retailer operates the ultimate visitor attraction model. "Because they let people in for free, but they never leave without paying."
5. Ducks in Dublin make unpleasant emissions
Collecting Spring Forum attendees from outside the Hilton were a fleet of bright yellow amphibious DUKW (duck) vehicles. A sightseeing trip around the Irish capital followed, courtesy of Viking Splash Tours. To some passengers' disappointment, the bit on water was a circuit of the city's Grand Canal Dock basin (as pictured above) rather than a ride along the River Liffey. However there was never a dull moment thanks to the entertaining hosts on board each vehicle.
Since acquiring the Dublin operation in 2006, operator City Splash Tours has devised a plan to become a global leader in such experiences. It has yet to announce any new cities, but promises future tours in Europe will be tailored to each market (the viking angle obviously won't work everywhere).
Key to this expansion is the development of a new generation of amphibious vehicles called Salamanders. Crucially they will be electric driven, providing an emission-free and altogether more pleasant experience than the WWII-era ducks.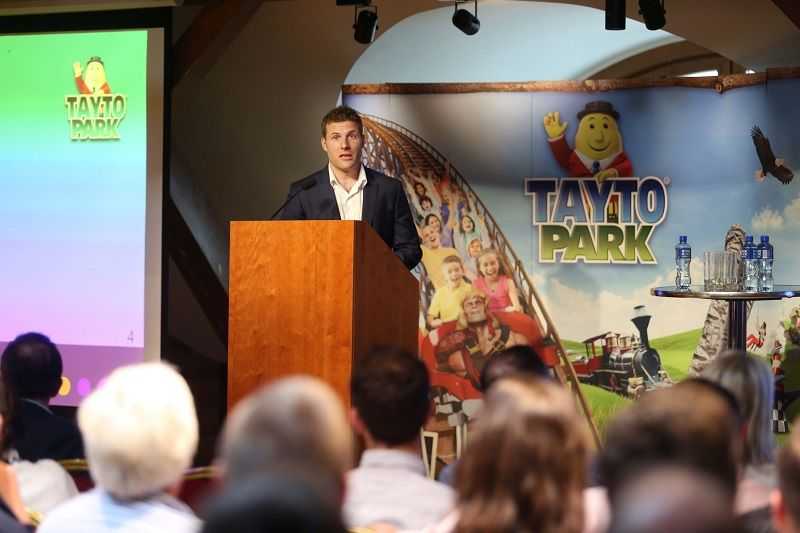 6. Don't launch a new European theme park in winter
In a candid presentation to Spring Forum attendees after lunch on Tuesday, Tayto Park managing director Charles Coyle – son of park founder and former Tayto Crisps owner Ray Coyle – highlighted some of the mistakes his family had made since entering the industry in 2010. "We opened the park on November 21 and couldn't work out why no one was coming," he said. "That was the first mistake."
Yet once winter had subsided, things picked up considerably. During the park's first full season in 2011, 330,000 visitors came to enjoy its relatively simple offering. What started life as a small zoo featuring buffalo and bison, a high ropes course and a visitor centre where guests could sample Tayto Crisps (potato chips) has grown considerably since.
A 70 per cent increase in attendance, up to 750,000, was recorded in 2015 when the park introduced the wooden coaster Cú Chulainn. Viking Voyage, a Super Flume from Interlink, was added last year. More major attractions are on the way, together with a hotel. But one tradition remains: guests are still given a free bag of crisps as they leave!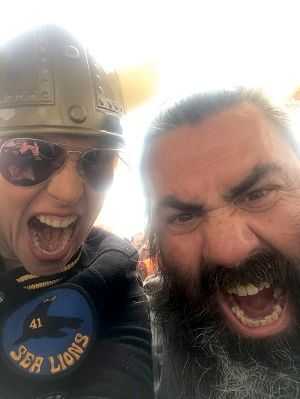 7. Avoid ski-ing holidays before the start of the park season
IAAPA EMEA vice-president Jakob Wahl almost never made it to Ireland for Spring Forum. Just weeks before the event he suffered an accident while on a ski-ing holiday. Fortunately he was in a fit state to board his flight to Dublin and preside over proceedings this May.
Yet when the group toured Tayto Park after lunch on Tuesday, Wahl had to decline a ride on Cú Chulainn due to having his left arm in a sling. A week later, during the opening of ICON at Blackpool Pleasure Beach, he was forced again to watch from the sidelines. This was all the more painful since he had been personally involved in the development of this attraction in his former job at Europa-Park, and by association Mack Rides.
One highlight of Tayto Park is the Super Flume Viking Voyage and both John Hudd and John Davies, of ride and attraction supplier Interlink were in attendance. 
8. Don't go to a remote Irish pub unless you know how to make your way home
Tayto Park were fantastic hosts and no Spring Forum attendees went hungry or thirsty during their visit. During lunch, some guests even got to feast on bison lasagne! There were speeches before dinner from Jakob Wahl, Ray Coyle, and Charles Coyle. Wahl praised the Coyle family's achievements. He noted it is rare that IAAPA officials get to visit a park that has developed so quickly.
Whereas it's common for there to be after-dinner entertainment, guests had barely finished their starter before they were treated to a rousing performance from the band Damsha (pronounced Dow-Sa). The accompanying antics from a troupe of high kicking tap dancers left many diners awestruck.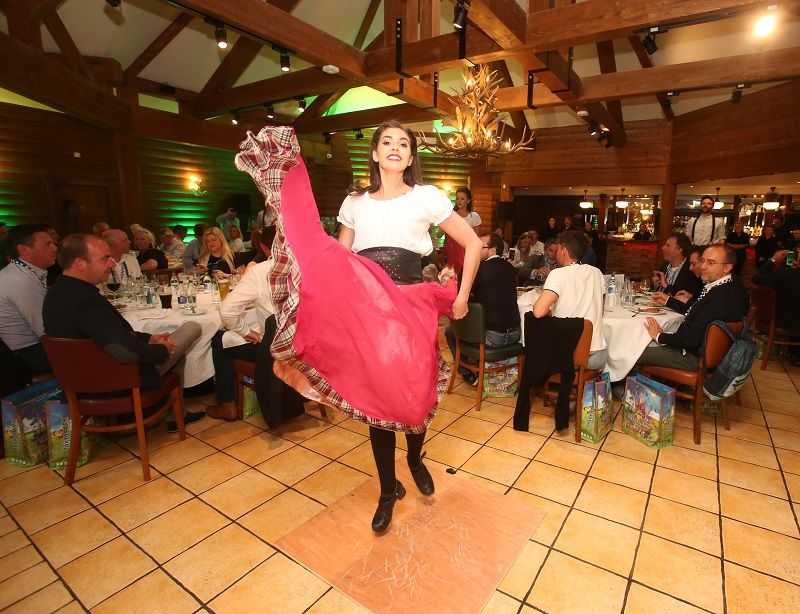 The craic was so good, in fact, that many did not want to go home. So, at the invitation of the Coyle family, a large group headed for their local pub, Swan's Bar. Whilst Tayto Park might be less than an hour north of Dublin, the pub's location in Kilbrew, County Meath, is relatively remote. "If you come to Swan's you'll have to make your own way home," Charles Coyle warned.. A few were perhaps a little worse for wear at the end of the evening. However, we did hear that everyone found their way back to their hotel somehow.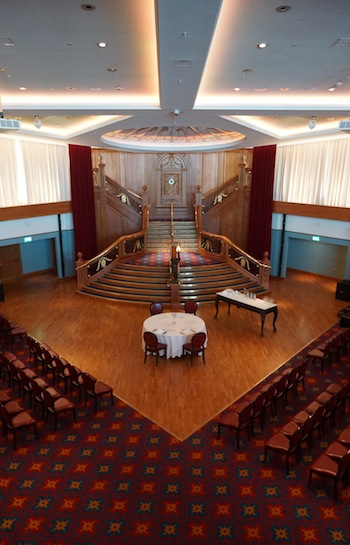 9. Titanic is more successful on land that it was at sea
Not everyone stopped on for the third day of the Spring Forum. Some had business to get back to, others flew over to France for a meeting of the trade association SNELAC. Nevertheless, around 50 people did make the optional excursion to Belfast. They were welcomed in the Northern Irish capital by Judith Owens, chief executive at Titanic Belfast.
The attraction dedicated to the ill-fated ocean liner has had good numbers since it opened in 2012. Although attendance slipped after that first year (806,749 to 646,938) it didn't quite hit an iceberg. And now numbers are rising again, up from 739,758 in 2016/17 to a record  841,563 in 2017/18.
Recognised as the first 5-star graded visitor experience in Ireland, the museum's success is not judged purely on visitor numbers. The boldly-designed building in which it is housed has become an "iconic landmark" on the Belfast skyline. Just as the looming yellow cranes of Titanic manufacturer Harland & Wolff are to this day. Titanic Belfast has also played an important part in the regeneration of Belfast, including the so-called Titanic Quarter.
During a presentation to Spring Forum delegates, Owens highlighted the project's many champions. These ranged from the Belfast Harbour Commissioners to various government agencies. Then there are the ship's super fans: the Titanoraks!
10. Rock stars inflate the price of hotel rooms
One thing that wasn't perfect at this year's IAAPA EMEA Spring Forum was the accommodation. Dublin's hotels are currently enjoying some of the highest occupancy rates in Europe. Due to the limited availability of rooms, IAAPA appointed three official hotels for the event. One of these was the Hilton Kilmainham. The other two were located towards south of the city centre, in Ballsbridge.
Shuttle buses were provided, but the location was not ideal. Prices were also higher than usual. It might seem tempting to suggest the IAAPA EMEA gathering was responsible for this. Yet in reality Spring Forum's 120 attendees are unlikely to have made so much of an impact. Should the industry converge again on Ireland in a few years' time, perhaps we can all stay at the Tayto Park hotel. It'll make things easier getting back from the pub.
So why the surge in room rates in Dublin this May? "Ed Sheeran's in concert," we were told. "And the Rolling Stones are here later in the week." So there you have it. Rock stars are worth more to the economy than parks and attractions professionals. Except during November in Orlando.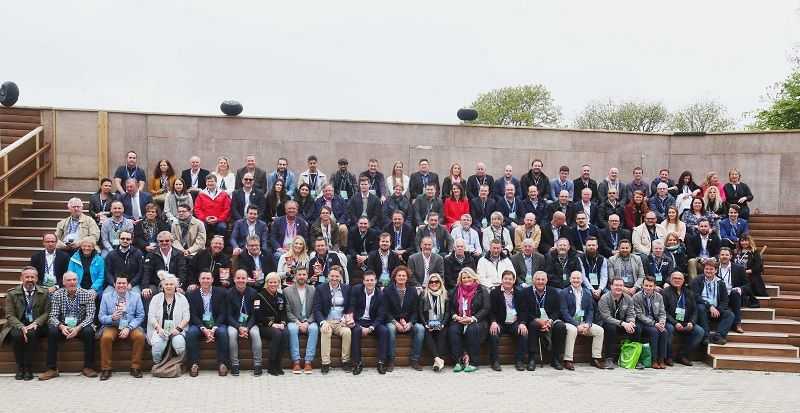 11. We can't wait do it all again
The IAAPA EMEA Spring Forum will visit Finland in 2019. Ahead of that, a Winter Forum is planned in Tenerife. In the meantime, there will be multiple education and networking opportunities, plus visits to local attractions, during Euro Attractions Show this September in Amsterdam.
Images by IAAPA EMEA, Tayto Park, Owen Ralph, Anne-Catrin Wahl and Stine Thompson.