Europa-Park is celebrating the reopening of its popular family attraction Pirates in Batavia, which was destroyed in a fire at the theme park in 2018.
Pirates in Batavia, a beloved attraction since 1987, has returned to the Dutch-themed area of Europa-Park following 24 months of construction.
The boat ride, which takes visitors on an adventure to explore the exotic port city of Batavia, was destroyed in a huge fire at the theme park in May 2018.
"We are very happy to be able to celebrate this memorable event today," said Europa-Park owner Roland Mack. "The fire and the loss of the unique attraction had torn a deep hole in our hearts."
24 months of construction on Pirates of Batavia
"It is all the more wonderful that the 'Pirates in Batavia' are back at Europa-Park – now even bigger, more beautiful and more exciting," added Mack.
Pirates in Batavia is an eight-minute, family-friendly boat ride with 17 boats and more than 80 figures with delicate movements using the latest technology .
Passengers go on a spectacular chase through Indonesia with Bartholomeus van Robbemond and Diablo Cortez, experiencing Europa-Park's elaborately detailed scenes.
Visitors explore the exotic port city of Batavia
Designed by Mack Rides, Pirates in Batavia has been recreated to be more beautiful and modern, without losing any of its iconic scenes.
In addition, visitors can enjoy Indonesian restaurant Bamboe Baai, which serves exotic dishes and offers views of Pirates in Batavia.
There is also a preview centre in the queue for Pirates in Batavia, where guests can immerse themselves in the story.
Europa-Park reopened to guests on May 28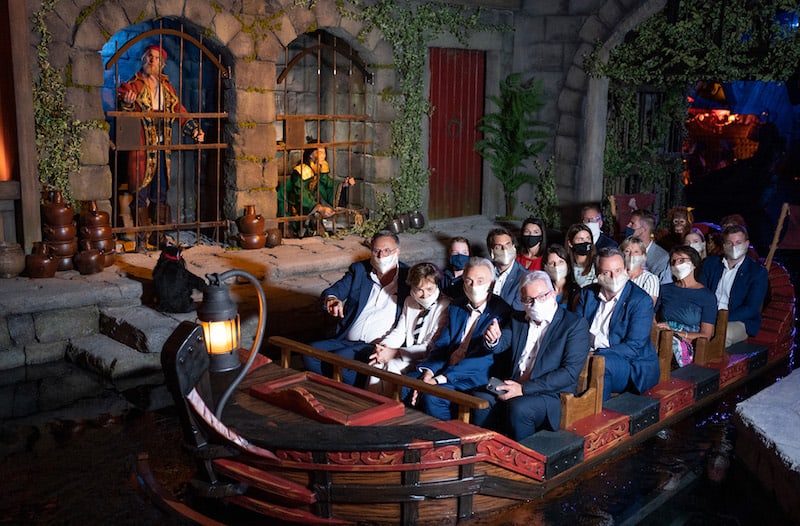 Meanwhile, Europa-Park is showing short film 'Departure for Batavia' three times a day in the 4D Magic Cinema.
Europa-Park reopened amid the coronavirus crisis on May 29. Prior to this, it unveiled health and safety precautions in a video explaining the 'new normal'.
"We kindly ask you, dear guests, to observe the mandatory minimum distance as well as the additional hygiene requirements which apply until further notice at Europa-Park," it said in a statement.