iFLY, a world leader in indoor skydiving tunnels, has designed, supplied and commissioned the world's largest Indoor Skydiving Tunnel.
iFLY Tunnel Systems is pleased to announce the opening of the world's largest Indoor Skydiving Tunnel, which can be found at CLYMB Abu Dhabi. The company creates tunnels from 10ft to 32ft in diameter and offers both standardised franchises and bespoke integrations.
This latest installation is 32 feet in diameter, meaning it has over three times the flyable area of the next largest wind tunnel at 18 feet in diameter, commissioned by iFLY Tunnel Systems in 2018. The flyable height of the tunnel is 104 feet. Members of the public will be able to enjoy this new indoor skydiving adventure as CLYMB reopens on 29 July.
A milestone
This milestone mega-tunnel means that new styles of indoor skydiving will be possible, thanks to the increase in space and freedom of movement. It also means that team training will be taken to a new level. The record-breaking installation shows the innovation and engineering strength of iFLY Tunnel Systems.
A statement from CLYMB, latest adrenalin-fuelled attraction on Yas Island, says: "The indoor skydiving flight chamber is the world's largest, spanning 10 meters (32 feet) wide and 32 meters (104 feet) high. The tunnel boasts an incredible 16 fans, which is 4 times the number of a standard wind tunnel.
"This provides an incredibly exciting and unique opportunity for first-time flyers, as well as professional skydivers and tunnel flyers, to practice their technique and hone their skills in a smooth "wall to wall" linear airflow."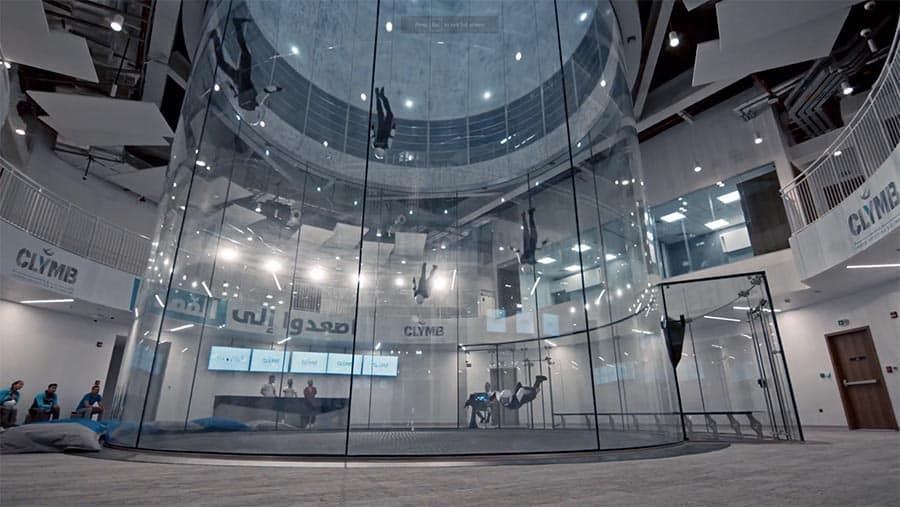 "Our highly trained instructors are on hand to guide you through every step of the experience, from the initial safety briefing through to the actual flight itself. Following your flight experience, we encourage repeat visits to the facility where soon, you'll be flying like a pro!"
"We are extremely proud of the CLYMB indoor wind tunnel and see it as a leap in possibility for both tunnel technology and the sport of indoor skydiving," says Justin Waldron, SVP – Wind Tunnel Systems.
"Flying it is to truly experience a dream and we are excited to see the limits of the sport be pushed this record-breaking attraction. We congratulate Miral on the re-opening of their bold and amazing project and offer our praise to Zublin Construction, the General Contractor of the facility on a job well done."
Earlier this month, iFLY Tunnel Systems also announced the creation of a new line of modular wind tunnels for outdoor installation, available in two designs.