Falcon's Creative Group, the entertainment design firm, has announced its latest innovation, ON!X Theater, a first-of-its-kind attraction that brings together action-based gameplay, responsive real-time feedback and dynamic special effects, reinventing the classic 4D interactive theatre experience.
The ON!X Theater has an array of different features, blended with cutting-edge technology. Its interactive real-time system means that each player can direct the outcome of the action and actually have an impact on the narrative as it takes places on the huge, cinema-style screen in front of them.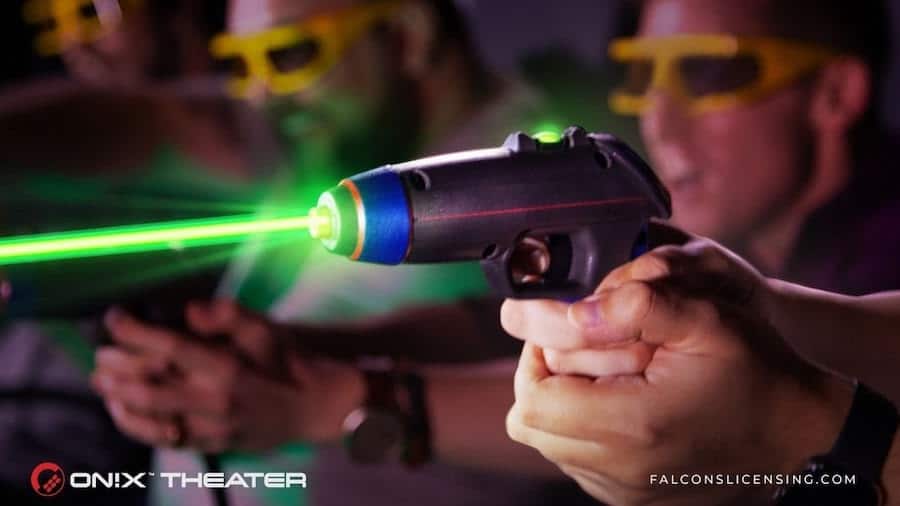 Fully interactive
The theatre has an innovative targeting system that provides accurate and persistent positional tracking. This means it can tell where players aim as well as how they move their controllers. A blaster can become whatever it needs to be in that moment, be it a hammer, a wand, a shield or more. Players interact with the content on the screen and can simply pick up and play thanks to the intuitive and accessible design of the controller.
In addition to this, electric motion seats work to further immersive players in the action, with multisensory feedback such as poking, tickling, vibration, air blast, water mist and more. The seats also feature pitch, roll and heave movements, and are synced to each players input for a localised and responsive experience that is different each time. The tech is enhanced by an engaging story, with 3D characters that burst from the screen.
This new product from Falcon's Creative Group is available in three standard configurations, from 16 to 36 seats. The company can also offer customised seating capacities to suit venues of any size.
"ON!X Theater is a complete package," says Cecil D. Magpuri, President and Chief Creative Officer of Falcon's Creative Group. "The possibilities are endless. It's kind of like the perfect marriage of a 4D cinema experience, a massive multiplayer video game, and virtual reality. It's game ON!"
ON!X Theatre offers both cooperative and competitive multi-team gameplay, giving groups their own perspective inside the same venue, or even into another theatre. The real-time scoring system shows how they are faring against the competition.
Falcon's Licensing and Falcon's Digital Media work together to provide a turnkey solution for the ON!X interactive theatre experience.
Falcon's Creative Group also recently unveiled a family of immersive storytelling attractions called the SpectraVerse Attraction System.