Falcon's Creative Group, the immersive experience creator, explores the latest trends, theories, and technologies in themed entertainment with its Experience Imagination podcast.
Falcon's Creative Group runs the themed entertainment podcast, Experience Imagination. The podcast was created as a way of exploring the ongoing evolution of Themed Entertainment and its innovators. It also looks at the company's own role within the industry.
Experience Imagination provides a platform for the free exchange of ideas between the show's panellists and expert guests. Through the podcast, team members at Falcon's Creative are empowered to share their knowledge, theories and experiences. It is also an opportunity to connect with the next generation of innovators in the industry and to cultivate a dialogue of insight, reflection and enthusiasm.
Upcoming episodes
The next episode of Experience Imagination will include a conversation about the "Halo: Outpost Discovery", looking at the fan experience as well as Falcon's role in producing narrative and media content for the venue. Part one of this Outpost Discovery discussion will be released Monday, August 26th.
Main episodes are released monthly, with a new episode coming out on the last Monday of every month. The company also releases special event episodes throughout the year, with special interviews or lectures recorded by the team.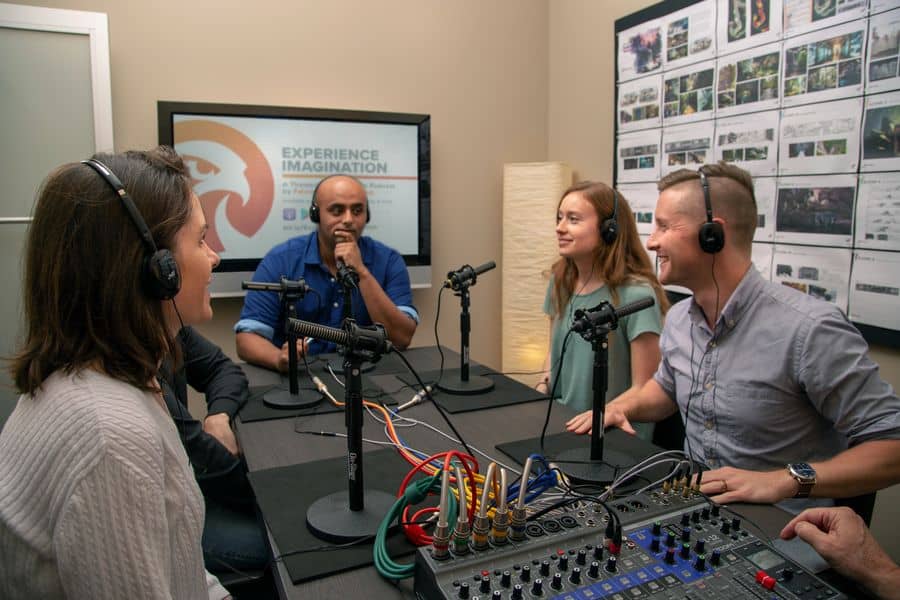 "The best thing about doing a show like this is how much education I get every episode, not just about the topic but about the panellists," says Abhinav Narain, Creative Content Specialist and host of Experience Imagination Podcast. "You learn a lot about people when you work together, but you'll learn so much more when you do a podcast with them."
The podcast is available on Apple, Google, Spotify, iHeartRadio as well as YouTube. To find out more information about the podcast or even send an episode idea, visit here.
The company also recently announced a collaboration with Cloudco Entertainment to produce a retail and entertainment experience which will bring the Care Bears franchise to life. The companies will be developing retailtainment venue experiences where fans can interact with their favourite characters.