Leading destination design company, IDEATTACK, has unveiled designs for Xinglong Adventure Theme Park, China.
The $135m attraction is being built in two phases and will ultimately occupy 100 acres.
IDEATTACK's design features four themed lands, each reflecting a specific storytelling genre.The hub of the park will be a "Story-Making Machine" – a 'magic' contraption that pumps out stories through a series of ducts into the four lands: LOST WORLD, FAIRYTALE VALLEY, COSMIC CITY, and FROZEN KINGDOM.
The lands converge on a central area consisting of three parts:
1. Main Gate – "The Dream-catching Gate"
The adventure starts at the Main Gate with its iconic airship. Here visitors can purchase tickets, organise groups, gather information and obtain other customer services. A special VIP channel is provided on the side of the entrance. An electrical vehicle station is also located in entrance area.
2. Main Street – "The Avenue of Dreams"
Once visitors pass through the Main Gate, they will catch their first glimpse of the imaginary lands ahead. The Avenue of Dreams features original food and retail establishments and has been designed in a gentle storybook style. Here, visitors can buy a range of drinks and snacks, play games and purchase items themed around the park's offering.
3. Main Hub – "The Home of the Story-Making Machine"
At the end of the Main Street lies the Main Hub – a central square and the main circulation area of the park. This is where the "Story-Making Machine" can be found and guests can choose any of the four gates to enter the thematic lands. The gates are themed to reflect the lands beyond so guests can clearly see which genre they will encounter.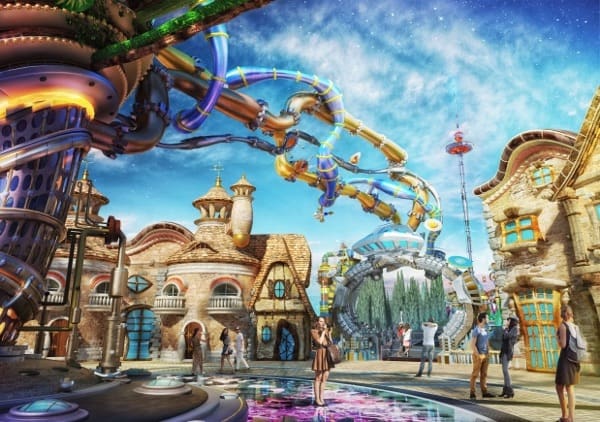 In the Main Hub area, visitors can also dine at a restaurant with a terrace overlooking the park, or stop for a coffee or tea in two cafés.
Themed Gates:
Lost World Themed Gate
Fairytale Valley Themed Gate
Cosmic City Themed Gate
Frozen Kingdom Themed Gate
LANDS:
Lost World – inspired by adventure stories of lost civilizations, exotic animals and wild jungles.
This is the exotic jungle land where stories about lost civilizations, exciting explorations, and other adventures live. An unknown lost civilization once ruled this area, and now a wild exotic tribe lives here. Natural rock formations, rivers, waterfalls, and canyons mix with man-made structures, old and new. The wild tribe uses natural materials and creates intricate structures made of wood, bamboo, thatch, and stone.
Fairytale Valley – inspired by fairytale stories about magic kingdoms, fairies, dwarfs and enchanted animals.
This is a fairytale land inspired by dreams, with a colourful, playful environment and imaginary characters. An iconic "magic castle" sits in the middle of the land, where a royal family (king, queen, prince and princess) lives. The land is filled with stories about dwarfs, giants, fairies, and other imaginary creatures.
Cosmic City – inspired by science-fiction stories about space adventures, distant planets and deep space.
Cosmic City is a hi-tech science-fiction themed land, featuring stories about space exploration, alien worlds, distant planets and intergalactic travels. Cosmic City is home to a range of thrill attractions all set in a futuristic, imaginary environment. Here guests can feel and experience future technologies and the mysteries of the vast universe. They can experience futuristic space tourism and visit strange inhabited planets, moons and asteroids.
Frozen Kingdom – inspired by stories about mystic snow-covered mountains and mythological icy worlds.
In Frozen Kingdom land, guests can "cool down" from the heated Enchanted Forest atmosphere and dynamic Cosmic City and enjoy the pure white landscape of ice and snow. In the foothills of the Snow Mountain lies the Ice Castle where the Ice Queen lives, the ruler of the Frozen Kingdom.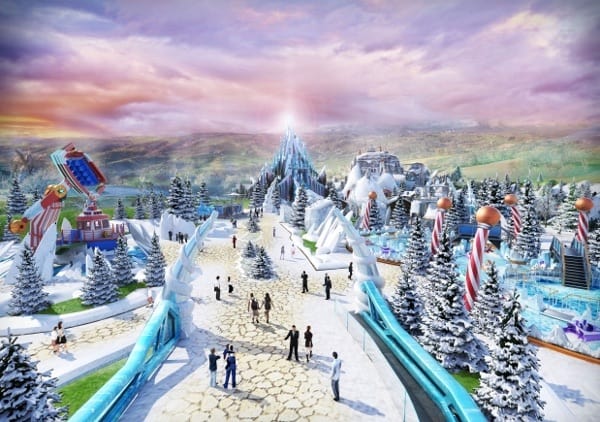 Mascots for the Themed Lands
Xinglong Adventure Theme Park located in Jinan City, Shandong Province is scheduled to open in July 2017.
Images kind courtesy IDEATTACK