Intamin, the creator of record-breaking amusement rides, received a Brass Ring Award for Best New Product at IAAPA Expo 2019 in Orlando, Florida.
Intamin is proud to announce that its Dueling LSM Triple Launch Coaster "Dueling Dragons" won a Brass Ring Award for Best New Product at IAAPA Expo 2019, which took place in Orlando, Florida, last week. The ride is located at Guangzhou Sunac Land in China, and was recognised in the category of "Major Ride/Attraction".
The Best New Product Award honours recent innovations that have a lasting impact on the attractions industry.
Dueling Dragons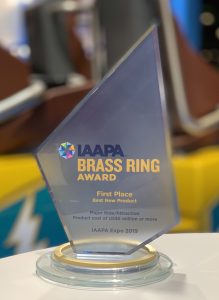 The Dueling LSM Triple Launch Coaster features a world-first – a combined coaster track which simultaneously launches a sit-down and a suspended train. The thrilling ride includes great heights, fast speeds, and a vertical loop. a
The suspended train, at the bottom of the rail, reaches a top speed of 110 km/h, while the sitdown train on top of the same track reaches 100 km/h. Thanks to the triple LSM launch, riders on both trains experience a 50-meter high vertical loop. This simultaneous display is memorable for both riders and spectators.
The track system releases the trains into five unique duelling elements, including the world's first duelling airtime hills. This ride features cutting-edge technology and a unique layout. It includes an integrated cooling system for the LSM drives, as well as brand new, ergonomic trains with an extra-safe restraint system.
A spokesperson for Intamin described the ride as "An exciting high-thrill and extremely smooth experience" and said, "As a leader in the amusement industry, and especially in roller coaster manufacturing, Intamin is proud to be once again recognized with this prestigious award."
Earlier this year, the company brought its Gyro Swing to the popular Danish amusement park Djurs Sommerland. Named Tigeren, it is a new addition to the Wild Asia themed area of the park north of Aarhus. This is Denmark's highest and fastest Gyro Swing.