Compagnie des Alpes is re-imagining its Walibi Belgium theme park as a collection of 'worlds' in a  €100m multi-year master plan.  Each 'world' has immersive theming for its landscaping, attractions, restaurants, and retail.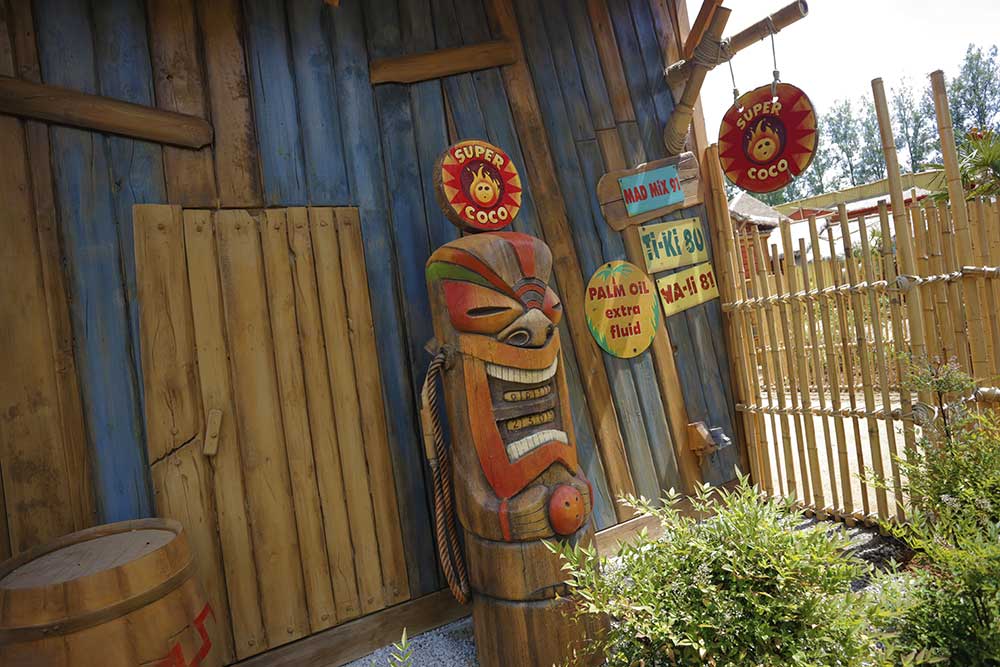 The first zone to be completed is Exotic World.  Jora Vision was commissioned to bring the design to life with a South Seas theme.
Exotic World at Walibi Belgium
The main attraction – Tiki-Waka – is a single-car family coaster that reaches heights of up to 20m and speeds up to 55km/h. The ride has a tropical race car theme, with carved wood lush vegetation. The station building is made to look like a ramshackle shed tied together with rope.  The apparently rickety structure is made of real Robinia and the structural loads were tested at the Eindhoven University of Technology.
The area's existing dark ride – Challenge of Tutankhamon – and the Tiki-Theater have both been re-themed.
The theming of Exotic World extends to all play elements in the zone. Tikis spray water, emit sounds and can be interacted with like musical instruments. Landscaping elements such as bridges and lighting are constructions made out of bamboo, wood, seashells and tropical foliage. The F&B outlet sports shading made of tikis and thatched parasols, and even the restrooms follow the theme.
"The project has been a complex one, but we're very proud of the quality we've been able to deliver", says Jan Maarten de Raad, CEO of Jora Vision. "It's a wonderfully immersive world full of details, and a lot of craftsmanship went into it."
Jora Vision previously worked with Walibi Belgium on Aqualibi waterpark, the indoor coaster Psyké Underground and splash coaster Pulsar.