Liseberg has invested SEK 20 million ($2m, £1.6m) in its 20th season of Christmas, which includes the 'A Christmas Carol' musical ice show, a new area called 'Midwinter', and Christmas concerts every day at Lilla Scenen.
The news comes after Liseberg was named Sweden's best Christmas market in 2018. Lotta Carlsbogård, project manager at Christmas at Liseberg, said the theme park will raise the bar for 2019.
According to a press release, Christmas at Liseberg kicked off on November 15 for the 20th time, with 1,500 organic fir trees, three tonnes of artificial snow, and five million LED candles.
'A Christmas Carol' has singing, music, figure skating
The new musical ice show, A Christmas Carol, is Liserberg's version of Charles Dickens' classic novel. It features singing, music and figure skating as guests follow the story of Ebenezer Scrooge.
"We have invested more than ever in Christmas at Liseberg this year and most of it has gone to A Christmas Carol," said Andreas Andersen, CEO of Liseberg.
After leaving his role as CEO of Liseberg, Andersen was recruited once again in September by the amusement park in Gothenburg, Sweden.
Christmas with the rabbits in 'Rabbit Land'
"The show will be more spectacular than ever and with a warm Christmas message – to be together and take care of each other. Exactly what Christmas is all about."
Midwinter, the park's new Christmas area, is inspired by Norse mythology and features three large fires situated next to large sparkling ice crystals.
Christmas at Liseberg also includes approximately 30 carousels and attractions, 70 stalls at the Christmas market, and a 116-metre-high Christmas tree.
Liseberg's new area for Christmas is called Midwinter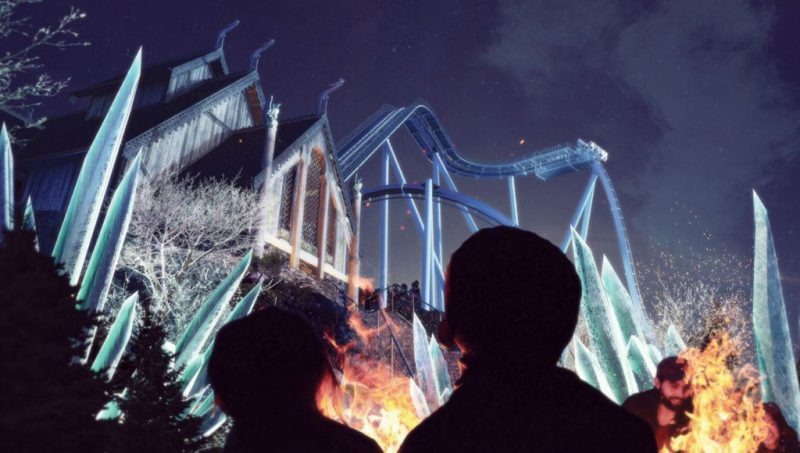 There will also be a designer Christmas market, as well as an old-fashioned Christmas market and more festive fun in the harbour area of the park.
Other attractions include 'Christmas with the rabbits' in 'Rabbit Land', a medieval village, Liseberg's winter gardens, and Santa's workshop.
Earlier this year, Liseberg was given the green light for its hotel project. Liseberg Grand Curiosa Hotel is part of a major expansion, which will include a new water park.
Images: Liseberg