The London Resort has released some of the results and feedback from its public consultation, as well as a new aerial image of one of the most ambitious projects in Europe.
The consultation, which lasted for eight weeks, revealed in detail how the former industrial site will be transformed into an exciting destination.
Two theme parks will include six themed lands with themed rides and attractions as well as entertainment, esports, a water park, retail, dining, accommodation, and venues for events.
73 percent of people said they supported the London Resort's approach to the environment and biodiversity, with 51 percent strongly supporting it.
74 percent said they supported the approach to sustainability, while 65 percent agreed that the London Resort will benefit the local area in the longer term.
The consultation reached more than 120,000 members of the public, including 105,000 leaflets sent to areas of Gravesham, Dartford and Thurrock.
"Sustainability is at the core of our vision"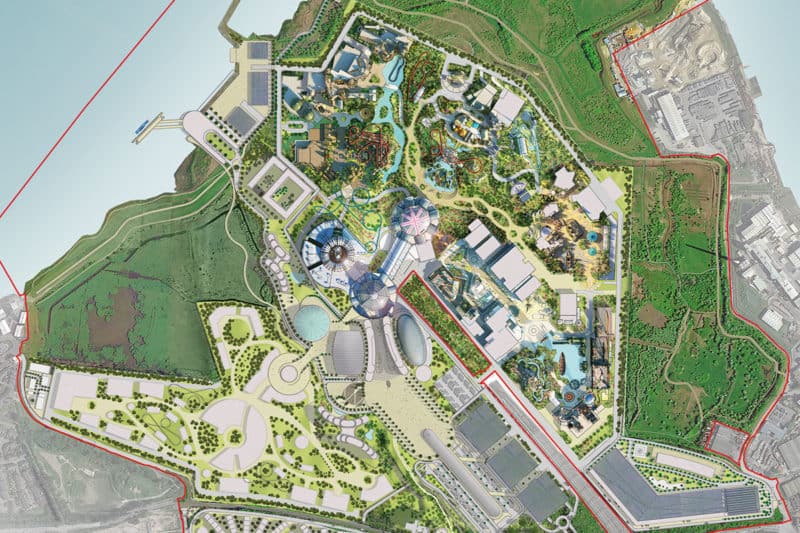 In addition, there were targeted press notices across regional, local and social media, digital advertising promoting the consultation, and emails sent to nearly 11,000 businesses and MPs.
More than 27,000 people visited the London Resort website, and more than 800 people attended 20 public webinars, with 1,000 questions asked and answered.
An additional 17.5 hours of webinars were held with key stakeholders, and 1,200 public consultation responses have been analysed to date.
The approach to the environment and biodiversity includes proposing a series of habitat enhancements to support the animals that are currently using the site.
It also includes leaving a large proportion of the peninsula undeveloped, including Black Duck Marsh, Broadness Marsh and the Local Wildlife Site at Botany Marsh.
Construction is planned to start in 2022
As for sustainability, 55 percent of people showed strong support, and the approach includes a commitment to delivering a net gain in biodiversity.
Additionally, 76 percent of people supported the approach to walkways, cycle routes and public rights of way, while 54 percent showed strong support.
"Sustainability is at the core of our vision," said PY Gerbeau, CEO of the London Resort. "Through the consultation, people were able to digest hundreds of pages of the latest analysis and environmental studies.
"It was also, quite rightly, a topic which engendered a lot of questions. For three quarters of people to be in support of our plans is hugely rewarding; we would like to thank everyone who responded, we are taking all feedback very seriously."
Meanwhile, 70 percent of respondents supported the approach to sustainable transport and minimising impacts on the road network, with 50 percent strongly in support.
The London Resort set to launch in 2024
80 percent of respondents support keeping the London Resort traffic separate from local traffic, with 52 percent in strong support.
At the end of the consultation, 16 percent of responses remained strongly opposed to the masterplan. Of the 64 percent who showed support, 44 percent were strongly in favour.
"Getting to this point has not been easy," added Gerbeau. "But the public has responded overwhelmingly in favour and for that we are deeply grateful.
"We will go through all of the feedback and use it to help inform our approach and further develop our proposals.
"But there is no doubting, that our aim of creating one of the most exciting entertainment destinations in the world, here in the UK, has taken another big step towards becoming a reality.
"We now look forward to submitting our DCO application later this year."
Construction is planned to start in 2022, with the first theme park 'gate' set to open in 2024 and the second by 2029.
The London Resort CEO PY Gerbeau will be speaking at the blooloop V-Expo, running from October 13 to 15. Don't miss out – register here today.