The London Resort chief executive PY Gerbeau has shared exclusive updates, including a first-look, fly-through video of the entrance and esports venue, at the first ever blooloop V-Expo.
The London Resort will include six themed lands with rides and attractions, as well as entertainment, esports, a water park, retail, dining, accommodation, and venues for events.
PY Gerbeau told blooloop that the London Resort is "not just a traditional theme park, gate one and gate two", adding the the unique selling point "is the DNA and the esports as a whole destination".
"We hope to create new excitement and a new concept on how you interact between what is a top theme park with what's outside of the pay line, which creates a destination," he said.
Also referencing Universal CityWalk and Downtown Disney District, Gerbeau said: "What we're trying to do is, we want to be good citizens."
"We're part of a huge community and we want to give people a great ultimate destination around the wider Kent area," he added.
Get "a flavour and a mix" of the London Resort
"So we basically want to say, we're good citizens, we can give you a complete snapshot of what's in the park, but you don't have to pay at the entrance," he said.
Gerbeau explained that this will give visitors "a flavour and a mix" and said the London Resort wants "a very strong presence at the entrance".
He also said that visitors will be able to have dinner outside and then purchase a ticket for one or two key attractions within the park.
Gerbeau acknowledged that this will be challenging logistically, but that the London Resort is working on this admissions process.
He confirmed: "We really want to make sure there's almost as much happening outside the gates as inside the gates."
The chief executive spoke about the esports attraction, revealing that it will have three levels. The first "is for the Marvel fans" and what Gerbeau called "innovation city".
Another floor is reserved for gaming, while the top floor will boast 2,500 seats and a 360-degree arena dedicated to esports.
Resort entrance will have "a very strong presence"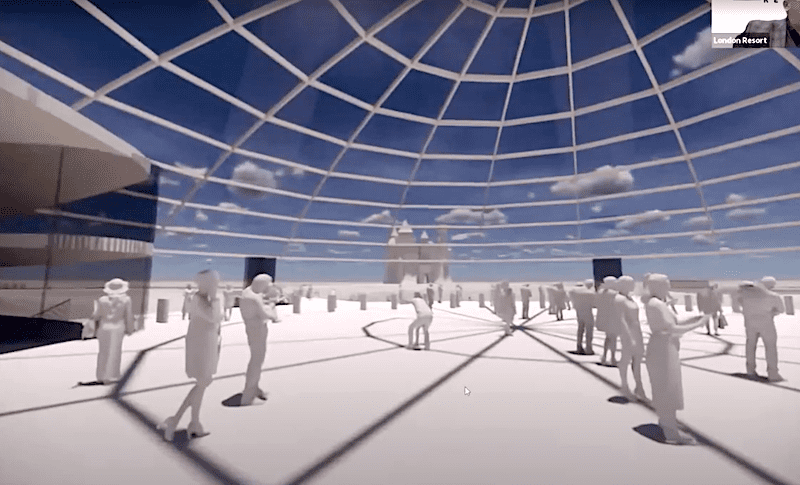 Gerbeau explained that visitors "can play live against the teams that are there" and can play via mobile while waiting in virtual queues. "So the building constantly interacts," he shared.
"That kind of immersion is absolutely crucial," said Gerbeau of esports at the resort. "And it's not a traditional language of a theme park."
Meanwhile, the fly-through video revealed the main entrance, which is covered with "a flock of birds", as well as the resort's dining facilities, music venue and "the best ever sports bar in Europe".
It also unveiled the "fully covered English market", which has a massive tree in the middle, and the first and second gate, hotels, convention centre, and esports coliseum.
The London Resort previously released some of the results and feedback from its public consultation, and a new aerial image of one of the most ambitious projects in Europe.
Watch the full interview here: (This is exclusive content and should be credited with a link to this page.)
This session was sponsored by Eicher Leisure Consultants.