MVRDV has completed construction on The Imprint, one of 6 buildings at the upcoming entertainment district in South Korea called Paradise City.
The Imprint is a 2-building art-entertainment complex with a nightclub in one building and indoor theme park in the other.
The building features imprints of the façade features of surrounding buildings, lifted entrances, and a golden entrance spot covering one corner of the nightclub building.
The indoor theme park, called Wonderbox, will include classic attractions such as Ferris wheels and carousels. It is slated to open in 2019.
Paradise City, when complete, will provide a range of attractions and hotels less than a kilometre away from South Korea's largest airport.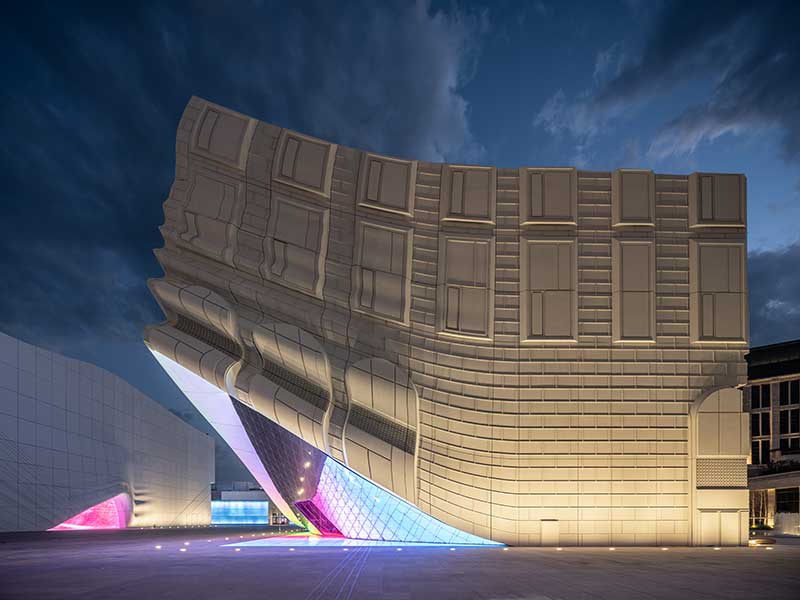 Connecting with surroundings
The architects were challenged with creating a building that was connected to its surroundings without using windows. Winy Maas, principal and co-founder of MVRDV, said: "By placing, as it were, surrounding buildings into the facades of our buildings and in the central plaza, we connect The Imprint with the neighbour. This ensures coherence. Paradise City is not a collection of individual objects such as Las Vegas, but a real city."
"Two months ago most of the cladding was done and client said, 'this is an art piece. What is interesting about that is that they are looking for that momentum—that entertainment can become art or that the building can become artistic in that way. What, then, is the difference between architecture an art? The project plays with that and I think that abstraction is part of it, but it has to surprise, seduce and it has to calm down."
The golden spot on the building will be visible to passengers coming in to land at Incheon Airport. Maas said: "The virgin building has received a splash of gold. This makes it as if the entrance is also illuminated at night by a ray of sunlight. Passengers in the incoming aircraft can already see this 'sun' from above the ocean, as a kind of welcome to South Korea."
Image courtesy MVRDV