Attendance reached almost three million in 2016 at Parks and Resorts Scandinavia, the operator of Gröna Lund and four other Swedish amusement parks and attractions.
That's a 3% increase in visitors for the Stockholm-based company, whose attractions include Gröna Lund, Kolmården, Aquaria, Furuvik and Skara Sommarland. In addition, it achieved an 8% increase in revenue over last year.  The combined attendance figure sets a new high.
"That we attracted even more guests in 2016 than the record year of 2015 feels very exciting," says Parks and Resorts CEO, Christer Fogelmarck.
"This gives us the courage to continue to invest large resources on both new experiences as well as training and development of our employees. The ambition is to always surprise and exceed our guests' expectations."
Here's a breakdown, park by park:
Gröna Lund
The Stockholm waterfront park – pictured top of page – set new attendance and sales records, in spite of no new attractions in 2016. A strong concert programme, including performances from Lionel Richie and Iggy Pop, is cited as one of the reasons for success, along with new dining and restaurant concepts. Visitor numbers were 1,570,092, up 5% from 2015. Revenue increased 11% from SEK 546.8 million to SEK 604.8 million ($66m/€62m).
Kolmården
The animal park (pictured below) recorded a modest 1% attendance increase, from 720,764 to 727 113 guests. Nevertheless, this is an all time high. Major new attractions such as the Wildfire wooden hybrid coaster (2016), Bamses Värld kids area (2015) and last winter's Christmas season have contributed to high levels of guest satisfaction. The on-site Vildmarkshotellet (hotel) reached record occupancy, with a 9% increase in sold-out nights.
Skara Sommarland
The water attraction Snakepit plus 10 new premium cabins on its campsite, which held full occupancy for much of the season, boosted Skara's (pictured below) performance in 2016 and compensated for bad weather at the start of summer. Visitor numbers were up by 11%, from 227,418 to 253,538. Sales increased from SEK 85.6 million to SEK 95.7 million, up 12%.
Furuvik
The park's 2016 concert programme was music to Parks and Resorts' ears. Performances from Lars Winnerbäck, Status Quo and Whitesnake helped lift visitor numbers from 261,192 to 263,431. Revenue was up by 3% to SEK 95.2 million. Furuvik's (pictured below) camping facilities were also expanded last year with the addition of nine seaside cabins.
Aquaria
The one blip in Parks and Resorts' performance for 2016 was the group's aquarium in the Swedish capital (pictured below). Visitors were down from 203,380 to 181 017, partly due to the disappearance of the Stockholm Card. Happily, turnover was maintained at SEK 18.4 million.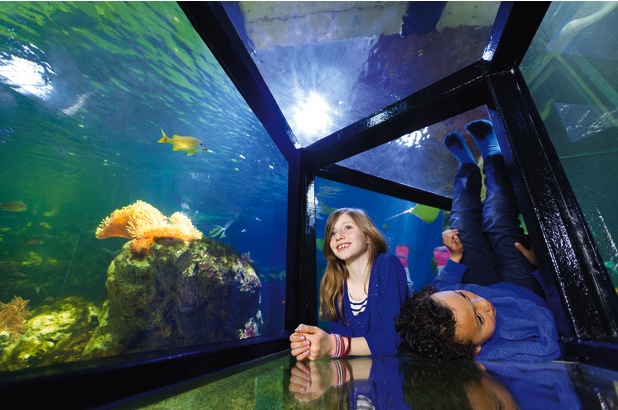 Parks and Resorts Scandinavia expects another strong year in 2017 after the opening of several new attractions across its portfolio. Highlights include Ikaros (Intamin head-first freefall tower) at Gröna Lund, Bamses Flygande Matta (Flying Carpet) at Kolmården and Fireball (Vekoma Family Boomerang coaster) at Furuvik. Skara Sommarland gets a new summer concert programme, while Aquaria has a frog show for 2017.
Looking further ahead, Furuvik is to get a new hotel, and there's major expansion planned at Gröna Lund. The park will rebuild and upgrade one third of its site by 2020, adding new attractions including an inverted rollercoaster from Bolliger & Mabillard.
The full 2016 report can be downloaded, in Swedish, here.
Images courtesy Parks and Resorts Scandinavia