From attendance to guest satisfaction, Shanghai Disneyland has exceeded every one of the theme park giant's expectations in its first year, Disney has confirmed.
At a showbiz-style anniversary event held at Shanghai Disney Resort on June 16, Walt Disney Company CEO Bob Iger revealed that its flagship Chinese theme park is the first in the country to post an eight-figure attendance.
"[This] first anniversary is cause for great celebration for everyone involved in bringing this spectacular dream to life," said Iger. "More than 11 million guests have already visited, and we look forward to welcoming many more in the years to come."
Based on the 2016 performance of other theme parks around the globe, that figure would make Shanghai Disneyland the world's seventh busiest theme park, just behind EPCOT in Florida (11.7m). If Disney's Animal Kingdom does as well as some are predicting with the addition of Pandora – The World of Avatar, then maybe it'll finish in eighth place in next year's TEA/AECOM Theme Index global attractions attendance report. Nevertheless it's a remarkable debut performance for the new park, where two thirds of visitors came from outside the Shanghai area. For comparison, Tokyo Disneyland welcomed 16.5 million guests in 2016, and Hong Kong Disneyland 6.1 million. According to Xinhua Net, the Shanghai resort is expected to reach break-even in its first complete fiscal year, the fastest theme park business of its size to do so worldwide.
"Given the significant unknowns about how well the China market would accept the Disney product, it's a huge sigh of relief," says Chris Yoshii, vice-president of Economics at the Hong Kong office of AECOM. "What is more remarkable is this was achieved at a price point that was 100% above other local theme and amusement parks in Shanghai."
Officially opened on June 16, 2016, Shanghai Disney Resort was built at a cost of $5.5 billion. It comprises Shanghai Disneyland theme park, two themed hotels, the Disneytown dining and retail district and Wishing Star Park recreation area. Signature features include the world's tallest Disney castle, the Pirates of the Caribbean themed zone Treasure Cove. plus unique attractions such as the TRON Lightcycle Power Run motorbike coaster. The latter is reported to be the most popular attraction inside the park, in spite of some Chinese guests' reticence to ride a rollercoaster.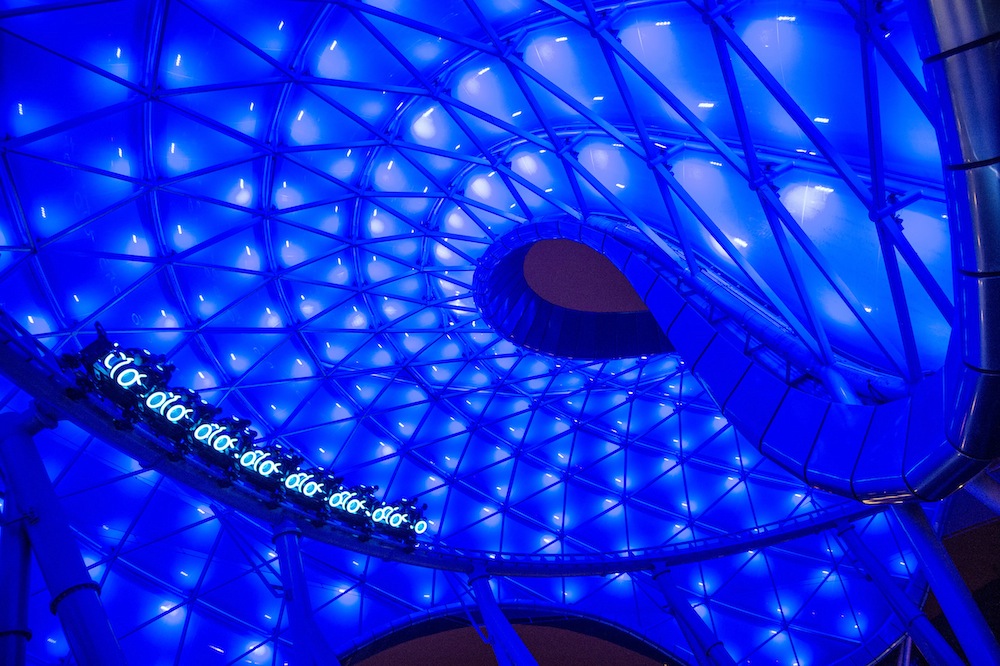 Premium priced offering
Admission to Shanghai Disneyland is priced at RMB 499 ($73/€65). The average monthly salary in the city is under RMB 6,000, though that is more than most other parts of the country. Food concessions in the park, offering such delicacies as Peking Duck Pizza, are also priced well above local norms. Yet demand is high for the park and its premium priced offering. Analysts report that it is often at capacity, and people are staying longer than expected.
"The biggest complaints are about long lines for key attractions, so they are looking to add more capacity," reports Yoshii.
Simply getting into the park also presented headaches for some early visitors. To prevent fraud, Disney requires ticket holders to be present and to show ID at the park gates. This resulted in huge bottlenecks in the first few months, but Disney has since added gates and streamlined its queue management.
Shanghai Disney Resort is operated as a joint venture between Disney (43%) and the Shanghai Shendi Group (57%). That uneven arrangement is cited as a key factor to the resort winning the support of Chinese leadership, who had in interest in a smooth rollout. In November, ground was broken on a new Toy Story land. This, the park's seventh themed area, is the "first of several planned expansions in Shanghai," according to Iger.
Because of Beijing's strict control on foreign media, Disney has had to build a brand following without the usual TV or other outlets it might use to support the launch of a theme park. Disney's films, lead by the Marvel franchises, however, are performing well in China. Retail is doing well too. Two Shanghai Disney Resort stores were launched in the city's Hongqiao airport this spring. In addition, a clever way of embedding the Disney characters into young consumer's minds is the Disney English initiative. This involves children in six cities learning a second language with the help of Mickey Mouse and Iron Man.
Theme park growth in China and Disney's scope for success
According to AECOM. theme park attendance in China is expected to grow, surpassing the USA as the largest market in 2020 with 280 million annual visits. Disney has local competition in Shanghai from the domestic theme park operators including OCT (Happy Valley), plus many others in cities within just an hour or two's journey by high speed train. Nationally, the Wanda Group is expanding its "cultural tourism" business aggressively. Yet Disney is in a commanding position.
"The quality of the Disney experience, and the appetite of the Chinese consumer for this status, will keep Disney ahead of competitors that don't have the same level of IP [intellectual property]," Tim Nollen, an analyst at Macquarie Capital, told The Hollywood Reporter.
Maintaining the buzz after the initial launch will be key to Disney and others' long term survival, as Yoshii highlights: "The challenge is that people rush to see the theme park at opening and then take some time to come back again. "You need to stay active and engaged with the market and offer something new in year two."
Again, Disney's attraction development and constantly evolving library of IP should ensure it stays ahead. Bob Iger is being bullish. Concluding his speech in Shanghai recently, the Disney CEO remarked: "Finally, I would like to say, this is only the beginning."
Images by Disney
https://www.hollywoodreporter.com/news/bob-iger-touts-strong-first-year-at-shanghai-disney-resort-1014125