Voice of the Visitor presents the results of a study of more than 1,500 U.S. leisure attraction visitors' who visited either an attraction in 2017 or are considering doing so this year. The report is an essential benchmarking tool to enable understanding the U.S. attractions and travel industry.
Conducted in conjunction with long-standing research partner H2R Market Research, Voice of the Visitor is the first industry forecasting report to base its findings and predictions primarily on feedback directly collected from destination guests themselves, rather than through observation and attendance figures.
Attendance by attraction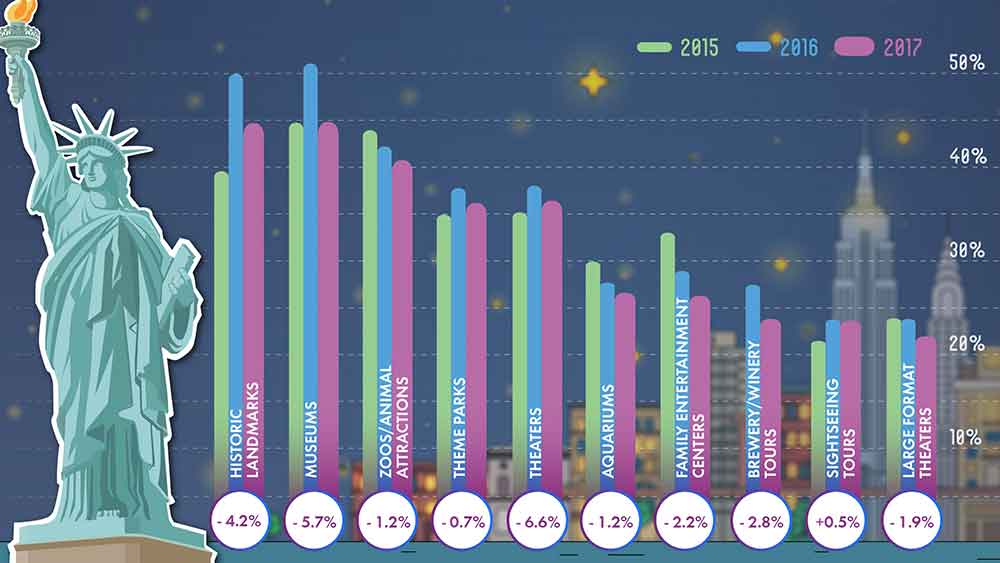 "We use this report, an invaluable method for attraction managers across the country, to understand guests' intentions and interests at their destinations throughout the year," said PGAV Destinations Principal and Chair Mike Konzen. "While attraction attendance is forecasted to grow by 1.4% this year over 2017, we're starting to see the impact of the new 'state of permanxiety' on guests."
With this being the third year of publication, many of the data-points can now reveal trends across the industry. Overall, 86% of respondents still intend to travel for leisure in 2018, with water parks, aquariums, science centers, dinner theaters and cruises, and botanical gardens expected to see the highest attendance growth in 2018 over last year.
Trend towards single day admissions
When deciding whether or not to visit an attraction friendliness of staff is the number one consideration, followed by the availability of diverse or unique experiences (see below). This supports the trend found towards more single day admissions and the decline in repeat visits. 2017 marked the year of the lowest ration of general admission to membership ownership.
The report explores various demographic trends among 16 types of attractions. Deep insights are gained from the ever-diversifying Millennials and Baby Boomers, expanding on PGAV's recent Generationally Speaking study.
The Square of Salvation: a roadmap to recovery
Voice of the Visitor also explores: the impact of memberships and season passes, return guests, travel motivations and trip planning, countries to visit in 2018, guest satisfaction, and how the tumultuous news stream of the last year has created a stressful feeling of 'permanxiety,' significantly impacting travelers' 2017 behavior and 2018 plans.
The report includes a Square of Salvation (see below) which shows the roadmap to recovery.
In addition to providing overall insights on trends and intentions, the report contains a convenient reference section for destination managers to quickly review key facts and findings about their particular market.