Portaventura plans a new hotel and Sesame Street family dark ride in 2019, after successful first year for Ferrari Land theme park.
Following a successful start to the season Portaventura World has announced plans for a new hotel and themed dark ride in 2019.
Ferrari Land which opened in 2017 has had a positive impact on Portaventura World's performance and reputation.
Fernando Aldecoa, Managing Director of PortAventura World, said,  "The incredible start to the Ferrari Land season shows that the park has already established itself as a dynamic force within PortAventura World's range of services and products. Without a doubt, it strengthens our existing position as an exceptional holiday destination on the shores of the Mediterranean that offers 3 theme parks, 5 themed hotels, a convention centre with capacity for up to 4000 people, 3 golf courses and a beach club with direct access to the beach."
"The forecast for this season is definitely favourable. The start of the season has been very positive thanks to the incorporation of Ferrari Land into the resort's offerings as a holiday destination. Projects designed for this year, such as the Kids' Area in Ferrari Land and the ongoing commitment to the continuous renewal of our products and services with the incorporation of new characters such as Tadeo Jones, who will arrive at the park this summer."
The addition of the Ferrari Land theme park has increased overnight stays, and according to a statement from the company, the hospitality segment has seen "significant growth" on the prior year.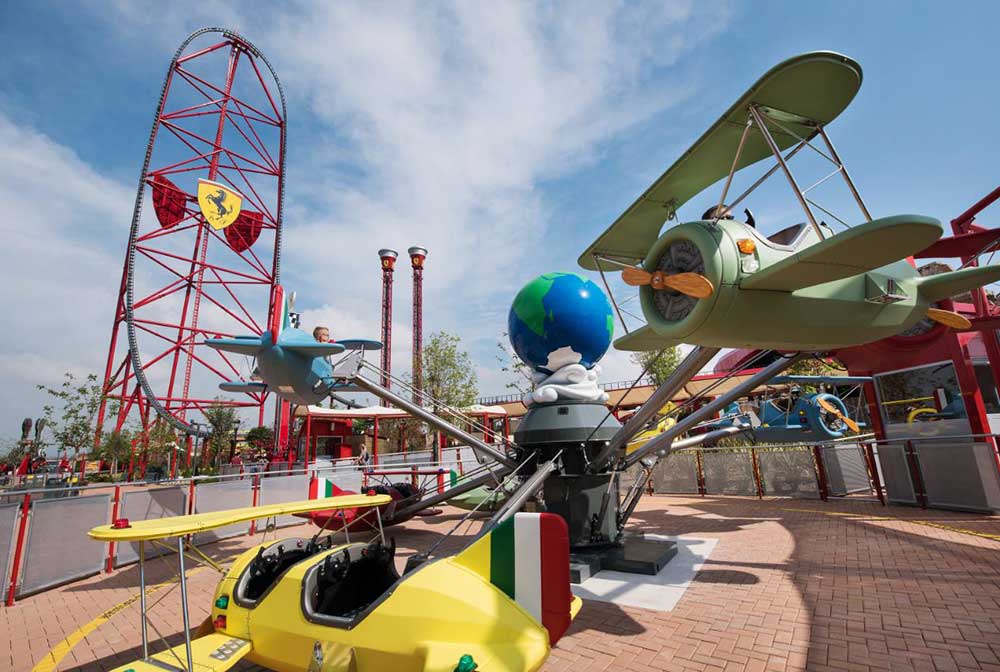 In order to cater to all age groups of visitors Ferrari Land has just launched a new kids' area, themed of course around motor racing.   Five new attractions have been created that embody the spirit of Ferrari: Junior Red Force, Kids' Tower, Crazy Pistons, Champions Race and Flying Race.
A new hotel and Sesame Street dark ride
PortAventura World plans to add a new four-star hotel and attraction in PortAventura Park in 2019.
The 150 room hotel will be located in the Far West hotel complex, adding to the 2100 rooms already available in the existing five themed hotels of PortAventura World.  The demand for additional overnight accommodation was seen last season when a new occupancy record was set at 1.1 million room nights.  One out of every three visitors to PortAventura World stayed at the resort's hotels.
In addition, PortAventura Park will have its first dark ride in 2019.  In line with a strategy to diversify the theme park's offering to cater for the whole family, including younger visitors, the family ride will have a Sesame Street theme.