Scenario, the international themed construction contractor, has partnered with Firefly Creations to promote the design and delivery of themed attractions. This includes Kraken Cove, a new theme park land designed as a pirate town built around the nest of a Kraken.
Firefly Creations designs attractions for theme parks, water parks and entertainment centres and will work with Scenario to bring this new concept to life. Kraken Cove will put guests at the centre of the adventure, as they enjoy themed rides and shows as well as dining and retail experiences
Kraken Cove
The new themed land will place visitors at the heart of the action, thanks to immersive ride experiences and creative storytelling, as well as cutting-edge hardware.
A key feature is The Kraken, a launched drop tower, which will sit within a central lagoon. Here, the story is that the beast has woken from its 100-year slumber and is now laying siege to the town of retired pirates.
Also within the lagoon will be Mermaid's Bounty, a theatrical media-led interactive water coaster that transports guests to the treasure-filled Neptune's Kingdom. The central lagoon will also provide a backdrop for spectacular stunt and lighting shows, maximising the use of the space to engage visitors of all ages and attract guests both day and night.
Guests will also be able to enjoy a ride on Smuggler's Bounty, a suspended top spin that provides fun for both riders and those watching from the sidelines. In addition to the rides, there will also be a range of storied restaurants, retail, games and other experiences.
Bringing a creative vision to life
By working together, Firefly Creations and Scenario will have the ability to deliver all creative, technical and experience design as well as on-site delivery. Collaborating throughout all project stages, Scenario and Firefly Creations provide clients with imaginative design concepts delivering incredible guest experiences, with the reassurance that all designs are buildable and affordable within budget constraints.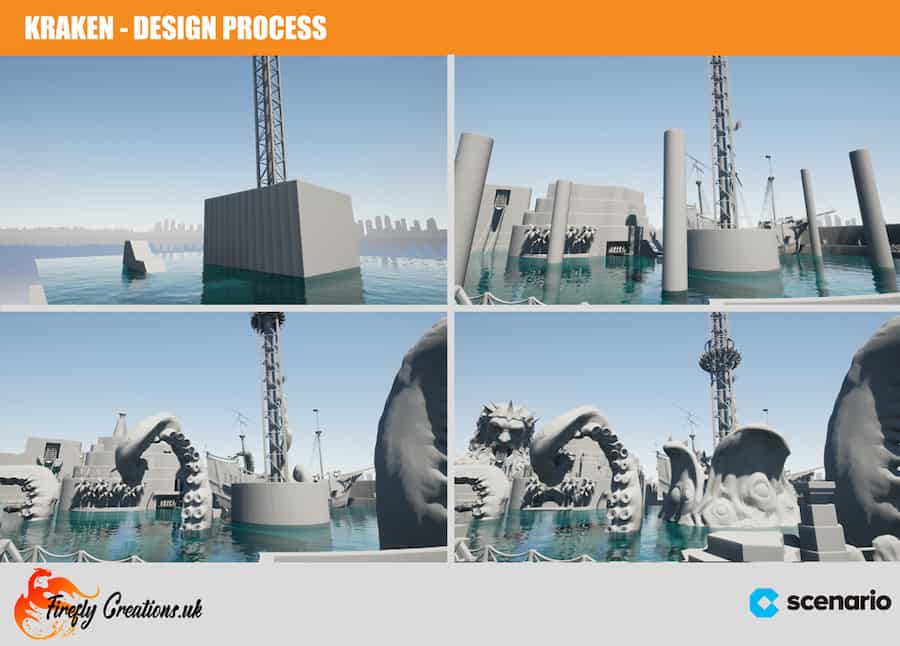 "We are excited to share Kraken Cove and work with Scenario to bring the experience to life," says Andrew Porter, Creative Director at Firefly Creations.
"Kraken Cove is a creative vision that will emotionally connect with families and friends allowing them to grow stronger together through immersive storytelling and interaction with the environment to capture the imagination of all visitors."
Last year, Scenario welcomed a new member of staff to the Business Development Team with Tracy Balsz taking on the role of Director, Business Development for the West Coast.