Ride Entertainment and Skyline Attractions have opened their first Skywarp at Six Flags Discovery Kingdom near San Francisco.
The team at Skyline proved their dedication and ability: the Skywarp attraction went from initial concept and design to the opening of the prototype in just 18 months.
Appearing as Harley Quinn Crazy Coaster, the ride consists of two competing ride vehicles handling 32 passengers. The train begins by rocking back and forth before building up to full speed, at which point it completes several heart-pumping forward and reverse rotations through the twin Immelmann inversions.
Jeff Pike, president and founding partner of Skyline attractions, said "We strongly believed in this concept from the beginning.  It was wonderful to have a partner like Six Flags who believed in that vision as well and helped us achieve it in such a short turnaround. We couldn't have made this happen this quickly without that strong partnership."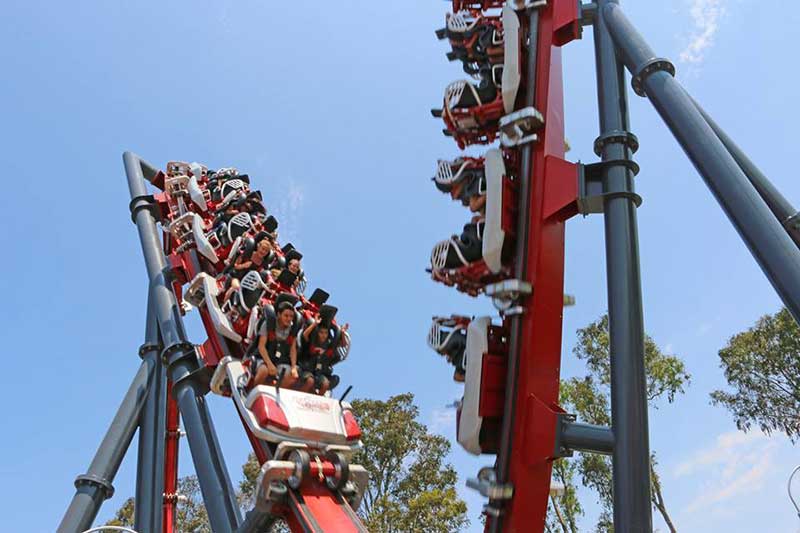 Skywarp was first unveiled to the world at the 2016 IAAPA Attractions Expo in Orlando. The ride attracted huge attention for its ability to deliver big thrills on an ultra-compact footprint of just 120ft by 30ft. The clever design makes it ideal for almost any size park and gives operators peace of mind thanks to its reliability and ease of maintenance. Topping out at 62ft, it is even suitable for many indoor locations.
It is unique because it utilizes one train with two sets of passenger vehicles. While to rider it appears to be two trains dueling, maintenance teams appreciate the fact that it is one ride with one drive system.
Adam Sandy, chief business development officer at Ride Entertainment, said "We have had a long relationship with Six Flags spanning more than a decade. We are incredibly honored that they have trusted us as their partner in placing yet another prototype attraction at a Six Flags property, and we are thrilled that first riders are having as much fun as they are. Proving that Six Flags' vision is, yet again, on the nose."