The five themed areas that will make up the Studio Ghibli theme park have been revealed, along with more details about what the park will contain.
Ghibli Park will be located on a 200-hectare plot of land near Nagoya, Japan. It is the same land that hosted the 2005 World's Fair, meaning the area already has a fully-built replica of Satsuki and Mei's house from the Studio Ghibli film My Neighbor Totoro that was constructed for that event.
The house will be maintained for the new park, as will the footpaths in the forest behind it.
In April, the opening was pushed back to 2022.
Five uniquely themed zones
The park will be divided into five areas, each with abandoned unique theme.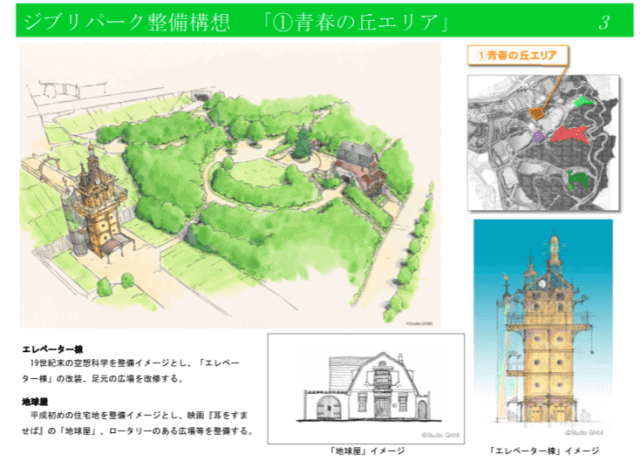 Seishun no oka Area (Youth Hill Area) will be themed to the film Howl's Moving Castle, complete with a giant steampunk elevator.
Ghibli Dai Soko Area (Ghibli Large Warehouse Area) will feature Japanese and Western fusion-style buildings. There will be an exhibition room, video exhibition room, playing areas, shops and cafes.
Dondoko Mori Area (Dondoko Forest Area) will be the location of the already built Satsuki and Mei's house. The surrounding area will become the rural landscape from the film, with walking tours and paths planned.
Mononoke no Sato Area (Mononoke's Village Area) is a land dedicated to Princess Mononoke. It will feature the "Tataraba" iron mill seen in the film as well as a sculpture of the "Tatari Gami" spirit monster.
Finally, Majo no Tani Area (Witches' Valley Area) is inspired by the wastelands in the films  Kiki's Delivery Service and Howl's Moving Castle. 
Construction for the first three areas is set to begin in 2020, and they are set to open in autumn 2022.
The final two areas will begin construction in 2021, expected to open in 2023.
Images: Aichi Prefectural Government
Studio Ghibli theme park designs unveiled, five special zones bring anime movie worlds to life