Nintendo is hosting a live stream preview of the new Super Nintendo World, opening at Universal Studios Japan on February 4 2021.
Taking place on December 18, 2020, at 3 pm PT, the 15-minute live stream will show-off some of the new areas in the theme park.
A $580 million expansion
While no information has been given about what areas of the land will be shown on the live stream, Nintendo has been clear that no game content will be featured.
Super Nintendo World is a $580 million expansion to Universal Studios Japan that will feature immersive attractions, new rides, restaurants and shops.
By using wearable wristbands, called Power Up Bands, visitors will be able to enjoy interactive experiences within the land. By linking the bands to the Universal Studios app, guests will be able to collect keys and character stamps and compete with each other in a real-time 'Asobi experience'.
Two new rides and themed decor
After the recent sneak peek of the inside of Bowser's Castle, fans may be able to see more of the intricately themed decor throughout the land in the live stream.
The live stream may also showcase parts of the two new rides; the Super Mario Kart AR ride or Yoshi's Adventures, a family ride.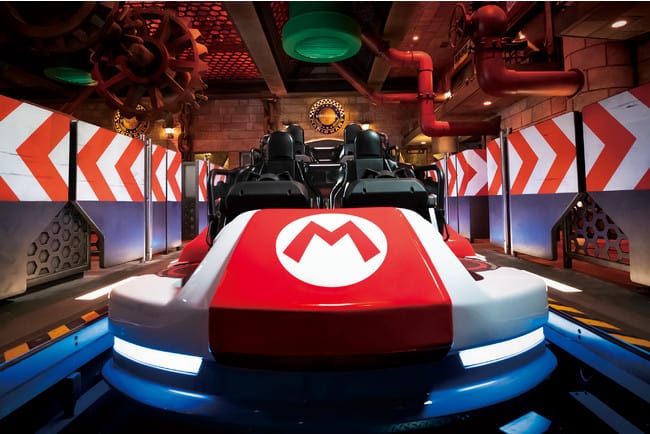 On the Super Mario Kart AR ride, riders will have AR headsets. This will replicate the experience of the video game as they will see boxes and obstacles as they race along. They will even be able to throw items as they compete against Mario and Princess Peach.
Yoshi's Adventure is a family treasure hunt game that uses a map to find hidden eggs.
Exclusive previews for members
Universal Studios Japan recently announced that a total of 80,000 annual pass holders and Club Universal members will have the chance to explore Super Nintendo World before its official opening.
These guests will be invited to take part in this exclusive opportunity by lottery.
Universal plans to open Super Nintendo Worlds in Singapore, LA and Orlando.