Marketing Manchester has revealed 21 tourist destinations within the Greater Manchester area, including new RHS gardens, live venues, a surf lagoon, even an I'm a Celebrity attraction. So what are the key Manchester attractions for 2021?
The list highlights new and exciting events and attractions to draw visitors, both domestic and international, to Manchester in 2021 and beyond.  The city has been battered by the pandemic but Marketing Manchester believes its new ventures will help it bounce back once restrictions are lifted.
"Like many destinations globally, Greater Manchester's visitor economy has felt the devastating effects of Covid-19," says Sheona Southern, Managing Director of Marketing Manchester.  "However, the city-region is in a strong position for recovery, and we are now looking ahead to the future with exciting developments on the horizon offering visitors a plethora of reasons to plan a trip here in 2021."
Largest gardening project in Europe
RHS Garden Bridgewater is set to open on 11th May 2021.
The 154-acre garden in Salford is the Royal Horticultural Society's first new garden in 17 years.  It's the largest gardening project in Europe at present and, once completed, will include one of the UK's most impressive walled gardens, alongside a kitchen garden, orchards, and a Chinese themed water garden.
Continuing the green theme, Northern Roots will open its 160-acre urban farm and eco-park in Oldham.
New galleries and renovations for city centre museums
Several cultural venues in the city centre are being given a makeover.  The Manchester Jewish Museum  has undergone a major renovation.  When it re-opens in spring 2021 it will have double the original space. This will include a new gallery, studio, kitchen, shop and café.
The Science and Industry Museum also has a new exhibition gallery to unveil and will re-open in March with Top Secret, an exhibition exploring communications intelligence.
Later in 2021, the Manchester Art Gallery will launch its dedicated Fashion Gallery in November.  Its opening exhibition will feature male image and 'dandy' fashion of the late 18th and early 19th century.
Looking beyond 2021, museum highlights include new galleries for South Asia and China, at the Manchester Museum (slated to open August 2022).
The Factory, a 13,300 square foot arts centre will also open in late 2022.
I'm a Celebrity attraction
I'm a Celebrity Jungle Challenge is a new attraction under development in Salford at Quayside MediaCity UK.  It promises the "ultimate jungle encounter" and will include a range of tasks and trials based on the popular ITV show I'm a Celebrity – Get Me Out Of Here!  Settings will include the familiar Main Camp and also Croc Creek and Snake Rock. Campmates will navigate a series of challenges.  "Face  your fears, test your nerve and agility, collecting as many stars as you can for your chance to be crowned 'King' or 'Queen' of the jungle!" says the website.
Visitors will have photo opportunities on the Winners' Bridge and also on the famous winner's throne.  A gift shop will be created around the theme of the tree-top studio. This is the home of presenters Ant and Dec in the TV show. The venue hopes to open in 2021.
Water and wellness Manchester attractions for 2021
Therme will become the UK's first city-based wellness resort.  Spreading over 28 acres opposite the Trafford Centre, it will offer hundreds of water-based activities and wellbeing treatments.  The resort will include a two-acre wellbeing garden, steam rooms, indoor and outdoor pools, waterslides and a wave pool.  It is expected to attract two million visitors each year, once open in 2023.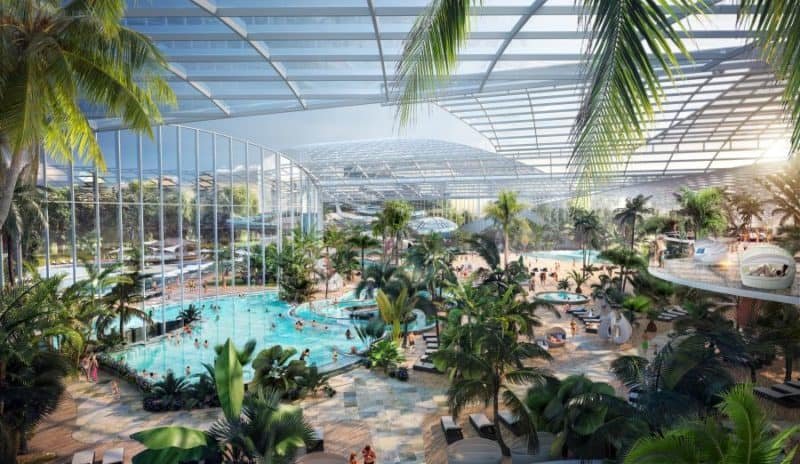 "Therme Manchester will redefine city wellbeing, enhancing mental and physical health through an experience-based in water and nature," says Richard Land, Chief Development Officer of Therme Group UK. "Therme Manchester will offer a unique holiday at home, that acts as a catalyst for healthy lifestyles."
The company believes that wellbeing should be accessible to everyone. This means that entry prices will be set at a socially inclusive level.  The project is likely to create over 3,000 new jobs.
A new £60 million outdoor surf lagoon is also planned for the area.  Modern Surf Manchester will offer ocean-like waves of up to eight foot, aimed at all levels of surfers.  It will be powered by Wavegarden, creators of the artificial wave technology already employed at UK surf attractions Surf Snowdonia in North Wales and The Wave in Bristol.
UK expansion
Therme Group is currently planning multiple wellbeing resorts in Europe, North America and the Asia-Pacific region.
The Manchester venue will be the first of many across the UK, based on the concept of fun, healthy and affordable city-centre wellbeing resorts.  "Our aim is to ensure that a Therme Group wellbeing resort is within easy reach of 90 percent of the UK population," said UK chief operating officer James Mark.