Superfly and Two Bit Circus are launching an immersive music and tech event series called SuperBit, billed as a music-focused Beta Night, which will be held at the Micro-Amusement Park.
Two Bit Circus' Micro-Amusement Park is 38,000 square feet of virtual reality (VR) and augmented reality (AR), alongside classic carnival entertainment.
Superfly, known for its music festivals, is investing in companies that offer shared experiences and developing new intellectual properties (IP) in the entertainment sector.
"The opportunity for creativity in music and tech is unprecedented," said Rick Farman, co-founder of Superfly.
Innovative experiences in music and tech at SuperBit
Exciting Announcement! We partnered with @Superfly to launch a new, immersive #music & #tech event series, SuperBit! 🤖🎵🎪 Event is FREE.

Artists & Creators can submit here: https://t.co/TXqiBd1h8s

RSVP to attend here: https://t.co/LPr6E6HIbu pic.twitter.com/vqilp83Hek

— Two Bit Circus (@TwoBitCircus) October 9, 2019
"We think Two Bit Circus is the ideal collaborator to highlight some of the most innovative experiences in this space."
SuperBit is inspired by Two Bit Circus' Beta Nights, where developers and creators showcase, test and receive feedback on new projects.
The series will explore what the future of music and tech can hold, inviting the music-tech community to get together and experience new ideas.
"We're big fans of social experiences and excited to explore what the future of shared music looks like," said Brent Bushnell, CEO of Two Bit Circus.
Micro-Amusement Park uses VR and AR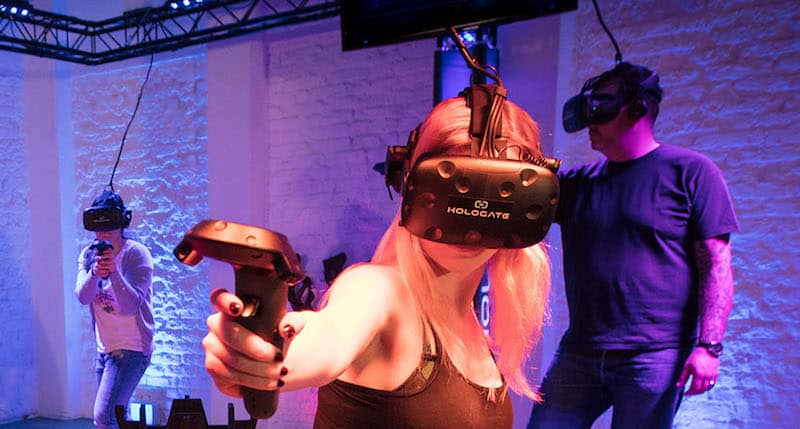 "Superfly brings so much creativity, talent, and experience to the table. We couldn't dive into immersive music with a better partner."
SuperBit kicks off on November 7. It launches with projects from LSTN, Techstars Music, RedPill VR, and X.X.T. with Wet the Hippo.
Event hosts include Steve Milton and Brett Volker (Listen), Tom Windish and Sam Hunt of Paradigm, Liz Heller of memBrain, Corey McGuire (Winston House), Bob Moczydlowsky (Techstars Music), Matthew Davis of [namethemachine], and Josh Levine (Rebel Radio).
Earlier this year, Two Bit Circus announced a series of esports tournaments, including popular titles like Fortnite and Super Smash Bros., and indie favourites like Killer Queen.
Images: Two Bit Circus