Universal Beijing Resort is comprised of Universal Studios Beijing, Universal CityWalk Beijing, Universal Studios Grand Hotel and NUO Resort Hotel.
The resort's key locations will be connected by an enchanting waterway, with Universal Studios Grand Hotel serving as a gateway to Universal Studios Beijing.
The theme park includes seven immersive and expansive lands around a central lagoon. These are Kung Fu Panda Land of Awesomeness, Transformers Metrobase, Minion Land, The Wizarding World of Harry Potter, Jurassic World Isla Nublar, Hollywood and Waterworld.
Each land is a collection of immersive experiences, including themed rides, attractions, shows, entertainment, shops, restaurants and more F&B.
Universal Beijing opening in May 2021
"We and our local partners, including Beijing Tourism Group, are creating one of the most magnificent theme park destinations ever built – right here in Beijing," said Tom Mehrmann, president and general manager of Universal Beijing Resort.
"It is the fruit of co-creation, merging Universal's decades of global theme park experience with our partner's deep insights on China."
Universal Studios Beijing guests will find themselves in movie scenes, experiencing film replicas, customised storylines and multi-sensory stimulation.
Transformers Metrobase visitors will become 'guest agents' and fight alongside Autobots on rides including the Decepticoaster, the biggest coaster at the resort.
Another ride is Transformers: Battle for the AllSpark, and visitors can head to the Energon Power Station to 'replenish energy' like a bot.
Set in 'Legendary China', Kung Fu Panda Land of Awesomeness guests can explore the Valley of Peace, a small town where Po lives. Visitors can fight against Tian Sha on a unique flume ride called Kung Fu Panda Journey of the Dragon Warrior.
Decepticoaster at Transformers Metrobase
Peach Tree of Heavenly Wisdom, located in the middle of Kungfu Panda Land of Awesomeness, changes seasons continually through winter, spring, summer and fall.
Minion Land is a spectacular, immersive experience that invites visitors to explore iconic locations from the blockbuster films and interact with Minions.
The land's signature attraction is Despicable Me Minion Mayhem, an electrifying ride where guests are transformed into Minions as they travel through Gru's Super Villain laboratory.
The Wizarding World of Harry Potter features Hogwarts Castle, Dumbledore's Office, Defence Against the Dark Arts Classroom, Gryffindor Common Room and the Room of Requirement.
It will also boast Butterbeer and the Harry Potter and the Forbidden Journey ride, with guests flying with Harry through familiar scenes from the films.
Jurassic World Isla Nublar visitors will discover an authentic world with four interactive zones and the main ride, Jurassic World Adventure.
Interactive zones at Jurassic World Isla Nublar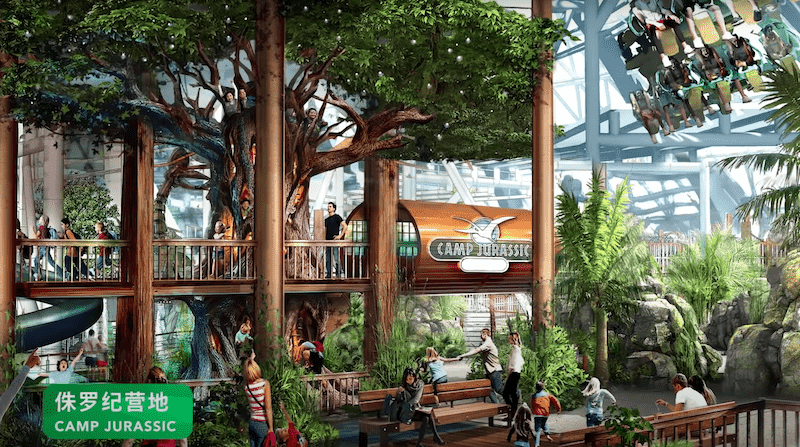 Universal Beijing will have 24 shows and entertainment experiences, using live performers, interactive props and unique sets. Shows include Lights, Camera, Action! and Waterworld Stunt Show.
Lights, Camera, Action! in Hollywood Boulevard features directors Zhang Yimou and Steven Spielberg, and merges Western and Eastern popular culture.
Waterworld Stunt Show in Waterworld will be an immersive adventure, with a thrilling water battle featuring water motorboats, gunfire, explosions and a plane crash.
Images: Universal Beijing Resort