The resort covers an area of more than 1,000 hectares and is home to VinWonders Phu Quoc, the largest theme park in Vietnam. This opened in April 2020.
Additional attractions include Vinpearl Safari, Vinpearl Golf Course, Corona Resort & Casino, and a 'sleepless shopping and entertainment city' called Grand World.
Grand World covers 85 hectares and features busy streets, fun festivals and entertainment centres, such as Kstreet and Night Market. These are operated 24/7. It also includes the Teddy Bear Museum, a Venice-style canal, and a space for artworks called Urban Park.
VinWonders Phu Quoc is the largest theme park in Southeast Asia. It covers 55 hectares and offers more than 100 attractions and shows.
Vinpearl Safari Phu Quoc, the biggest semi-wild animal conservation park in Southeast Asia, is home to more than 4,000 animals. It opened in 2015.
Phu Quoc United Center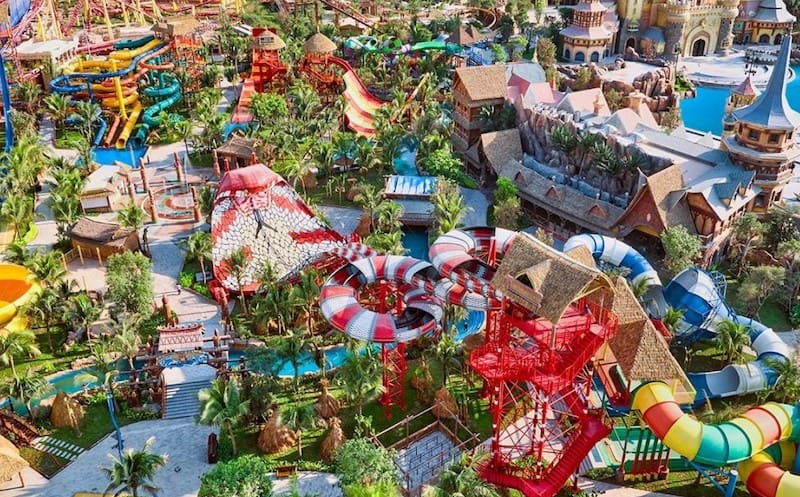 "With a diverse ecosystem to meet high-quality life in addition to a large-scale and world-class entertainment industry, Phu Quoc United Center will not be merely an entertainment complex but a top resort, business and luxury product in Vietnam," said Vingroup.
"The 'sleepless city' model of Phu Quoc United Center not only lays the foundation for night-time economic development of Vietnam but also marks a step forward, turning Vietnam into a new international destination on the world tourist map."
Last year, Vingroup started work on its $1 billion theme park, VinWonders Vu Yen. The attraction includes indoor and outdoor zones, roller coasters, an outdoor water park, VR and F&B.
VinWonders Vu Yen, formerly called Vinpearl Land, is the fourth VinWonders theme park from Vingroup, joining attractions in Nha Trang, Phu Quoc and Nam Hoi.
Triotech designed and built an interactive dark ride for VinWonders Phu Quoc, while Extreme Engineering installed Asia's first Cloud Coaster at the park in Phu Quoc.
Images: MediaOutReach